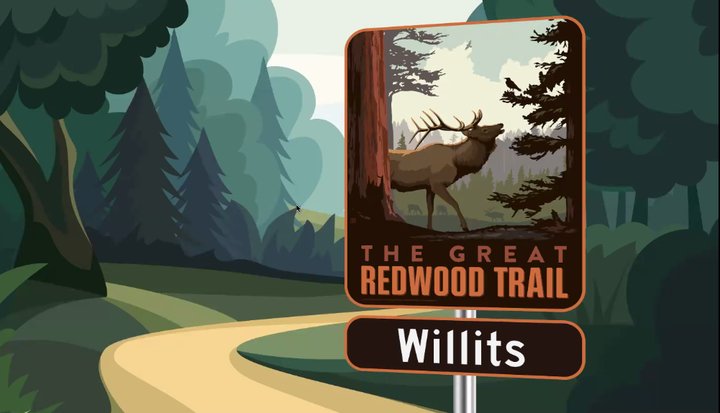 ###
In a press conference this morning, state Sen. Mike McGuire announced that the legislature has included $16.5 million toward the "Great Redwood Trail" — the planned hiking trail along the 300-mile abandoned rail line between San Rafael and Humboldt County — in the upcoming state budget.
McGuire, who sponsored the 2018 legislation that transformed the purpose of the North Coast Railroad Authority, the public agency that managed the disused railroad, said the funding represented a "historic" moment in the effort to transition the right-of-way to a trail system.
"This really is the transformational day that we've been talking about for years on end," McGuire said. "To be able to create the trail network that will connect two parts of the state — from the sparkling waters of Humboldt Bay to the busy bay waters in San Francisco."
McGuire said that $10 million of the monies budgeted will be spent to develop a master plan for the conversion of the line. The plan will analyze the costs of physically converting the right-of-way to meet transportation needs along various segments of the trail, and of maintaining those lines, in addition to funding outreach to and engaging with landowners along the path of the trail.
The remainder of the budgeted money will be used to fund the legal process of railbanking with the federal Surface Transportation Board, and to improve railroad operations on the very southern end of the line, in Marin and Sonoma counties, where passenger and freight rail operations are expected to continue alongside the new trail.
In addition to announcing the funding, McGuire this morning unveiled the design of signage that will be placed along the trail. He said that signs should be going up in communities along the line later this summer.
Throughout, McGuire acknowledged that the actual construction of the entire length of the trail is still a very long way off. A preliminary study delivered to the legislature last year placed potential costs at somewhere between $1 billion and $5 billion. But as representatives from Marin, Mendocino and Humboldt counties noted in the press conference this morning, parts of the trail that pass through urban centers have already been built, and more are currently under construction.
The Humboldt section of the trail would include Arcata's trail network, the Eureka Waterfront trail and most of the largest and most costly section of the Great Redwood Trail — the remote and landslide-prone Eel River Canyon between Scotia and Dos Rios.
But McGuire touted the economic benefits of the trail to the North Coast and predicted that it would become a "world-wide destination" for recreational tourists.
"The Great Redwood Trail isn't just going to be the longest rail-trail in America," he said. "I look at The Great Redwood Trail as the spine for the North Coast, with numerous trails and other recreational opportunities branching off of it — connecting the coast, connecting state and national parks, connecting our communities in beloved force."
PREVIOUSLY: