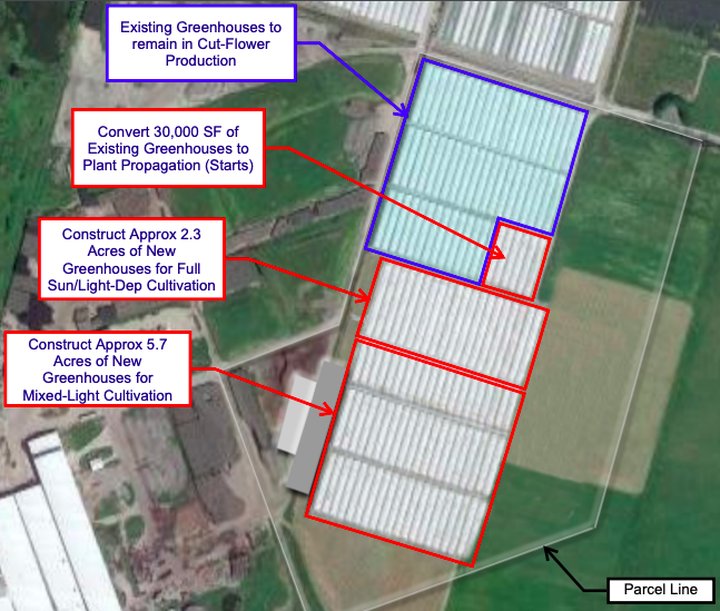 ###
PREVIOUSLY
###
Decision-time approaches for Sun Valley Floral Farm's controversial proposal to develop an eight-acre cannabis farm in the Arcata Bottoms.
The Humboldt County Board of Supervisors on Tuesday will hear an appeal of the Planning Commission's 5-2 approval vote, back in April. The project has drawn vociferous objections from a subset of Arcata residents and some cannabis industry folks.
As previously reported, the proposal — technically put forward by Arcata Land Company, LLC, which is controlled by Sun Valley — would include eight acres of cannabis cultivation, in both mixed-light greenhouses and light deprivation structures, along with 30,000 square feet of nursery. Water would be supplied by an existing well, and Sun Valley has agreed to purchase 100 percent renewable grid power through Redwood Coast Energy Authority.
The grow op would be located adjacent to Sun Valley's existing flower cultivation operations and employ up to 80 full-time workers.
The eight-acre cultivation are would be significantly smaller than the original plans, which called for 36.87 acres. That was later reduced to just under 23 acres to meet the county's property line setback requirements, then reduced again in an effort to appease critics. Still, if the approval stands as-is then this eight-acre farm would represent the largest legal weed grow in Humboldt County to date.
The appeal was filed by a group of 28 people, most if not all of whom are neighbors who take issue with Initial Study/Mitigated Negative Declaration (IS/MND) prepared by the county. These appellants say the environmental document includes false or misleading statements and inadequate analysis, and they're calling on the Board of Supervisors to either reject the project or at least require a full Environmental Impact Report (EIR).
As for specifics, the appellants have articulated concerns about the project's water and energy consumption, traffic impacts on Foster Avenue and the plant's distinctive odor, among other issues. Sun Valley and county staff, meanwhile, say all environmental impacts will be mitigated to insignificant levels.
In a staff report prepared ahead of Tuesday's meeting, the county says none of the appellants' objections point to a procedural or factual failing in the environmental analysis and therefore the board should deny the appeal and approve the project. Importantly, though, this will be a de novo hearing, which means the board can consider new evidence, should any arise.
The hearing is scheduled for 10:30 a.m., and though California has mostly reopened the county is still holding its meetings virtually. If you'd like to submit public comments via Zoom, here's what you do:
call 669-900-9128,
enter Meeting ID 947 1093 6411, and
press star (*) 9 on your phone to raise your hand.

Oh, and you should turn down the volume on your computer or TV because the audio can interfere with your call, and also because the video playback of the meeting typically runs behind realtime by a few seconds to several minutes.
Alternatively, you can email the board ahead of the meeting via cob@co.humboldt.ca.us. If you miss the meeting, check the Outpost afterwards for a report on the hearing along with other highlights from Tuesday's meeting.