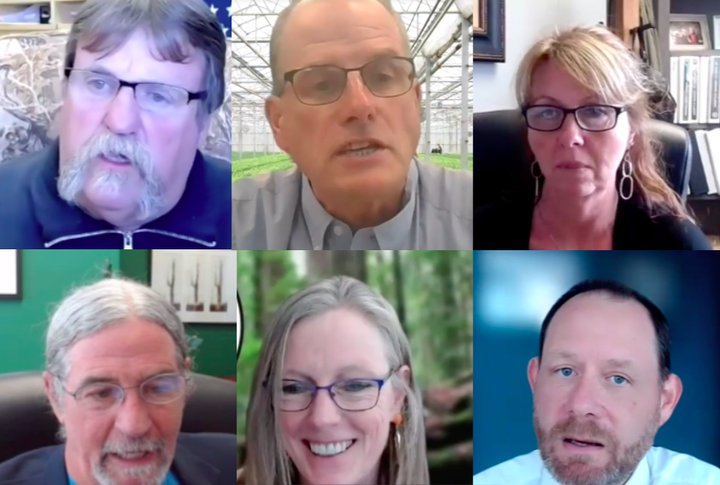 ###
PREVIOUSLY
###
The vast majority of Tuesday's Board of Supervisors meeting — more than six hours! — was spent deliberating the controversial proposal to build an eight-acre cannabis farm in the Arcata Bottoms. Despite all the time spent, the meeting ended without resolution.
After struggling to find common ground among their divergent criteria for approval, an exhausted board voted 4-1, with First District Supervisor Rex Bohn dissenting, to continue the hearing to July 13.
The fate of the project now appears to hinge on two key questions. The first is whether the cannabis crop's notoriously skunky aroma can be sufficiently controlled with state-of-the-art odor-elimination technology.
In its presentation to the board Tuesday morning, project applicant Arcata Land Company — an entity controlled by the Sun Valley Group, which operates a nearby bulb farm — brought out a man named Mark Byers. Testifying to the board via Zoom, Byers said the molecular filtration technology in his company's patented "vapor phase odor-control system" has proved capable of zapping the stench of commercial cannabis grows in Santa Barbara, British Columbia and beyond.
"[T]his is a really a simple one for us in terms of our ability to really control this odor," Byers said of this particular project.
However, Second District Supervisor Michelle Bushnell, who found herself in the uncomfortable swing-vote position, was ultimately unwilling to rely on Byers's assurances. She asked county staff to verify his claims with officials in Santa Barbara County. If and only if they say the technology works, she's willing to consider approving a scaled-down version the project.
And that's the second key question for the project: size. How much smaller will the board majority want to make this operation, and will Sun Valley CEO Lane DeVries accept yet another reduction in scale?
In the latter phases of Tuesday's tortuous deliberations, Fifth District Supervisor Steve Madrone and Third District Supervisor Mike Wilson said they won't approve a grow any larger than two acres. Wilson noted that two acres is the established limit on lands zoned for agriculture. As we noted yesterday, the property is actually zoned heavy industrial, but years ago the county decided to convert it to ag exclusive, in part because the City of Arcata requested that change.
County staff, however, has yet to implement that zoning change due to various bureaucratic and litigation-related delays (specifically, a lawsuit brought against the county by private property rights organization HumCPR). On Tuesday, staff couldn't confirm that Arcata Land Company was ever notified of the proposed change., and even if they were, Planning and Building Director John Ford said, it probably would have been five or more years ago.
Wilson also said he'd like to see several more conditions of approval added, including an easement for future trail development, a conservation easement for the adjacent agricultural land and a phased approach to development — approve one acre of cultivation first and allow a second acre if all goes well.
DeVries was vexed by these suggestions. He said he'd be willing to consider the easements and other conditions if the project were kept at the proposed eight acres, even if construction had to be phased in.
"But if we're talking about an acre [to start] and a max of two, I'm sorry, folks, but I don't see how that's possible to work," he said. The project was originally proposed at 22.9 acres. DeVries called the proposed two-acre max "very disappointing."
"This is how we deal with a company that provides 450 jobs?" he asked the supervisors. "This conversation troubles me."
A voicemail left for DeVries Wednesday was not returned by the time of this post's publication.
First District Supervisor Rex Bohn was at the other end of the spectrum from Wilson and Madrone. He said he'd be happy to approve the eight-acre project as proposed or scale it down to four if absolutely necessary. That left Second District Supervisor Michelle Bushnell and Fourth District Supervisor Virginia Bass in the middle, and when Bass eventually said she'd be willing to go larger than two acres it put Bushnell, the newest supervisor on the board, in the hot seat.
Public feedback
Of the 35 people who called in during the public comment period, 21 spoke in opposition to the project. Several appeared to anticipate Wilson's stance, arguing that the heavy industrial zoning of the property, formerly the site of a mill belonging to Simpson Lumber Company, is outdated and out of step with the surrounding agricultural land and rural neighborhood.
Others, with varying degrees of indignation, voiced objections to the project's size, its potential environmental impacts, Sun Valley's labor practices and the potential economic harm to local "mom-and-pop" cannabis operations.
For example, Craig Johnson, owner and founder of Alpenglow Farms, a cannabis cultivation company in Southern Humboldt, said, "The further we go away from small craft [cannabis], the more it depletes our brand that is known globally."
Johnson's next comment took direct aim at Bushnell. He said that, as the Second District supervisor, she represents a swath of land with more cannabis farms than just about anywhere else, and he warned Bushnell that if she approves the project, it would "greatly affect the business you have on Main Street in Garberville."
Bushnell, who owns the apparel boutique The Boot Leg, among other business interests, asked Board Chair Virginia Bass if she could respond to Johnson's comments.
"I'm surprised that you brought up my store," she said, adding that she considers his words "very threatening."
"I just feel that was not okay in any way," she added.
Many of the 14 proponents who called in are Sun Valley employees who spoke highly of the company and vouched for the personal character of DeVries. Others, including Dan Johnson and Chris Dart, owner and president, respectively, of local construction company Danco, said the project will improve the economy and add 80 much-needed jobs.
A divided board
Following public comment, the proponents — DeVries and his collaborators — and appellants — a group of 28 neighboring residents, three of whom appeared via Zoom — were allowed time for rebuttals.
Rebecca Crow, one of the appellants, objected with indignation to what she called an "industrial mega-grow." She asked the board to deny the permit or at least conduct more analysis, including a cumulative traffic impact study. (Later, as the board deliberated, both Bushnell and Bohn got annoyed with Crow for reacting to board comments with gestures and facial expressions.)
Other demands from appellants included a dramatically reduced cultivation area — down to one acre, max, starting with a first phase of 10,000 square feet. They also asked for net-zero energy use, maximum noise and odor control and no new ground disturbance. In other words, they want the cannabis to be located in existing greenhouses where flowers are now being grown.
The applicants and allies countered that at eight acres, this project hardly qualifies as a corporate mega-grow when compared to other permitted projects in California, including 50- and 60-acre cultivation sites in Santa Barbara County. And they argued that the appellants submitted no evidence that the project may have a significant impact on the environment, which is the applicable legal standard for rejecting a project under the California Environmental Quality Act.
Over the next several hours, the five members of the board asked questions of staff, of DeVries and of each other, but their efforts to bridge the gaps between their assorted opinions bore little fruit.
Madrone was the first to state a firm position, proposing a one-acre grow in the first phase with a second acre if the company can prove it's able to control noise, smell and traffic, thereby appeasing the neighbors. He also voiced support for local small-scale cannabis farmers, suggesting that a project of eight acres could threaten their success.
Bohn, who had earlier called DeVries a friend, voiced support for the project as proposed, noting that cannabis is principally permitted on the parcels in question, water is available in sufficient volume and the company has committed to 100 percent renewable power. The controversy, he said, boiled down to "an unavoidable interface with the neighborhood.". If the project must be phased in, Bohn said he could support four acres to start with and another four down the line.
Bushnell appeared to have the hardest time reconciling the conflicting interests.
"I want people to recognize that this is not an easy process," she said at one point, and she asked people to refrain from making it personal. She noted that she's "super sympathetic" to small mom-and-pop growers but was also trying to work within the rules established in the county's land use and cannabis ordinances.
"I'm trying to be fair to both sides," Bushnell said.
Ford attempted to act as a facilitator/mediator, of sorts, summarizing the board members' stances and nudging them toward possible paths forward. With Madrone and Wilson standing firm at two acres, the question became whether the other three supervisors could arrive at a consensus and outvote the duo.
Bass, who's currently the board chair, didn't offer any specific proposals but did say she's willing to approve a grow larger than two acres.
Bohn said he's unwilling to go any smaller than four acres. Sounding annoyed, he said Sun Valley is the second-largest taxpaying business in the county, and he argued that his colleagues had effectively waited until the project was at the finish line to change the rules.
With afternoon turning to evening, Bushnell said she simply can't move forward until she's confident that the smell can be eliminated for neighboring residents.
Ford said that the soonest staff count confer with Santa Barbara County officials and bring the project back for further consideration is July 13. The public will be given another opportunity to weigh in at that time, and other questions will have to be answered, including settling on a size for the grow and determining whether DeVries is willing to accept that size, along with the other mitigation measures proposed Tuesday.
"We got a lot accomplished today," Bohn said sarcastically before the vote to continue the hearing.
"Well," Bass responded, "sometimes government is messy."