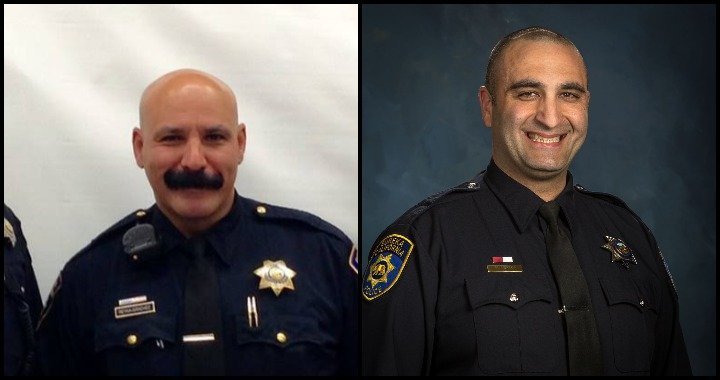 PREVIOUSLY:
###
In the wake of Monday's Wednesday's Sacramento Bee story detailing a series of violent, sexist and demeaning texts among a squad of Eureka Police officers, activists are calling for them to be fired immediately. That's likely what would happen to most of us if our employers caught us exchanging such offensive messages on company time.
But with police officers in California, it's not so simple. That's largely because of a state law passed in 1977 and revised numerous times since then. It's called the Public Safety Officers Procedural Bill of Rights. and it functions as a rulebook governing administrative investigations of peace officers in California.
Police unions say the POBR, as it's called, ensures that officers receive due process before any punitive action can be taken against them. But critics say it goes too far.
"It provides cops in California facing criminal accusations with an extensive list of special loopholes and escape hatches that no other public employee or everyday citizen enjoys," the nonprofit Justice Team Network argues on its website.
The law gives officers a right to legal representation and an extensive administrative process before any punishment or demotion. It also affords officers the right to appeal any punitive action to an independent official or tribunal and gives agencies a strict one-year timeline to investigate any alleged wrongdoing.
"Even when police departments or police commissions conduct investigations and find officers guilty of wrongdoing within the time window, the guilty parties rarely face any consequences, let alone leave the policing profession," activist Cat Brooks writes in an op-ed published by BuzzFeed News. "More often than not, they engage in a 'lateral move,' transferring quietly to a police department and a community that know nothing about their history."
Eureka police officers have another layer of protection thanks to a memorandum of understanding between the Eureka Police Officers Association and the City of Eureka. This legal contract spells out a very specific grievance procedure that must begin with "an informal oral discussion" with the officer's immediate supervisor. From there, any proposed disciplinary procedure can be appealed to the police chief, then the city manager and, finally, the city council.
The Outpost reached out to Eureka Police Chief Steve Watson to ask about the disciplinary process along with a few other issues raised by the Bee story. He agreed to respond to some questions via email. Below is a lightly edited transcript of that Q-and-A.
###
Lost Coast Outpost: I think the public wants to know why Sgt. [Rodrigo] Reyna-Sanchez and Officer [Mark] Meftah can't simply be fired once you verify the veracity of the texts in question. Can you explain how the disciplinary/termination process is confined by both the Public Safety Officers Procedural Bill of Rights and the MOU between the City of Eureka and the Eureka Police Officers' Association?
Watson: The Public Safety Officers Procedural Bill of Rights Act (POBR) provides each police officer in the state of California with specific rights to ensure a fair and complete investigation prior to the issuance of any discipline. Additionally, the penal code and evidence code prohibit the City from publicly discussing any police officer's performance or discipline. Therefore it is the City's policy and legal requirement not to comment regarding ongoing investigations or identify officers who may be subject to disciplinary investigations.
All officers within the department, like all public employees, also have due process rights regarding their employment position. The City needs to respect the constitutional rights of all its employees, including any individuals who might have been involved in the text messages story first reported by the Sacrament Bee earlier this week.
LoCO: Are you able/willing to identify the other four officers who were in the squad of six referenced in the Bee article? Are they facing any disciplinary action?
Watson: Unfortunately, I am not able to respond to this question. Please see response to first question.
LoCO: Over the last decade-plus there have been many reports online and in the community about Sgt. Reyna-Sanchez's alleged disdain for and mistreatment of the public, especially the local homeless population. Did you, as his chief, have any indication that he held such attitudes as those revealed in the texts quoted by the Bee?
Watson: Please see response to first question. Unfortunately, I am not able to respond to this question.
LoCO: Lastly, the Bee quoted a professor and former police officer as having said, "This is the police subculture of that agency unmasked." He said it reveals a subculture with an "us-versus-them mentality" and "a sexualized environment where policing is violent." Do you agree with that assessment? If not, how were such attitudes allowed to persist within the department?
Watson: As a part of the third party investigation, I know the city will seek answers to not only what happened, but, just as importantly, to how we best move forward from here. I can tell you personally though, I share in the community's distress. I know how hard my leadership team and I have worked the last 3-4 years to ensure our officers had all of the training and support we could provide to ensure they were prepared to live up to the high standards our public rightly expects. If there is more we can be doing, we want to do it and, we will do it.
But, right now, like many of your readers, I am wrestling with many questions as well. The reports of this week have shaken our entire community. I know the shock and related feelings of extreme disappointment extend across our department. Still, I believe in the strength and moral character of the vast majority of our officers who serve Eureka, and I know there are many are choosing and striving to do the right things day after day. For now, I am trying to stay focused on them. Yesterday, and again this morning, they put on their uniforms and stepped outside to serve even knowing that because of the alleged actions of others, their motives and intent are likely being questioned. That's a hard position to be in and this is a difficult situation on many levels.