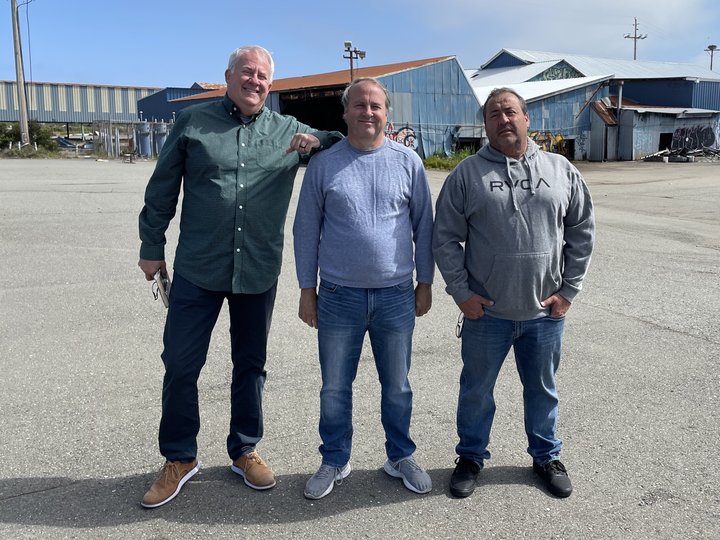 ###
On Monday morning, three executives from an Orange County-based company called Victorum Corporation offered a tour of a former Sierra Pacific Industries lumber mill property, a triangular, 70-acre industrial parcel nestled between the Ma-le'l Dunes and the Mad River Slough.
Since the mill shut down five years ago, its rusting metal buildings have attracted transients and trespassers. Exterior walls have been tagged with graffiti, and earlier this year several of the old buildings were damaged or destroyed by arson, according to the Arcata Fire District.
As the executives walked across the parcel's vast expanses of asphalt on Monday they explained how, with $10 million they hope to raise from investors, they plan to transform the property into a state-of-the-art cannabis campus with up to eight acres of indoor and greenhouse cultivation, plus facilities for distribution, manufacturing and more.
CEO Robert Marshall, an affable man with a southern drawl, gestured toward a single-story outbuilding painted cobalt blue. "This is the office,"he said, "and it's actually in really good shape and we'll continue to use that."
He swept his arm to the left, toward the acres of empty asphalt that once served as the mill's log deck. "Basically, the whole project is going to be from here back," he said. "It's going to be a refurbishment and [we'll] clean it up."
Plan details remain scant. Humboldt Bay Co., a corporate entity under the Victorum umbrella, will be the project applicant, according to Acy Crawford, Victorum's director of development. And while the company has yet to apply for licenses from the County of Humboldt or the state, Marshall said a master plan is imminent, and they're committed to being in Humboldt County.
"Our goal was always to come in here and say, 'You know what? Let's come in here and let's assimilate in the community and figure out what we do [with] the asset that we have," he said. The cultivation will be done in greenhouses and indoor facilities with solar panels and LED lighting. Rainwater catchment will supply much of the irrigation, Marshall said, and stormwater will be channeled via six onsite pumps — installed in 1987 by Sierra Pacific — into a million-gallon retention pond on the property's northeastern edge.
A 2020 presentation aimed at courting investors included a project timeline and a detailed site map, but Marshall said the information from that pitch, including projected revenue of $450 million by the end of 2021, is outdated.
"It's been pushed back, certainly, but we feel really confident in the numbers and where we will eventually get," he said.
Lumber mill operations from the 1950s into the 1980s led to discharge of toxins, including dioxin and pentachlorophenol, into Humboldt Bay, and while a consent decree required Sierra Pacific to conduct extensive cleanup and monitoring of the site, environmental concerns remain.
"It's one of the dioxin hotspots of Humboldt Bay, and any kind of ground disturbance at that site would be problematic," said Jennifer Kalt, executive director of Humboldt Baykeeper. "But like many of these sites, as long as a redevelopment plan can be done in a way that's protective of the slough, it's better to clean it up than have water runoff with [those] dilapidated buildings."
Marshall said that thanks to the monitoring required of Sierra Pacific, there's no need to worry. "It's probably one of the most studied pieces of land in all of California," he said.
The property's current owner, Jeff Meyer, told the Outpost that he sought out investors and he believes the Victorum crew is "a good group of guys" who want to give back to the community while bringing in a couple hundred jobs. Marshall, for his part, said he doesn't yet know how many jobs will be created: "I don't know if it's 50, 100, 200. … I would love it to be 400, 800!"
What he wanted to stress was their commitment to the local community. As an example, he walked over to where the bridge crosses the slough and said the company would like to build a boat ramp and offer access to local kayakers. He also said they'd like to offer the community improved access to the dunes and forest north of the mill site.
"We're local," he said at several points during the tour. "If nothing else, I want you to portray us as: We are local and we're here. No out-of-town, New Jersey money. I mean, if it comes from New Jersey, great, but we're local people and we're in this for the long haul."
But do they actually live here?
"We're moving here," Marshall responded. "We spent 60 days here about three weeks ago. We'll be here for another couple weeks and then we'll buy a house and move here."
Both Marshall and Crawford grew up in the South. Marshall owned a Smashburger franchise in the Atlanta, Georgia, area before moving into consulting and consumer research while Crawford managed a Spirit Halloween store in Tucson, Ariz., among other jobs, before coming to Victorum. This according to resumes published on LinkedIn. Bensaid, meanwhile, owned a Corvette business in Riverside for many years. It was once featured on a show called Cut, Chop, Rebuild. Bensaid told the Outpost that he got involved in the cannabis industry after seeking alternative treatment for his son's Tourette's syndrome.
Victorum owns and operates half a dozen other cannabis brands, including lines of hemp and CBD products.
"We're all very skilled at either business or how cannabis works," Marshall said. "On the business side we've got about 100 years of business experience, you know, various corporate experience. On the growing side we've got about another 100 years of expertise. And of course you kind of laugh because you're like, 'Well, it's only been legal for five.' … [But] we've got generational farm kids that grew up with growers from Southern Humboldt. They've been around it since they were children."
The company plans to employ local cultivators, though Marshall said the project is not far enough along to connect the Outpost with any of them for interviews. But things are moving forward, and the executives expect progress to speed up once the necessary licenses are obtained. For example, he said, they'll take ownership of the property from Meyer.
They hope to avoid some of the controversy that has accompanied Sun Valley Floral Farm's proposals for a cannabis operation in the Arcata Bottoms. "If you notice, we don't have any neighbors," Marshall said, "so there's no noise ordinance issue, no light issue, no smell issue."
Still, he promised that the company plans to do everything in an environmentally responsible fashion, and they'd like to collaborate with locals in the industry, perhaps by offering processing and distribution services.
"And we're going to employ people in the community; we're going to give back to the community," Marshall said. "We're gonna pay lots of taxes to the community and we want to be a part of the community. And that's why I keep stressing that we are local people we will be locals here."