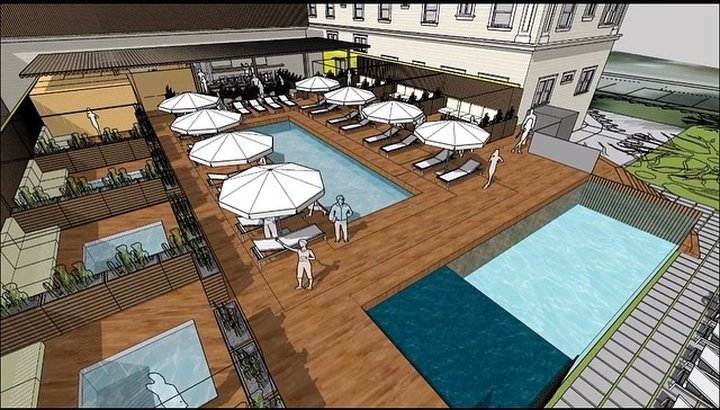 PREVIOUSLY: New Owners of Scotia Inn Outline Long-Term Plans, Including Heated Pools, Hot Tubs, Food, Drink and More
###
The owners of the Scotia Lodge have released the first visuals of their plans to add an open-air pool deck in between the building's wings that will include two heated swimming pools, seven private hot tubs and a sauna.

Owners Amy Cirincione O'Connor and her husband Jon O'Connor filed building permits for the project earlier this month.
"We are expecting to break ground on the pool in the spring," Amy Cirincione O'Connor said. "We don't know how long the permitting process will take. We're going to do it In stages: First [we'll add] one pool, the deck and one of the hot tubs. Then we will continue to build based on funding."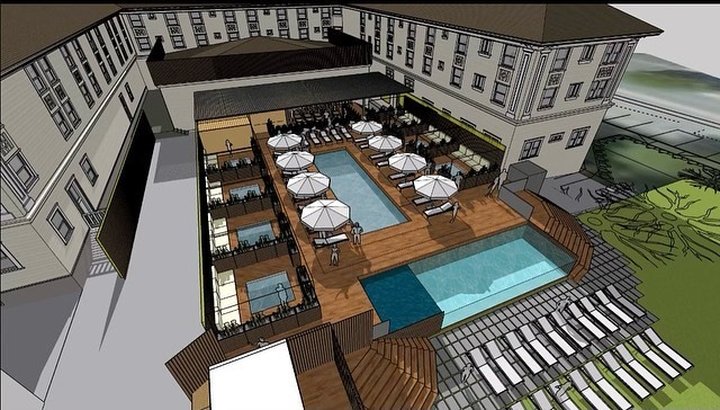 The remodeled lodge, formerly known as the Scotia Inn, reopened in early July and is now operating at the inn's previous capacity.
"We had an amazing first month," O'Connor said. "Opening during the high season was pretty wonderful for us. We opened with eight rooms available and added eight rooms every week [until we reached full-capacity]. It was really fun to fill up that first wing, and the restaurant has been very busy. And now that we're entering the fall season, we can take a breather and see what our fall menu is going to look like."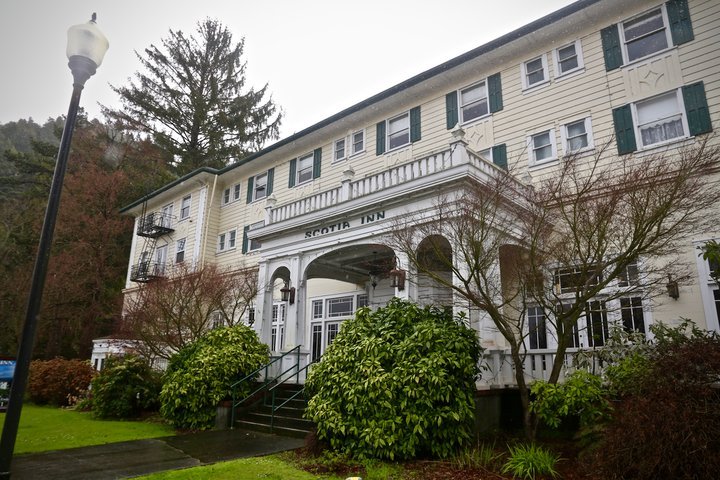 In the coming weeks, the Lodge also plans to host its first wedding since the remodel, and has been booked for a number of holiday parties.
"Our occupancy numbers have definitely exceeded our expectations," she said.
With their sights now set on adding a pool deck to the property, the couple said that they hope to fund the project through a Kickstarter page that they plan to release in mid-October. O'Connor said the Kickstarter will offer donor incentives like redeemable swimming passes, stays at the inn, rentals of the entire property and more.
Both pools, which will be made from repurposed shipping containers built by the Canadian company Modpools, are expected to be 40 feet long and 8 feet wide. One of the pools will also have an attached jacuzzi and glass siding facing a lawn furnished with lounge chairs. The private hot tubs are expected to be 10 feet by 8 feet in size and placed behind curtained-off cabanas that will have access to the main pools.
"We're envisioning the [pool with glass siding] being the family pool," O'Connor said. "The pool up on the deck will maybe be more of a calm environment for adults. Once we get a sense of how the pools are used, we will create adults-only hours."