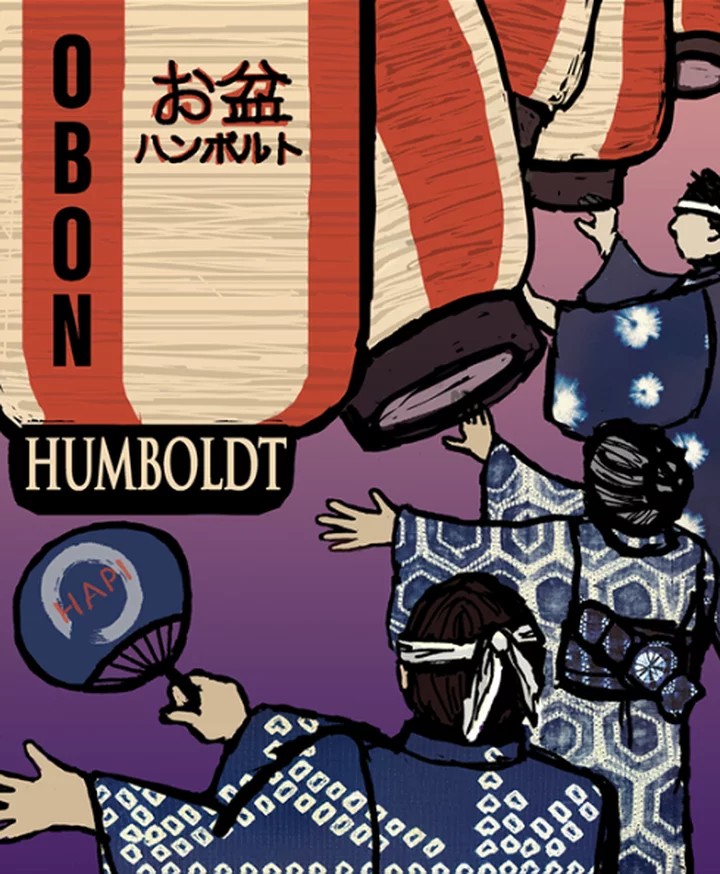 This festival season Arcata will welcome a new event that celebrates Japanese culture and heritage. Humboldt Asians and Pacific Islanders in Solidarity, or HAPI, has been working to put on Humboldt's first Obon Festival, a traditional Japanese celebration honoring the spirits of the ancestors.

Amy Uyeki, one of the festival organizers and a member of HAPI's steering committee, told the Outpost that the group has been dreaming of bringing an Obon festival to Humboldt for a couple of years now and felt that this year, with people holding more community events and gatherings feeling a little safer, would be a good time to introduce this event to the community.
Obon, or just Bon, is a Buddhist custom that has been celebrated in Japan for more than 500 years. Traditionally held in July or August (the date varies depending on region), Bon is a time for families to gather and remember their ancestors. "It's about honoring those who've come before us, those we've lost," Uyeki told the Outpost.
Similar to Mexico's Dia de los Muertos, Bon is believed to be a time when the spirits of the deceased return to be among the living. Families prepare by visiting and cleaning the departed's graves, decorating altars in their remembrance and cooking their favorite foods. People also often decorate their homes with lanterns to help guide the spirits to the physical world. Also like Dia de los Muertos, Bon is not meant to be a somber time, but rather a joyful celebration, full of food, music and dance.
This will be the second event organized by HAPI to honor Japanese and Japanese American culture. In February of 2020, HAPI organized its first event, the Taiko Swingposium, a performance collaboration between San Jose Taiko and the Humboldt Orchestra that combined taiko, jazz and swing dance to tell the story of how Japanese Americans participated in swing dances to boost morale in World War II internment camps. The story behind these performances was very meaningful to Uyeki, whose parents both spent years in internment camps during the war.
Following the Swingposium events, HAPI was looking for suggestions for other events to uplift the Asian and Pacific Islander community, Uyeki said, and many local Japanese Americans said they wanted an Obon celebration. Of course when COVID hit, the idea had to be put on hold.
Since COVID, HAPI has kept busy focusing on other projects, like the Eureka Chinatown Project, an effort to honor the history and culture of the first Chinese people in Humboldt County. Members of HAPI have brought awareness to the history of Eureka's old Chinatown neighborhood and the horrific Chinese expulsions, renamed an alley in Old Town to honor Chinese immigrant Charlie Moon, commissioned a beautiful Chinatown mural and held a Chinese New Year celebration in Eureka.
The Humboldt Obon Festival – which will be held in Arcata's Creamery District on August 14 – will include a community altar to honor those who have passed, food vendors serving Asian and Pacific Islander cuisine, activities for kids and music performances, and music performances, including Taiko drumming. The festival will also begin with a blessing by Rinban Gerald Sakamoto of the San Jose Buddhist Church Betsuin.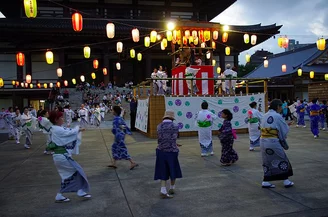 As is traditional during Bon festivals, the event will also include the performance of Bon Odori – a folk dance performed to welcome in the spirits of the dead. Bon Odori varies in different regions of Japan, often depicting unique aspects of that region's culture and history. The movements are usually simple, so that they can be easily replicated.
In preparation for the Humboldt Obon festival, Sensei Craig Kurumada has been teaching free Bon Odori classes at Redwood Raks in Arcata, so that community members can learn the dances and perform them at the event. Most of the classes have already finished, but there is still a chance to join for the final class on Monday, Aug. 8.
"The idea is not mastering [Bon Odori], but participating together and having fun as a community," Uyeki said.
Uyeki is very excited to help share this important part of Japanese culture with the community and feels that with recent racist acts in Humboldt and the general rise of anti-Asian racism since COVID, now is an important time to educate people about the past and also celebrate different cultures.
"This is really a festival of joy," Uyeki said. "So we're trying not only to honor family and people we know who've passed, but also to come together as a community and build those community connections."
The Humboldt Obon Festival will be on Sunday, Aug. 14 from 4 to 8 p.m. at 1251 Ninth Street in front of the Arcata Playhouse. You can find more info at hapihumboldt.org.