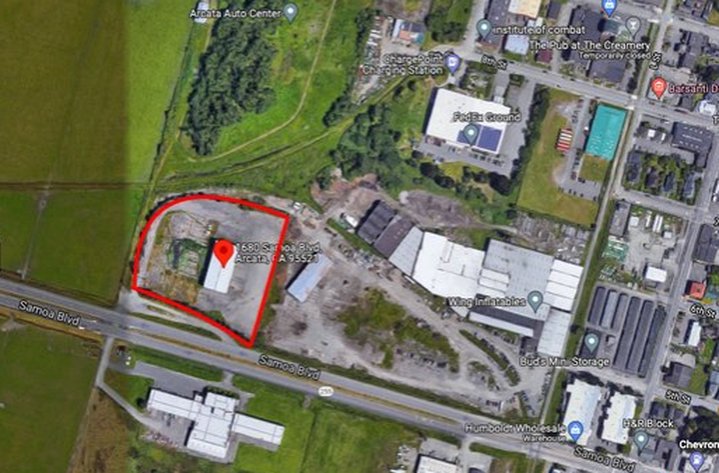 ###
UPDATE: Arcata House Partnership Approved to Operate Safe Parking Program for Homeless, But Executive Director Says Short Staffing May Delay Program's Launch
###

After the Arcata City Council recently approved a plan to develop a Safe Parking Program, allowing homeless individuals and families to legally and safely park and stay in their vehicles on an industrial site on Samoa Boulevard, the council is now poised to award a contract to Arcata House Partnership (AHP) to operate the program.

City staff released a request for proposals in December and the council will review AHP's proposal during tonight's meeting. Considering that, according to the staff report, AHP's proposal is the only one the city received and it meets all of the requirements, it seems very likely that the council will approve it.

During its most recent meeting, the council authorized City Manager Karen Diemer to sign a month-to-month lease agreement with the owners of the property at 1680 Samoa Boulevard, allowing the operation of the parking program. The site will hold up to 30 vehicles which will be parked inside of a large warehouse structure located on the property. The site already includes fencing along the perimeter, something that Diemer said made the property a good choice, and AHP wrote in the proposal that a security camera will be installed and 24-hour on-site management will be provided for extra safety measures.

AHP's proposal lists services that will be provided to the residents, including electricity and charging stations, bathrooms, water and meals – continental breakfast every morning and dinner every night, plus snacks or lunch at AHP's off-site walkup window in Arcata. Mobile showers will be made available when possible through the Affordable Homeless Housing Alternatives (AHHA) mobile shower program. Residents will also have access to case management services and AHP will help residents to seek employment, apply for benefits and secure more permanent housing. Residents will also be encouraged to get medical care, including vaccinations for COVID-19.

The proposal also outlines quite a few rules and requirements for staying in the safe parking site. To be eligible, individuals must be "literally homeless" and their vehicle must be operational, registered and insured. No visitors will be permitted on the site and residents are expected to keep their areas clean and free of debris. No open flames are permitted on the site and cooking will only be allowed in approved vehicles, such as RVs that are equipped with safe cooking appliances. Pets are allowed, but they must be vaccinated and well-behaved.

Dealing or using illegal drugs on or surrounding the property will be strictly forbidden, as will weapons, violence and aggression. Residents are also prohibited from "panhandling or solicitation in the City of Arcata while participating in the program," the proposal states.

AHP says it will conduct weekly reviews, to ensure residents are following the rules. If a resident doesn't break the rules and is actively seeking more permanent housing, they can be permitted to stay with no end date. Those who are not actively seeking housing will have a stay limit of 28 days. Most of the parking spaces will be reserved for longer term stays, but a portion will be available on a nightly basis, the proposal says.

Finding participants for the parking program will be conducted through outreach, with AHP staff inviting people staying who have been parking and sleeping in their vehicle on the streets or in parking lots around Arcata. There will also be a waitlist with priority given to those who have been on the list the longest. Priority will be given to unhoused people in Arcata, although the proposal states that the program will be made available to homeless people in Humboldt County.

Funding for the Safe Parking Program will come from $685,000 in ARPA funds that the council set aside earlier this year for the program. AHP estimates the total budget to operate the program for one year at $684,992 to cover staffing, rent, services and utilities. The proposal does state that some costs, such as the case management, will be covered by separate grant money. No exact timeline for operating the program was included in the proposal. But assuming that the council approves AHP's proposal tonight, things will probably start moving forward quickly, since the purpose of establishing this program was to find ways to quickly address homelessness and issues surrounding homelessness in Arcata.

"Although this is a pilot project that will offer safe parking to 30 cars, it will nonetheless be a step towards reducing the negative impact of people living in their vehicle all over the city," the AHP proposal states. "It will provide a focal point for law enforcement efforts to direct people in need to an appropriate resource, which can help them access more assistance and ultimately may get people on the road to permanent housing."

The Arcata City Council meets tonight (Wednesday, Jan. 19) at 6 p.m. over Zoom. You can view the full agenda and directions on how to participate here.
You can read AHP's full proposal here.

###
PREVIOUSLY: