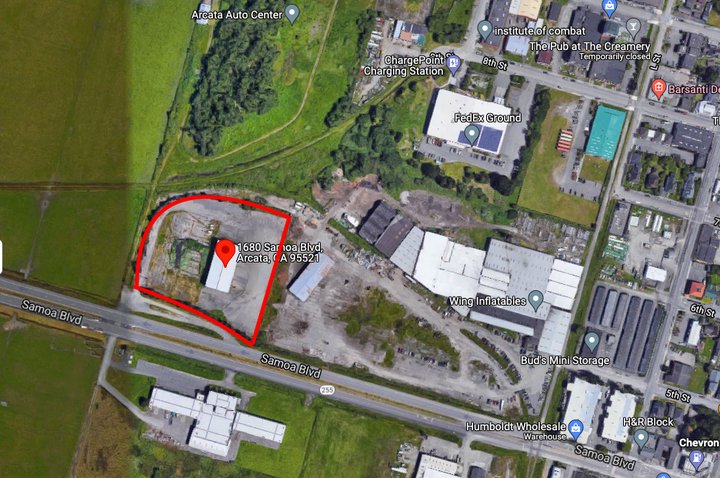 ###
During tonight's meeting the Arcata City Council will again address the important and often controversial issue of homelessness and will take steps to establish a Safe Parking Program, which would allow unhoused people to legally stay in their vehicles in an industrial lot on Samoa Boulevard.

The council will consider authorizing City Manager Karen Diemer to execute a month-to-month lease with the owners of the property – located at 1680 Samoa Boulevard, formerly home to Soilscape Solutions – that would allow the City to use a portion of the property to park up to 40 vehicles and provide on-site support services. The rent would be up to $6,500 a month, according to the staff report.

The City has been looking at establishing a Safe Parking Program for some time and during a meeting in September, 2021 the city council allocated $685,000 in American Rescue Plan Act (ARPA) COVID relief funds to launch the program. Since then, the City has been working on identifying a suitable location and finding a provider for the program operations. A request for proposals (RFP) is currently being circulated to find the right agency to run the program. The deadline is Jan. 13.

During the council meeting in September, Diemer explained that finding people to move into the Safe Parking Program will largely be done through outreach to the homeless community. Similarly to when the City and Arcata House Partnership established temporary tent shelters during the shelter-in-place orders prompted by the pandemic, the Safe Parking Program staff will seek out and invite people who are staying in their vehicles to move to the established sheltering area. Diemer mentioned during the meeting that one area the City has received many complaints about is the parking lot next to HealthSPORT, where homeless people have been parking their cars and camping for months.

Until the Council selects a proposal – which will likely occur at the council's next meeting – it's hard to say exactly what the program will look like. But it will likely be based on other Safe Parking Programs, which have been implemented by several cities, including Eugene and Los Angeles. Generally the safe parking location allows homeless individuals to sleep in their vehicles safely and legally, providing some sort of on-site management and security and access to basic services.
During the September council meeting, staff said that the ARPA funding would go toward staffing the program and providing services to the site – including porta potties, electricity, a potable water station and access to an off-site laundry facility.
The Arcata City Council will discuss this and other important issues – including considering allowing biennial adjustments to campaign contribution limitations and will recieve an update on the 2021/22 City Budget – during its regular meeting tonight (Wednesday), Jan. 5 at 6 p.m.
You can view the full agenda and directions on how to watch or participate in the meeting here.