Humboldt County Fair Begins This Week With Giant Balls
You know the drill as far as this Humboldt Monday goes. So let's look ahead a couple days since, by golly, the Humboldt County Fair starts this week on Wednesday, Aug. 14 and runs through Sunday, Aug. 25.
Now in its 117th year, you kinda know what to expect from our annual fair at this point, right? Horse racing is still a big deal. You've got your endearing carnival rides made all the more nauseating post greasy curly fries. Livestock aplenty. It's the fair you know and possibly have grown to love.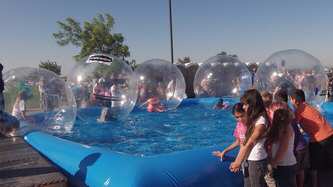 But we were looking around the HumCo Fair's website and came across something they have this year that — we're pretty sure — they've never had before: human-sized hamster balls. This is real, people. So on the fair's midway there's going to be a giant tank of water and giant plastic balls (called WoWBalls) you can get in, roll around in and bump into your friends/enemies (see image). That's awesome, right?
We'll give you a more thorough rundown on this year's fair in the coming days, that but the balls just jumped out at us. Oh, and if you want to go out Monday, check out your Lowdown below.
-Andrew Goff
The Lowdown Fun Committee
Larry Likes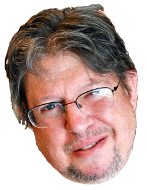 Events
Movie Showtimes
Broadway Cinema
2 GUNS: 1:25, 4:05, 6:45, 9:25
CONJURING: 9:10
DESPICABLE ME 2 2D: 1:40, 4:10, 6:40
ELYSIUM: 12:40, 3:25, 6:15, 7:35, 9:00
GROWN UPS 2: 1:50, 7:05
PERCY JACKSON: SEA OF MONSTERS 2D: 12:50, 6:10
PERCY JACKSON: SEA OF MONSTERS 3D: 3:30, 8:50
PLANES 2D: 12:00, 4:40, 7:00
PLANES 3D: 2:20, 9:10
RED 2: 12:10, 2:55, 5:40, 8:30
SMURFS 2 2D: 11:50, 12:30, 2:25, 3:10, 5:00, 5:50, 8:25
THE HEAT: 4:20, 9:30
TURBO 2D: 12:20, 2:45, 5:10
WE RE THE MILLERS: 1:00, 3:45, 6:30, 7:45, 9:15
WOLVERINE 2D: 11:55, 6:05, 9:10
WOLVERINE 3D: 3:00
Mill Creek Cinema
2 GUNS: 1:30, 4:10, 6:50, 9:30
DESPICABLE ME 2 2D: 2:55, 7:50
ELYSIUM: 1:10, 3:50, 6:35, 9:20
PERCY JACKSON: SEA OF MONSTERS 2D: 12:45, 6:05
PERCY JACKSON: SEA OF MONSTERS 3D: 3:30, 8:40
PLANES 2D: 12:55, 3:20, 5:50
PLANES 3D: 8:15
SMURFS 2 2D: 12:20, 3:00, 5:40, 8:10
TURBO 2D: 12:30, 5:25
WE RE THE MILLERS: 1:00, 3:40, 6:20, 9:00
WOLVERINE 2D: 12:05, 3:05, 6:10, 9:10
Minor Theatre
2 GUNS: 3:45, 6:20, 9:00
ELYSIUM: 3:35, 6:10, 8:45
WE RE THE MILLERS: 3:55, 6:35, 9:15