Lowdown! for Wednesday, Aug. 24
SPONSORED BY

---
WEDNESDAY LOWDOWN: Checking Out This Psychobilly Band at The Shanty Tonight Might Be a Good Idea
If rowdy, boozy rooms are a scene you crave, maybe you should devote your hump day night this week to a trip to The Shanty. There, rockabilly rabble rousers Three Bad Jacks headline a night of uninhibited joy sure to make your midweek seem less middling. Sample their swagger in the clip above and/or see what else the Lowdown has in store for you below.
---
Top Events!
Humboldt County Fair
Humboldt County Fairgrounds / noon-9 p.m.
The fair! Horse racing! Carnival rides! Fair food! Livestock! Guy Fieri, even! Enjoy some Americana while you can!
Web site /
Sci-Fi Night: Ghost in the Shell (1995)
Arcata Theatre Lounge / 6-9 p.m. / $5 / $9 Admission + Poster
Web site /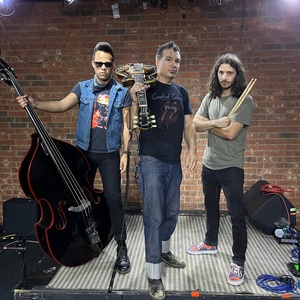 Three Bad Jacks, Idle Spurs
The Shanty / 9-11:45 p.m. / $5 / 21+
Bad Kitty Presents: "SoCal rockabilly/psychobilly charmers Three Bad Jacks finally make it back to Humboldt. Expect a night of glorious rocking & reeling. Local honky tonkers Idle Spurs will get things started."
Web site /
All Events!
Movie Showtimes
Broadway Cinema
A PRIVATE MOVIE SCREENING: 12:00, 3:45, 7:30
BEAST: 11:40, 2:10, 4:40, 7:10, 8:20
BODIES BODIES BODIES: 12:30, 3:00, 5:30, 8:10
BULLET TRAIN: 1:30, 4:30, 7:30
DC LEAGUE OF SUPER-PETS: 12:00, 2:40, 5:20
DRAGON BALL SUPER: SUPER HERO (ENGLISH DUBBED): 11:50, 4:50, 7:20
DRAGON BALL SUPER: SUPER HERO (ENGLISH SUBTITLED): 2:20, 6:20
FALL: 2:30, 8:00
MACK & RITA: 12:10, 5:10
MINIONS: THE RISE OF GRU: 11:35, 1:50, 4:10
NOPE: 1:10, 4:20, 7:40
THOR: LOVE AND THUNDER 2D: 11:30, 2:15, 5:00, 7:50
TOP GUN: MAVERICK: 1:00, 4:00, 7:00
WHERE THE CRAWDADS SING: 12:40, 3:50, 6:50
Mill Creek Cinema
BEAST: 5:00, 7:30
BODIES BODIES BODIES: 5:20, 7:50
BULLET TRAIN: 4:10, 7:10
DC LEAGUE OF SUPER-PETS: 3:40
DRAGON BALL SUPER: SUPER HERO (ENGLISH DUBBED): 7:40
DRAGON BALL SUPER: SUPER HERO (ENGLISH SUBTITLED): 5:10
MACK & RITA: 6:30
MINIONS: THE RISE OF GRU: 4:40, 6:50
NOPE: 4:20, 7:20
TOP GUN: MAVERICK: 4:00, 7:00