Lowdown! for Sunday, June 26
SPONSORED BY

Top Events!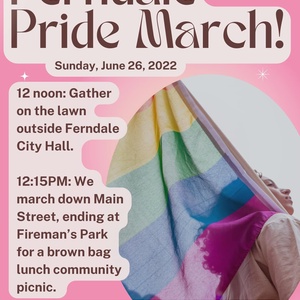 Ferndale Pride March
Ferndale City Hall / noon
"We will march for queer liberation, rain or shine. This is a family friendly, all ages event. Colorful attire and Pride flags are welcome! Gather at City Hall at noon. At 12:15 p.m., we will march down Main Street ending at Fireman's Park for a brown bag lunch community picnic."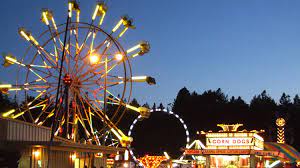 Redwood Acres Fair
Redwood Acres Fairgrounds / noon-5 p.m. / $15 / $10 kids/seniors
Come join us for this years Redwood Acres Fair "Bringing Back the Fun." There will be a circus with acrobats and motorcycle tricks, a wild animal exhibit, ventriloquist, strolling comedians, live music, truck pulls, stock car races, kite flyers, axe throwing, dunk tank, food vendors and more!
445-3037 / jamie@redwoodacres.com / Web site /
All Events!
Movie Showtimes
Broadway Cinema
A PRIVATE MOVIE SCREENING: 12:00, 3:45, 7:30
DOCTOR STRANGE IN THE MULTIVERSE 2D: 11:20, 2:20, 5:30, 8:30
ELVIS: 11:00, 2:30, 3:30, 6:00, 7:00, 9:20, 11:50
JURASSIC WORLD DOMINION 2D: 1:00, 2:00, 3:20, 4:20, 5:20, 7:40, 9:00
JURASSIC WORLD DOMINION 3D: 12:00, 6:40
LIGHTYEAR: 11:30, 1:10, 2:10, 3:50, 4:50, 6:30, 7:30
THE BLACK PHONE: 11:10, 1:40, 4:10, 6:50, 9:40
TOP GUN: MAVERICK: 11:40, 12:40, 3:00, 4:00, 6:20, 7:20, 8:40, 9:30
Mill Creek Cinema
ELVIS: 11:50, 3:20, 7:00
JURASSIC WORLD DOMINION 2D: 12:00, 1:00, 3:20, 4:20, 7:40, 9:00
JURASSIC WORLD DOMINION 3D: 6:40
LIGHTYEAR: 11:30, 1:10, 2:10, 3:50, 4:50, 6:30, 7:30
THE BLACK PHONE: 11:10, 1:40, 4:10, 6:50, 9:20
TOP GUN: MAVERICK: 11:40, 12:40, 3:00, 4:00, 6:20, 7:20, 9:30