Lowdown for Sunday, May 15
Top Events!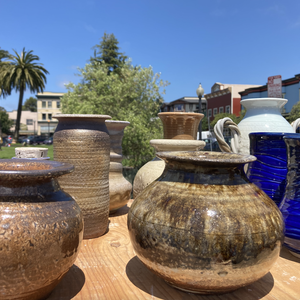 Sunday Art Market
Arcata Plaza / 10 a.m.-4 p.m. / Free
Arcata Main Street presents a fun Sunday Art Market weekly 11am-4pm on the 8th Street side of the Arcata Plaza through June 12. Locally made arts and crafts, local music hosted by Arcata Sanctuary, and fun activities for families are all part of the event.
822-4500 / arcatamainstreet@gmail.com / Web site /
All Events!
Movie Showtimes
Broadway Cinema
A PRIVATE MOVIE SCREENING: 12:00, 7:30
DOCTOR STRANGE IN THE MULTIVERSE 2D: 11:30, 12:30, 1:00, 1:30, 2:00, 2:30, 3:00, 3:30, 4:00, 4:30, 5:00, 5:30, 6:30, 7:00, 7:30, 8:00, 8:30, 9:00
DOCTOR STRANGE IN THE MULTIVERSE 3D: 12:00, 6:00
FANTASTIC BEASTS: THE SECRETS OF DUMBLEDORE: 12:20, 3:40, 7:10
FIRESTARTER: 12:40, 3:10, 5:40, 8:20
SONIC THE HEDGEHOG 2: 12:50, 3:50, 6:50
THE BAD GUYS: 11:50, 2:20, 4:50, 7:20
THE LOST CITY: 11:40, 5:20
THE NORTHMAN: 2:15, 8:10
Mill Creek Cinema
DOCTOR STRANGE IN THE MULTIVERSE 2D: 12:00, 1:00, 1:30, 2:00, 3:00, 4:00, 5:00, 7:00, 7:30, 8:00
DOCTOR STRANGE IN THE MULTIVERSE 3D: 6:00
EVERYTHING EVERYWHERE ALL AT ONCE: 12:20, 3:30, 6:40
FIRESTARTER: 12:40, 3:20, 5:50, 8:20
SONIC THE HEDGEHOG 2: 12:50, 3:50, 6:50
THE BAD GUYS: 11:50, 2:20, 4:50, 7:20
THE NORTHMAN: 4:30
Minor Theatre
DOCTOR STRANGE IN THE MULTIVERSE OF MADNESS: 2:00, 5:00, 8:30
EVERYTHING EVERYWHERE ALL AT ONCE: 1:00, 4:15, 7:45
THE UNBEARABLE WEIGHT OF MASSIVE TALENT: 3:15, 6:00, 9:00