Thursday, Dec. 7

Top Events!
Brett McFarland and Friends
Wrangletown Cider Company / 7:30-9:30 p.m. / $20
After serving a five-year sentence for growing marijuana and struggling for years to re-enter society, he is finally home. Seats are limited, so please get your tickets in advance at Wildberries Marketplace.
0 / Web site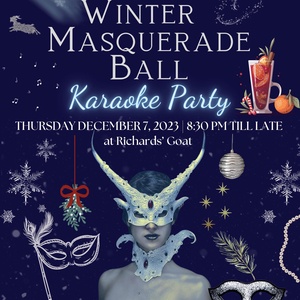 Winter Masquerade Karaoke Ball
The Miniplex at Richards' Goat Tavern / 8:30 p.m. / Free / 21+
Dress up fancy and wintry, and don't forget your masquerade mask! Themed cocktails, winter wonderland decor, & best outfit contest with prizes!
0 / Web site
All Events!
Movie Showtimes
Broadway Cinema
BECAUSE OF BETHLEHEM WITH MAX LUCADO: 7:00
DREAM SCENARIO: 11:45, 2:20, 4:45, 7:15
GODZILLA MINUS ONE: 11:35, 12:20, 2:25, 4:20, 7:20
NAPOLEON: 11:50, 3:20, 6:40
SALTBURN: 11:30
SILENT NIGHT: 12:15, 2:40, 5:20, 7:50
THANKSGIVING: 12:20, 3:10, 5:40, 8:10
THE HUNGER GAMES: THE BALLAD OF SONGBIRDS & SNAKES: 12:30, 3:00, 4:00, 7:30
THE MARVELS 2D: 11:40, 2:10, 4:40, 7:10
THE SHIFT: 12:40, 3:40, 6:50
TROLLS BAND TOGETHER 2D: 12:25, 2:50, 5:10, 7:25
WAITRESS: THE MUSICAL: 7:00
WISH 2D: 12:10, 2:30, 4:50, 7:05
Mill Creek Cinema
BECAUSE OF BETHLEHEM WITH MAX LUCADO: 7:00
GODZILLA MINUS ONE: 4:00, 7:10
NAPOLEON: 3:20, 6:50
SALTBURN: 4:05, 7:40
THANKSGIVING: 4:30
THE HUNGER GAMES: THE BALLAD OF SONGBIRDS & SNAKES: 3:30, 7:00
THE SHIFT: 4:50, 7:30
TROLLS BAND TOGETHER 2D: 4:20, 6:40
WAITRESS: THE MUSICAL: 7:00
WISH 2D: 5:00, 7:20