Lowdown! for Friday, June 9
SPONSORED BY
Top Events!
Kinky Boots
Ferndale Repertory Theatre / 8 p.m. / $20 / $18 Senior / $18 Student
"When Charlie suddenly inherits his father's bankrupt shoe factory, he finds unexpected inspiration in the form of Lola, a fabulous entertainer in need of some sturdy stilettos."
Web site /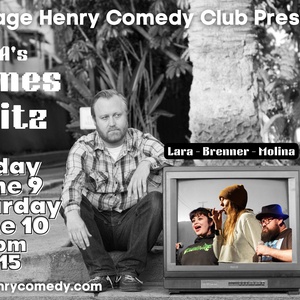 James Fritz
Savage Henry Comedy Club / 9-11 p.m. / $15 / 18+
Originally from Kentucky, James Fritz started comedy in the great state of Chicago. After ruining his credit score there, he made his way to sunny Los Angeles to positively embrace the West Coast lifestyle.
Web site /
All Events!
Movie Showtimes
Broadway Cinema
FAST X: 12:10, 3:40, 7:10
GUARDIANS OF THE GALAXY VOL. 3 2D: 12:20, 3:50, 7:40
GUARDIANS OF THE GALAXY VOL. 3 3D: 6:20
SPIDER-MAN: ACROSS THE SPIDER-VERSE: 11:00, 12:00, 1:00, 2:00, 3:00, 4:00, 5:00, 6:00, 7:00, 8:00
THE BOOGEYMAN: 12:40, 3:10, 5:40, 8:15
THE LITTLE MERMAID 2D: 11:40, 1:10, 4:20, 7:20
THE LITTLE MERMAID 3D: 2:50
THE MACHINE: 6:50
THE SUPER MARIO BROS. MOVIE 2D: 11:20, 1:50, 4:10
TRANSFORMERS: RISE OF THE BEASTS 2D: 11:30, 1:30, 2:30, 4:30, 5:30, 7:30, 8:30
TRANSFORMERS: RISE OF THE BEASTS 3D: 12:30, 3:30, 6:30
Mill Creek Cinema
GUARDIANS OF THE GALAXY VOL. 3 2D: 12:20, 4:00, 7:30
SPIDER-MAN: ACROSS THE SPIDER-VERSE: 12:30, 1:40, 3:40, 4:50, 6:15, 7:00, 8:00
THE BOOGEYMAN: 12:50, 3:10, 5:30, 7:50
THE LITTLE MERMAID 2D: 12:10, 1:20, 4:20, 7:20
THE LITTLE MERMAID 3D: 3:20
TRANSFORMERS: RISE OF THE BEASTS 2D: 12:00, 1:10, 4:10, 7:10
TRANSFORMERS: RISE OF THE BEASTS 3D: 3:00, 6:00