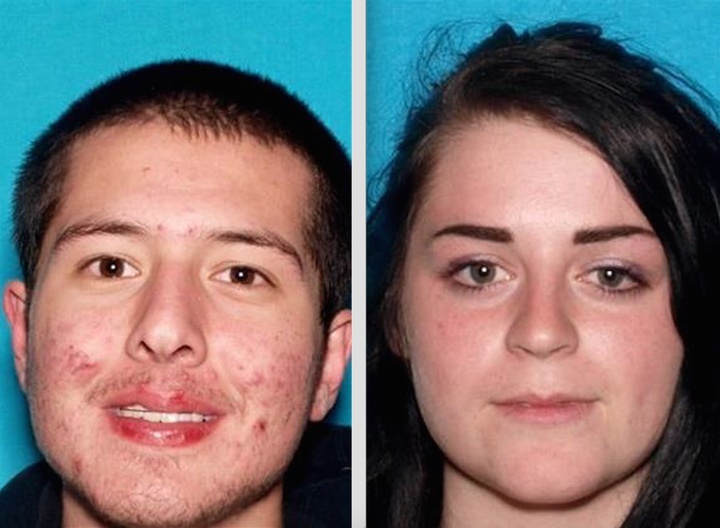 UPDATE, 2:15 p.m.: From the Humboldt County Sheriff's Office:
On Sunday, December 18, 2016 at approximately 9:40 p.m. Hector Godoy-Standley and Catherine Fode, who are both wanted for last week's murder of Tyson Claros, turned themselves in to the Humboldt County Sheriff's Office. Both Godoy-Standley and Fode were arrested without incident, and were booked into the Humboldt County Correctional Facility for the charge of PC 187/homicide. Their bail was set at $1,000,000 each.

The investigation of Tyson Claros' murder is still currently ongoing. If anyone has information in regards to this homicide investigation, please contact Investigator Fulton at (707) 268-3646 or the non-emergency phone number for the Sheriff's Office at (707) 445-7251.
###
PREVIOUSLY:

###
Today's booking log from the Humboldt County Jail shows that the final two suspects outstanding in last week's Manila homicide were taken into custody last night.
Hector Standley-Godoy and Catherine Suzanne Lynn Fode were both booked into jail just before 10 p.m. last night. Arrests warrants were issued for the two last week, and the Sheriff's Office asked the public for information about their whereabouts.
In total, five people have been arrested in connection with the slaying of 20-year-old Tyson Claros, who was found with multiple gunshot wounds on Highway 255 early on the morning of Dec. 12. See links above for details.
We don't yet know anything else about the circumstances of last night's arrests. We'll update when we find out more.