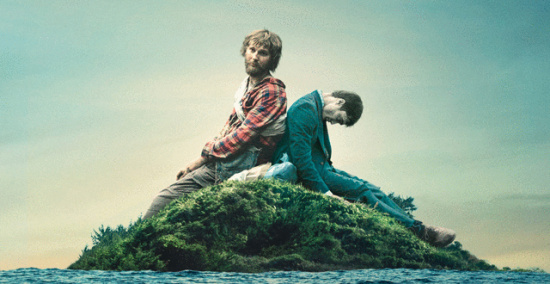 PREVIOUSLY
Swiss Army Man, the latest movie to be filmed in Humboldt County, has been described as a hilarious and deranged buddy comedy — and also "the farting corpse movie." It stars Paul Dano (Little Miss Sunshine, There Will Be Blood) as a suicidal island castaway and Daniel Radcliffe (Harry Potter himself) as the flatulent corpse who washes ashore just before the suicide attempt, providing Dano's character with companionship and an unexpected array of useful functions courtesy of his stiff, decomposing body.
The trailer (see link above) should give you the flavor of the film. Not for everyone, obviously, but for those of us who find exhilaration in the quirky and demented, this thing looks very promising. (Certainly more so than the last thing.) The New York Times marked it as a critics' pick, calling the film a "stunningly original mix of the macabre and the magical."
It opens at the Broadway Cinema today, and a press release from Humboldt-Del Norte Film Commissioner Cassandra Hesseltine announces that next Thursday, July 7, there will be a wooden sailboat from the movie at the theater before the 7 p.m. screening. Selfies encouraged.
Here's the press release:
Swiss Army Man, a dark humored comedy starring Daniel Radcliffe and Paul Dano, that opens nationwide this weekend, features Humboldt County locations according to Humboldt-Del Norte Film Commissioner Cassandra Hesseltine. Featured locations include Houda Point, Agate Beach, and various groves in Humboldt Redwoods State Park.

"Swiss Army Man shot in the area for six days and spent over $80,000 while filming in the redwood region," Hesseltine states.

To celebrate, the Humboldt-Del Norte Film Commission will be at the Thursday, July 7th 7 p.m. showing at the Broadway Cinema in Eureka with one of the large props from the film. In the movie, a small, wooden sailboat is used as a shelter. The Film Commission will have the original sailboat from the film at the Broadway Cinema movie theater prior to the showing. Fans are welcome to view the sailboat as well as take selfies with the prop from the movie starting at 6 p.m.

Tickets may be purchased for this showing, as well all others of the film, by visiting www.catheatres.com. For more information about the Humboldt-Del Norte Film Commission, visit www.filmhumboldtdelnorte.org.