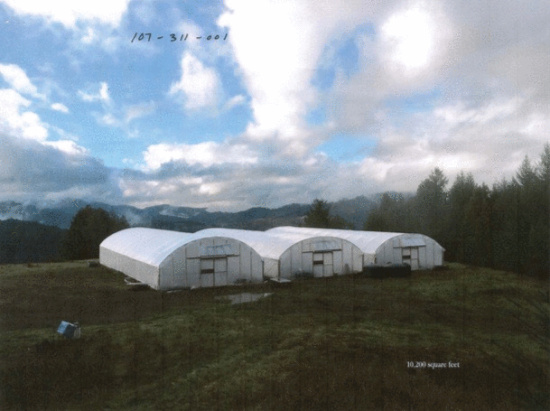 A new chapter in Humboldt County history began Thursday night as the county's Planning Commission approved seven conditional use permits for cannabis cultivation on a single farm located near Honeydew. With a 4-1 vote the commission gave Honeydew Farms, LLC, the conditional go-ahead to expand its growing operation from about one acre to nearly seven acres of cultivation area, including fields and greenhouses.
The permits were issued in accordance with the county's Commercial Medical Marijuana Land Use Ordinance (CMMLUO), passed earlier this year, and California's Medical Marijuana Safety and Regulation Act. The land, owned by Alexander Moore, is zoned Agriculture Exclusive and served by onsite water from a series of wells. After an initial review staff concluded that this project will not have significant environmental impacts.
In other words, this proposed mega-grow (can we call it that?) has cleared all the hurdles set out by both the state and the county. We've entered a new era.
In recent local busts, law enforcement has made a point of noting that the operations were not in compliance with the state and county regulations (see here and here). Now the weed-farming community has at least one example of how to do it correctly.
According to Senior Planner Michael Richardson, the one dissenting vote last night came from Commissioner Dave Edmonds, who was concerned about the size of the operation. "He was expecting the [county] ordinance to result in smaller grows [and] not be so permissive," Richardson said.
Commissioners Noah Levy and Kevin McKenny were absent.
If you'd like to really dig deep on the particulars of this planned operation, here's a link to last night's agenda. Item seven, there, includes a link to the 222-page staff report.
PREVIOUSLY