Warning: This post contains graphic descriptions of evidence from a violent crime.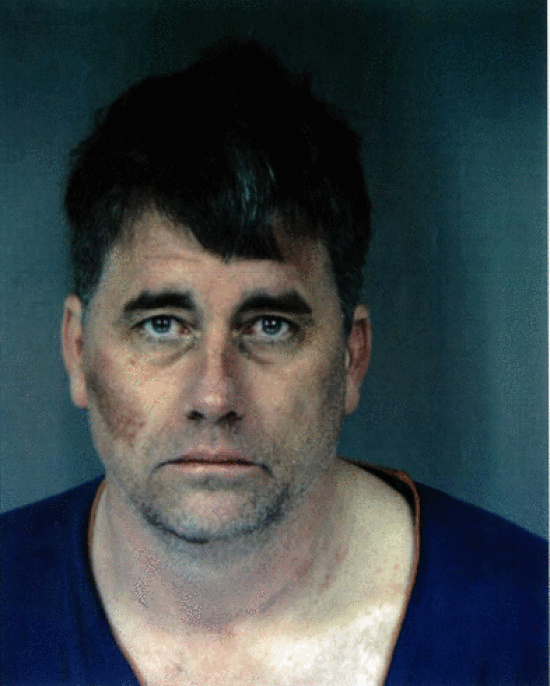 The jury in the murder trial of Gary Lee Bullock today saw dozens of graphic autopsy photographs and heard forensic pathologist Dr. Mark Super describe the brutal bludgeoning death of Father Eric Freed before the prosecution rested its case, just a week after opening arguments.
Super said his conclusion was that Freed died from blunt force injuries to the head and thorax and asphyxia by neck compression. One or both of these — blunt force trauma and asphyxiation — cut off blood flow to Freed's brain, Super testified.
Bullock stands accused of murder, torture, attempted arson and carjacking for incidents that occurred at Eureka's St. Bernard Catholic Parish property in the early morning hours of New Year's Day 2014. Bullock has entered pleas of not guilty and not guilty by reason of insanity.
Some of the late priest's friends and family were in attendance, as was Bullock's mother, Carol Bruno. Bullock himself sat quiet and composed as Freed's gruesome injuries were exhaustively cataloged over the course of about two-and-a-half hours.
Photos from the autopsy were displayed on a flatscreen TV while Dr. Duper read from his report and referred to a schematic diagram that had been enlarged and pasted to poster board. The injuries were numerous and scattered across Freed's body literally from head to toe. Among the most significant injuries were:
a fractured hyoid bone and cricoid cartilege, indicating that the throat had been clutched and squeezed or flattened enough to compress the trachea
separation of L2 and L3 vertebrae and a broken ligament in the spine, which can only occur when the back is hyperextended
a skull fracture on the orbital roof above the left eye, which could indicate brain trauma
a deep laceration down the nose, from bridge to tip
lacerations and bruising on the forehead, temple, cheek, ears and chin
a question-mark-shaped laceration on the top of the head
mouth injuries, including lacerations and bruising of the tongue and lips and a torn frenulum
lacerations and bruising on the shoulders, upper arms, chest, upper abdomen, right scapula, hip and more
defensive wounds on the hands and forearms
extensive bruising on both knees and lower legs
Prosecutor Andrew Isaac brought out three items alleged to have been used in the attack — a wooden garden stake, a broken piece of iron drainpipe and a glass pilsner glass with the base broken off — and placed them on top of the witness stand next to Dr. Super. As Super described the various injuries, Isaac occasionally asked which if any of those three items could have caused them.
Super said the pipe could have been used to inflict several of the lacerations and bruises, and debris from the inside of the pipe could have been the source of debris found on Freed's body. The wooden stake, meanwhile, could explain several "track-like" parallel lacerations found on the body, Super said. And the pilsner glass was a plausible source for the mouth injuries. Super also said that shoving the pilsner glass down Freed's throat could have pressed his tongue back, cutting off his oxygen flow.
At one point, Isaac asked if some of the more serious injuries could have been caused by placing a "forearm bar" around Freed's neck while shoving a knee into his lower back. Super said such a move could indeed have separated the vertebrae and "would also explain the flattened larynx."
"Could Father Freed have been awake the whole time?" Isaac asked.
"Yes," Super said.
Isaac asked several times if certain injuries would have been painful, and Super gave the obvious answer: "Yes." The extensive injuries could have taken anywhere from several minutes to several hours to inflict, Super said.
On cross-examination, Bullock's attorney, Kaleb Cockrum, pressed the doctor on some specifics, including the timeline of injuries, the possible causes of a few specific injuries and the length of time Freed might have been unconscious or even dead when certain injuries were inflicted.
None of these questions undercut the obvious — that Freed was brutally bludgeoned before he died.
When the case resumes Monday at 9 a.m. Cockrum will have the opportunity to give an opening statement before presenting his defense. If Bullock is found guilty by the jury of 10 women and two men, the trial will enter its second phase, examining Bullock's sanity at the time the crimes were committed.
PREVIOUSLY: