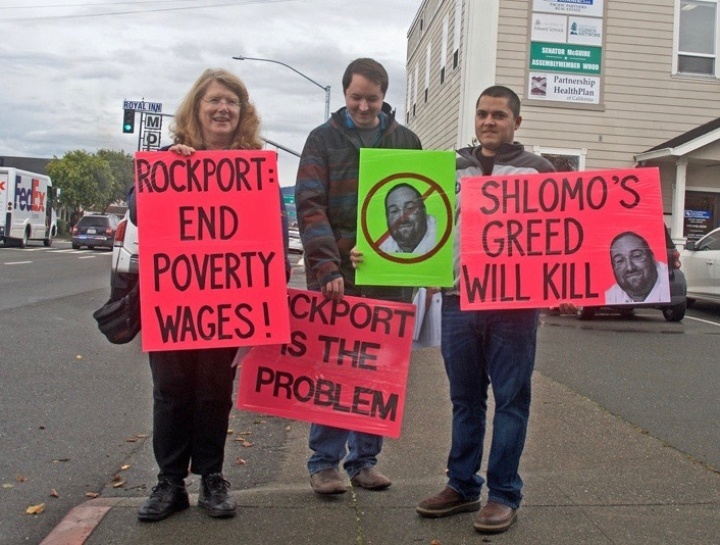 After months of threatening to close three of the five local skilled nursing facilities in his massive health care empire, billionaire businessman Shlomo Rechnitz suddenly reversed course Monday with an announcement that his company will be closing only one local facility — Pacific Rehabilitation & Wellness on Harrison Ave. — and so none of the senior patients living there will have to leave Humboldt County.
But Rechnitz's efforts to obtain higher reimbursement rates from the region's Medi-Cal provider appear to be ongoing.
First, a brief recap: Higher Medi-Cal reimbursement rates is what these threatened closures were always about. Representatives of Rockport Healthcare Services, the Rechnitz-owned company that operates all five local skilled nursing homes, have claimed that the company lost millions in Eureka over the past two years and that if they hope to keep those facilities afloat they'll need higher Medi-Cal reimbursement rates from Partnership HealthPlan of California.

Partnership, meanwhile, has argued that it's already paying Rockport more than the average reimbursement rate in the state and can't afford to increase those payments any more than it already has. Negotiations broke down last month, and locals feared that elderly patients would have to relocate hundreds of miles away.
In today's announcement Rechnitz assured folks that won't happen. "We won't be a part of patients being forced to move 300 miles away simply because the system fails to appropriately pay for their healthcare," his statement said. But that doesn't mean he's given up the fight for higher reimbursement rates.
In a conversation with the Outpost Monday, Senator Mike McGuire said Rockport now plans to terminate its contracts with Partnership altogether, a move that would force local patients living in Rockport facilities to negotiate Medi-Cal contracts individually. McGuire said Rockport's threats of closure have "felt like extortion," and he isn't sure what to think about the company's new strategy.
He didn't hold back about its recent actions, though. "The bottom line is this was completely irresponsible," he said. "This has been a completely avoidable crisis from the beginning, and it's been brought on by a billion-dollar corporation that has a tradition of putting profit over people."
Over the past two fiscal years the state government has invested more than $2 million to increase the reimbursement rate at the three Rockport facilities threatened with closure, bringing all three above the statewide average, McGuire said. And he's skeptical about the company's financial claims.
"From the beginning we said Rockport was not losing money, that if you dig into the finances you'll see that," he said. He also accused Rockport of putting its patients in the middle of a made-up crisis. "They wanted to bully their way to higher rates, and bullying doesn't work here on the North Coast."
Rob Layne, director of public affairs at Partnership HealthPlan of California, confirmed this afternoon that Rockport has filed a request with the California Department of Public Health to terminate its contracts for the five local facilities. "Rockport has in the past used the community as leverage," Layne said. "This is another example of it."
Layne said Partnership didn't learn about Rockport's decision to close only one local facility until reading about it in the Outpost. And while Partnership management is happy that its local members won't be displaced from their community they remain concerned about them due to Rockport's plans to terminate its contract for Medi-Cal reimbursements.
Layne sees the change in tactics as merely another angle from which Rockport is trying to apply leverage in hopes of getting more money, and he said it won't work. With more than 600,000 members in 14 counties Partnership has a policy of not making side deals.
"If we were to pay Rockport what they're asking for it would significantly impede our ability to provide fair rates to everyone else," Layne said. He also noted that Partnership has set aside $250 million thousand in emergency transition funding to help members who have to relocate to a new skilled nursing facility.
McGuire, meanwhile, said the closure of Pacific Rehabilitation and Wellness should help solve some of the problems Rockport and Rechnitz have been complaining about, including a nursing shortage. There are currently 49 permanent medical professionals employed at the Pacific facility, and between the five Rockport facilities there are 43 medical professionals who've been brought into Humboldt County on a temporary basis, the senator said.
"I would hope this [planned closure] is going to go a long way toward solving their so-called staffing shortage," McGuire said. He reasoned that if Rockport were to pay its permanent employees the high rates it's been forced to pay temporary medical professionals, "we wouldn't be in the mess that we're in."
Regardless, McGuire said he looks forward to negotiating further with Rockport. "And I hope they will now stop their grandstanding," he added.
The Outpost requested an interview with Rechnitz but his spokesman, Stefan Friedman, denied that request, offering instead to answer questions himself via email. We sent some questions and will report back when they've been answered.
PREVIOUSLY: