Clayton Lee Lasinski, who faces more than 40 years in state prison if convicted of all 16 charges, will go to trial as scheduled on Aug. 21.

This morning attorneys confirmed the date for Lasinski, a Southern Humboldt resident who was shot by police during a rush-hour pursuit through the streets of downtown Eureka. He was packing a loaded handgun that he never fired, though he allegedly pointed it at civilians and a police officer.
Deputy District Attorney Luke Bernthal told visiting Judge Robert Crone Jr. that he expects the trial to last five weeks.
"I think it's possible we could get it done in four," Bernthal said, "but I think a five-week estimate is appropriate."
Deputy Conflict Counsel Marek Reavis, standing in for Lasinski's attorney David Lee, said the defense is ready to proceed.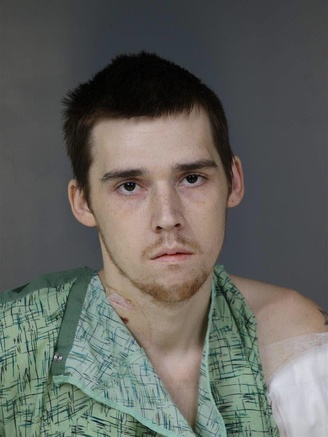 Police officers fired 40 rounds at Lasinski, 27, during a Dec. 6 pursuit that began when Lasinski fled after a California Highway Patrol officer noticed he wasn't wearing a seat belt and tried to pull him over. Lasinski fled on foot, allegedly stole a car from an auto dealership and then tried to carjack a pickup truck on Sixth Street.

He apparently was shot while stealing the car, which he abandoned shortly afterward when the engine died. He finally collapsed on the street after failing to carjack the truck.
Police said Lasinski's gun had been stolen a couple of months earlier from a Trinity County home. It was found lying next to him on the street, with eight rounds in the magazine but none in the chamber.
Lasinski underwent surgery before being jailed in Humboldt County Correctional Facility. He remains in custody.
Several of Lasinski's family members were in the courtroom audience this morning. They included a small boy who giggled and pointed at Lasinski as he sat in the jury box in his orange jumpsuit. Lasinski smiled and waved at the child.
###
PREVIOUSLY: