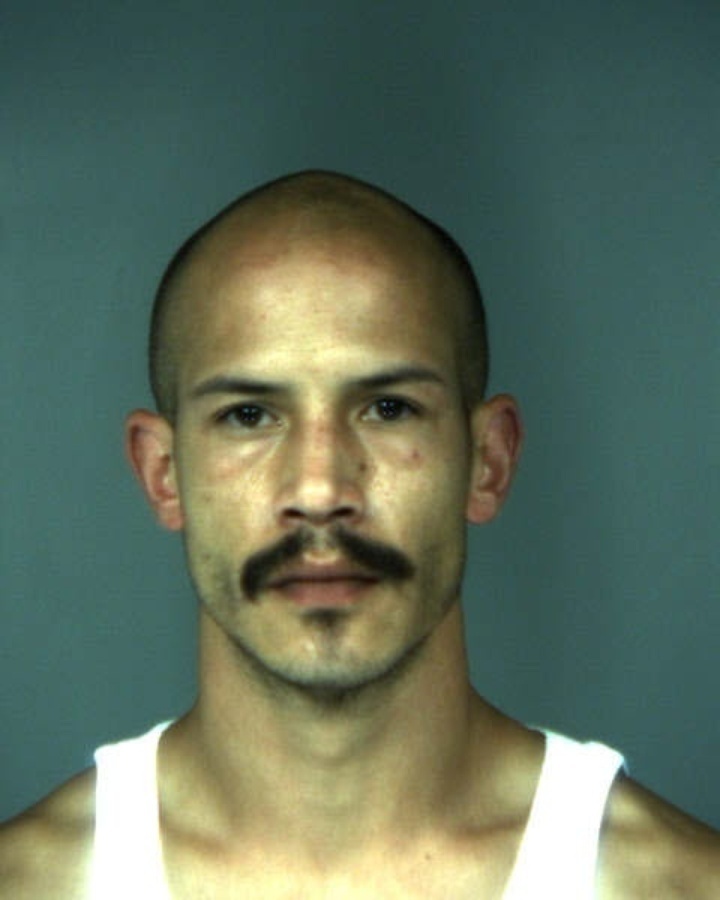 Eureka resident Nicholas Leigl pleaded not guilty for the third time today to murdering a 14-year-old boy in December 2014.

Leigl, 34, is charged with both murder and being an accessory after the fact in the death of Jesus Romero Garcia. The teen was stabbed three times and found bleeding to death on a lawn on 15th Street. It's alleged both crimes were gang-related.
Defense attorney Michael Acosta entered not guilty pleas this morning for Leigl. Judge Marilyn Miles set his jury trial for March 6.
Acosta succeeded once in having the charges dismissed. The district attorney refiled, and the case went to a second preliminary hearing before a different judge. Again, the judge expressed doubt that Leigl committed murder.
Dan Leigl, Nicholas Leigl's father, said today that Acosta has not filed a second motion for dismissal.
"Not yet," the father said.
Garcia was staying with Carolyn Snow, Leigl's then-girlfriend, when he was fatally stabbed. Leigl had arrived at Snow's apartment, followed shortly by three other men. One of them stabbed the boy three times, puncturing his heart and liver. Then they fled.
Leigl was persuaded to drive the boy to the hospital, but Garcia never made it.
Acosta contends Leigl was at the apartment to visit his girlfriend and had no idea the other men were going to arrive. Snow has testified she and Leigl were in a back bedroom when the teen was stabbed. However, she also once testified that she saw three men come in, and one of them had a knife.
Deputy District Attorney David Christensen says Leigl was in contact with the other men and acted as a "Trojan horse" to get them in so they could attack Garcia.
The other three suspects are Mario Nuñez, Joe Daniel Olivo Jr. and his son Joe Daniel Olivo III.
Nuñez, 31, is a validated Sureño gang member from Watsonville. He was already in San Quentin Prison when arrested for Garcia's slaying.
Olivo Jr., 38, is a confirmed member of the Mexican Mafia. He was in Pelican Bay State Prison for parole violation when arrested. His son Olivo III, 19, was arrested in San Luis Obispo by that county's Probation Department and Gang Task Force. Police say he also is a member of the Sureño gang.
The Olivos and Nuñez are scheduled for a separate trial.
Leigl is a Eureka native suspected of involvement with the 18th Street gang. His father claims "Nick" Leigl hasn't been involved with gangs for years. Law enforcement believes he was an active gang member.
According to court testimony, Garcia was targeted for "disrespecting" the younger Olivo. After the stabbing the boy reportedly didn't want to go the hospital. He insisted his wounds were not that serious, and he feared being arrested for being a runaway and violating his probation.
Snow's apartment was on P Street near Seventh Street. Leigl helped the boy into his car and drove away toward the hospital. The next morning, after lying in the rain for more than eight hours, Garcia was found dying on a dead-end street about halfway there.
Although Leigl has never told police what happened during that drive, his father says Garcia was insisting he didn't want treatment and was trying to get out of the car. Finally Leigl let him out at Myrtle and McFarlan avenues and went home. Garcia walked away, the father said.
If that scenario is correct, the boy would have walked up McFarlan and turned left to 15th Street. He lay in a hard rain all night and was breathing his last when discovered.
PREVIOUSLY: