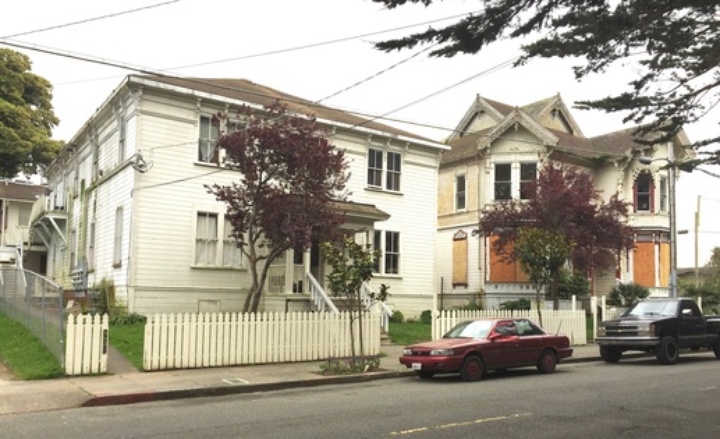 PREVIOUSLY
It has been three weeks since Judge Timothy Cissna ruled in favor of a group of 21 Eureka neighbors, finding that notorious local slumlords Floyd and Betty Squires negligently managed their properties at 1625 and 1635 G Street, allowing it to become a public nuisance.
This morning the Squireses appeared again before Judge Cissna with a motion to vacate or cancel his ruling, alleging among other things that Cissna should have disqualified himself from trying the case because he used to live at one of the properties in question.
Their filing also alleged that one of the plaintiffs had perjured herself, telling falsehoods during testimony, and that they (the Squireses) had been denied an opportunity to call some of their current tenants as witnesses during the trial.
Judge Cissna rejected all three motions in quick succession. It remains unclear whether the Squirses will now appeal the ruling.
Here's how things went down this morning:
Most of the plaintiffs, along with Eureka City Councilmember Kim Bergel, who has followed this case closely, were gathered in the hallway outside courtroom four, talking amongst themselves. Shortly after 9 a.m. a bailiff opened the courtroom door and allowed the neighbors to file in. It's unclear where the Squirses were waiting, but once the plaintiffs had entered the courtroom the bailiff barked in the hallway, "Squires! Let's go!" and Floyd and Betty appeared.
Cissna took a quick roll call and then proceeded to address the Squireses' motions in turn.
Regarding the allegation that he should have recused himself, Cissna said he never lived at the properties in question. He did, however, live in an upstairs apartment next door "almost half a century ago," he said — from March of 1972 until July or August of 1973. The landlord at the time was not Mr. or Mrs. Squires, Cissna said, and though he did consider recusing himself he decided that the facts did not rise to the level that required recusal or even disclosure. He denied the motion.
Moving on to the second motion — that one of the plaintiffs had given untruthful testimony — Cissna said there was no legal foundation and no evidence to support the allegation. Motion denied.
And finally, Cissna denied the third motion, saying both sides had "ample opportunity to call whatever witnesses they chose" during the proceedings. If the Squireses choose to appeal the ruling, he said, they will be able to call witnesses in a de novo hearing.
The whole hearing lasted roughly 10 minutes. In the hallway afterwards, Floyd and Betty Squires refused to answer — or even make eye contact — when this reporter asked if they planned to file an appeal.