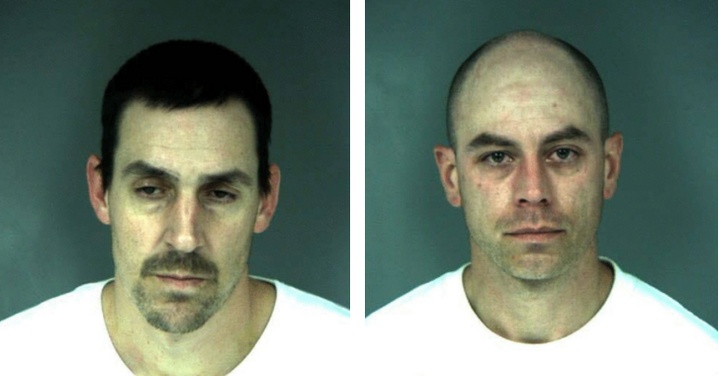 ###

PREVIOUSLY:
###
As soon as the marijuana transaction went south, according to testimony today, Billy Joe Giddings pulled a gun and started giving orders.

Eyewitness Kenneth Eskeridge, who was at his friend Kay Haug's house the night of May 9, 2015, testified today that Giddings waved a gun and yelled "Don't move! Where's your shit?"
At the same time, Eskeridge said, someone began banging on the front door of Haug's house on Eastern Avenue in Arcata. Haug's son Trevor Mark Harrison went to the door and put all his weight against it, trying to keep the would-be intruder out.
"Get away from the door, dog!" Giddings reportedly warned the 38-year-old Harrison.
"Did Trevor get away?" Deputy District Attorney Roger Rees asked Eskeridge.
"No."
"What did Mr. Giddings do?"
"He shot him."
Harrison slumped to the floor, Eskeridge testified. Then Giddings told people in the house to "Quit whining. (The gun) is only a .22."
Eskeridge said he jumped up and said something such as "We need to call the cops," or "We need to call an ambulance."
Giddings put the gun to his head, Eskeridge recalled, and said "Sit down, shut up and don't look at my face."
In the meantime the person who had been trying to get in the house walked in, apparently stepping over the mortally wounded Harrison.
Today Eskeridge, glaring at Giddings' co-defendant Robert Louis Huntzinger in the courtroom, identified the person who came in as "Him."
The night of the shooting Huntzinger walked directly to the back bedrooms and began rummaging through things, Eskeridge said. Then Giddings and Huntzinger left, and he called 911.
It was too late for Harrison, who had no pulse and wasn't breathing when the first police officers arrived just a few minutes later.
Today was the second day of testimony in Giddings' and Huntzinger's murder trial. During opening statements Monday, Huntzinger's attorney Russ Clanton said his client had no role in the killing. And Giddings' lawyer Luke Brownfield acknowledged Giddings shot Harrison, but said it was in self-defense after Harrison pointed a gun at him.
Eskeridge said today that he saw no gun in Harrison's hand, either before or after he was shot.
The marijuana deal that ended with Harrison's death was the second time that day that Kay Haug had rejected marijuana Kim Steele was trying to sell her. According to testimony, Steele and Huntzinger were there earlier that day, and Haug turned down the weed because it didn't weigh enough. Steele promised to return with more.
When she came back late that night Giddings was with her. This time Haug didn't want the pot because it was low-quality. That's when Giddings allegedly pulled the gun.
Eskeridge said he has been friends with Haug for almost 30 years. He seemed surprised to hear today that she had been storing more than 17 pounds of packaged bud in her bedroom. And he said he knew nothing about her throwing the pot out her bedroom window as her son lay dying on her kitchen floor. The marijuana was found the next day in a shed near Haug's house.
When Giddings and Huntzinger left, Haug went immediately to her son, Eskeridge said.
She was there just briefly because Steele, who had not left with the men, claimed to know first aid. So the mother went to the bedroom. Eskeridge said she was only gone for a minute, and she just went to see whether Huntzinger had taken anything.
Eskeridge presented a challenge to attorneys today, particularly to the defense. Asked whether he smoked pot and hash every day, he responded "I love the Earth." He later acknowledged he does smoke every day, though he cuts back a bit when faced with something like an Algebra test.
Asked about testimony that conflicts with statements he made earlier, he responded "You are trying to make something black and white in a colored universe."
Shortly after the shooting, Arcata police interviewed Eskeridge. When they asked why the men came to Haug's house, he told them "A good old home invasion." He mentioned nothing about the fact that Steele had been there at least twice that day trying to sell marijuana to his friend.
Eskeridge looked blank when asked whether he had been trying to protect his old friend from being found out as a marijuana dealer. Brownfield pointed out that selling marijuana was illegal in May 2015.
"She was trying to buy some trim," Eskeridge said, perplexed.
He denied that he was ever asked to retrieve a gun from a ditch near Haug's house. He also said he had never seen Harrison use methamphetamine. Brownfield told jurors during his opening statement that Harrison was high on meth when he was shot.
Today Judge Dale Reinholtsen reminded jurors that, according to a pre-arranged plan, the trial will not resume until Monday.
###