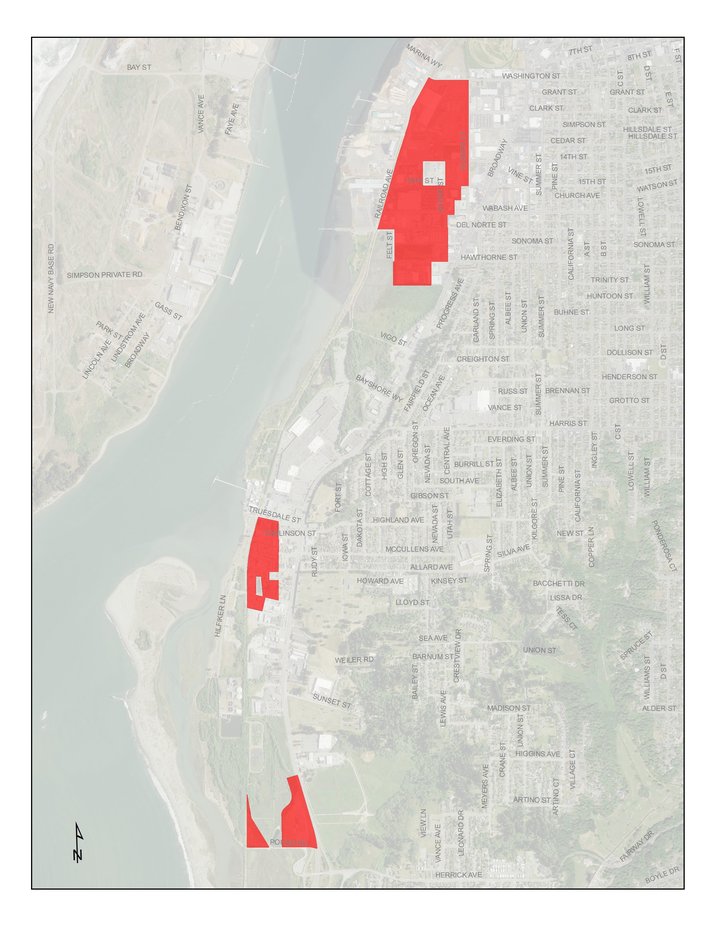 PREVIOUSLY:

From the City of Eureka's Development Services Department:
Welcome to the 12th installment of our fourteen part series "Get to Know a Zone District." In this series, a staff-member in the Planning Division answers questions about each Zoning District in the City. This month we will be exploring a true-blue industrial zone: MG

1. What is MG? What does it stand for?

"MG" stands for "Manufacturing - General." In everyday parlance most folks call it "Heavy Industrial".

2. What's it for?

Heavy industrial zones are reserved for the loudest, stinkiest, and most impactful uses. Think chemical products manufacture, concrete plants, and wood processing plants. With a conditional use permit, you can do fertilizer manufacture, slaughterhouses, and tanneries.

3. Oh wow.

Yeah wow.

4. Well, I mean, you kind of have to have some place for those uses to go.

Exactly. They aren't pretty uses, but they are what they are. You just really don't want these types of uses mixing with residential or commercial uses.

5. It seems like we don't have many of those industrial uses here at all. Are those uses relevant?

Zoning regulations in the United States came about in the early 20th century. At that time, the country was rapidly industrializing. Smokestacks were going up as fast as trees were coming down.

Eureka's zoning code came about in the 1960s, still very much anchored in that tradition. Our local economy has traditionally been based on natural resource extraction, principally timber and fish.

Unsurprisingly, our industrial uses involved the processing of these materials. Fish processing, canneries, shipyards, net and rope manufacture all went hand-in-hand with the fishing industry. The mills were set up to turn timber into lumber, which is a lot easier (and more profitable) to export.

Those uses are all pretty obvious. A lot of uses that we allow in our industrial zones today, however, are a bit of a stretch. A tannery and slaughterhouse make sense near a cowtown like Omaha, Nebraska. The great lake states were (still are?) a great place to make cars because it's comparatively easy to get Minnesotan iron ore to Pennsylvanian steel mills to a Michigander manufacturing plants to customers on the crowded eastern seaboard.

This is not to say that those uses can't or shouldn't happen here, but rather that it's important to think carefully about our local economy and where we want (and are able) to take it. The new zoning code will be much more tailored to our local context.

6. What about tech? What about post-industrialism? Outsourcing and reshoring?

Speaking generally, the U.S. economy has shifted from an industrial to post-industrial economy. The number of people employed in manufacturing (as a total share of the workforce) has declined. Correspondingly, the share of people working in service sector jobs has increased.

This trend can be seen across the country, and Humboldt is no exception. However, in our local economy, food-based and niche manufacturers are important economic engines. Market forces push some jobs/industries to other states or abroad (outsourcing), and a whole different set of market forces bring them back (reshoring).

That is an enormous and complicated topic that I recommend people dig into on their own time. As it pertains to land use regulation in Eureka, what we're after are appropriate regulations tailored to our local context. Industry has its place in Eureka, as does tech, tourism, healthcare and many more sectors. Our challenge is to encourage economic development in the most harmonious manner possible.

7. I'd really like to look at the City's zoning map.


No prob. http://gis.ci.eureka.ca.gov/disclaimer_commdev.html

8. Where can I get more information about this and other zoning stuff?

The Development Services Department (and Planning Division) is open Monday-Friday 8am to 5pm (closed from noon-1:00) at City Hall. Stop by or call 441-4160 to speak with a planner.