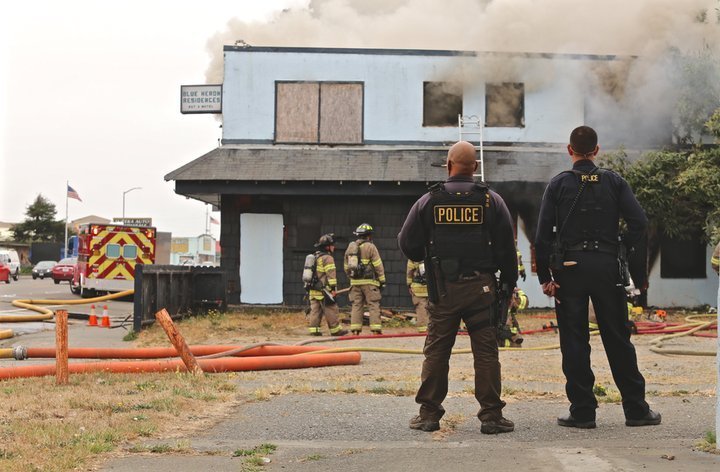 A second Eureka resident has been charged with setting fire to the former Blue Heron motel on Broadway.

Desiree Mae Henley, 25, was arrested on a warrant about 8 a.m. Sunday and released on her own recognizance. Henley was ordered to appear in court Nov. 13 for arraignment on a felony charge of arson.
It was Henley who told police her friend Kattie Rae Yocum set the blaze, and that Yocum did it because Blue Heron owner Floyd Squires reneged on a bargain: Yocum would perform oral sex on Squires, and in exchange he would then give her an apartment. She never got the apartment.
Yocum, 30, was arrested shortly after the Aug. 21 blaze and remains in custody. She was held to answer at a preliminary hearing last month and is scheduled for court Nov. 13, the day Henley is to be arraigned.
Witnesses saw both women running from the burning building that day. One passerby snapped their photo, which shows smoke from the Blue Heron rising in the background.
Police began investigating Henley after speaking with a third woman who was in the Blue Heron office when the fire was set. The District Attorney's Office filed the arson charge against Henley on Oct. 13.
The city of Eureka, which has been wrangling with Squires for years over his dilapidated properties, promptly tore down the former motel. City Manager Greg Sparks also released the police report detailing Yocum's alleged reason for starting the fire.
The maximum penalty for arson of a structure is six years in state prison.
PREVIOUSLY: