The woman who blamed the Blue Heron blaze on Kattie Rae Yocum may soon be joining her behind bars.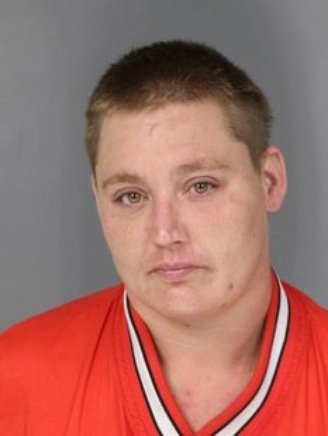 Yocum was held to answer today on a charge of arson, but not before a Eureka police officer acknowledged that no-show eyewitness Desiree Henley is a suspected co-conspirator. Henley is the person who told Eureka police Officer Heinrich Saltow that Yocum torched the former motel because building owner and local slumlord Floyd Squires broke a promise and didn't compensate her for oral sex.
At the end of Yocum's preliminary hearing this morning, Deputy District Attorney Adrian Kamada told Judge Dale Reinholtsen his office anticipates also charging Henley.
During her cross-examination of Saltow, Deputy Public Defender Meagan O'Connell pointed out it was Henley who threw shoes at a passing vehicle on Broadway when she saw the passenger taking pictures of her and Yocum as they fled the fire. And it was Henley who yelled "You can't take pictures of us."
Yet Henley later told police she warned Yocum against setting the blaze, and also gave a statement saying Yocum told her the motive was revenge.
"Ms. Henley said Ms. Yocum had told her that Ms. Yocum and Mr. Squires had an agreement that in exchange for oral sex he would provide her with an apartment," Saltow testified. "She had performed the oral sex and Mr. Squires had not come through on his end of the bargain, and she had not received the apartment."
Henley explained Yocum started the fire "because of that deal that did not come to full fruition," the officer said.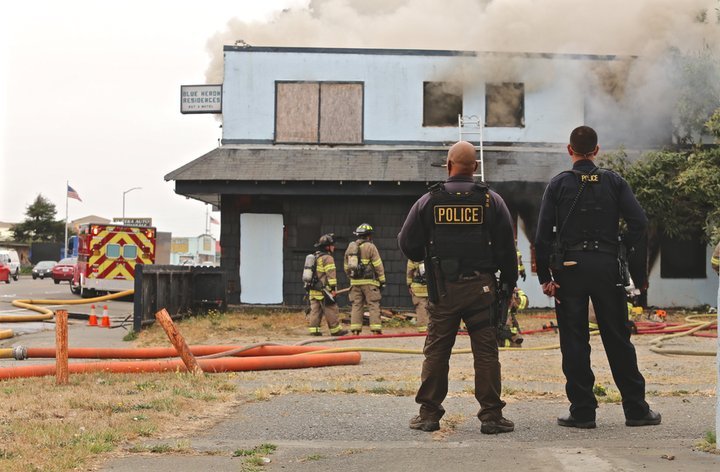 Police began investigating Henley's role after speaking with Carly Garrett, another woman who was in the former motel office and apparently saw the fire being started.

Today Saltow testified that Jake and Lorie Pierce, who were driving by on Broadway, saw two women apparently fleeing the fire. They turned around and drove back, and the husband began snapping photos.
Lorie Pierce described the two women as "jubilant, giddy and laughing," Saltow said. "She found that unusual because they did not appear to be people who were running for their lives from a fire."
The couple provided one photo to police. It shows Yocum and Henley running, with a background of the Blue Heron spouting white smoke.
After the altercation with the Pierces, Henley and Yocum went to nearby Serenity Inn, where Yocum's boyfriend Robert Adams was living. Yocum changed her clothes and the two women were leaving the inn when Saltow and another officer saw them. Yocum denied any involvement in the fire. Then Henley told her story to police, and Yocum was advised of her rights and arrested.
Once handcuffed and being led to a police car, Yocum "tried to head-dive into the pavement in an apparent attempt to injure herself," Saltow testified. (Video of Yocum's arrest can be viewed below.) In the car, she slammed her head against something.
# # #
Above: Video of Yocum's Aug. 21 arrest | Andrew Goff
Click video to play. Problems on iPhone? Turn your phone sideways.
# # #
After testimony ended, defense attorney O'Connell argued Yocum should not be held to answer when "the only evidence is a hearsay statement from a likely suspect in this case." She also said Yocum was cooperating with police until "she was being arrested for a crime she did not commit."
But Reinholtsen said enough evidence had been presented to hold Yocum to answer on a charge of arson. Her arraignment was set for Sept. 20, when a trial date may be scheduled.
Much of the testimony today was already public knowledge because City Manager Greg Sparks, apparently fed up with Squires and his slumlordy ways, decided to release Saltow's police report. Squires did not attend the hearing this morning.
Yocum, seated at the counsel table next to her attorney, listened calmly to the testimony. She yawned a time or two and occasionally nodded her head. She is now wearing her hair in a mohawk.
PREVIOUSLY: