William Lamar Hinson III will stand trial on a charge of murdering a Georgia man who was on his way to Legoland when he stopped off in Garberville and was beaten to death in an alley.

Yesterday Judge John Feeney, after listening to hours of often bewildering testimony, ruled there was probable cause to hold Hinson to answer for the brutal death of 37-year-old Khanh Lam on July 18, 2015. The Atlanta man's family had been expecting to meet him in Legoland in Southern California and had no idea why he was in Garberville.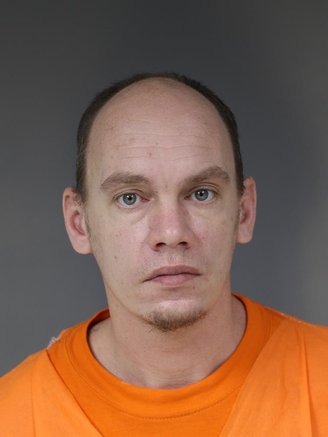 Three witnesses testified at Hinson's preliminary hearing, including one who had previously implicated Hinson but now says he made up his story because he was angry about being blamed for the murder.

Raymond Earl Preschern, 30, was charged with killing Lam and spent five months in jail before pleading guilty to felony assault and being placed on probation. He originally told detectives it was Hinson who hit Lam over the head with a board. Lam's skull was crushed and he survived one week on life support.
Preschern has now retracted his claims about Hinson. But Redway resident Reginald Newlin, who witnessed the fatal attack, testified yesterday that it was "Billy" Hinson who struck Lam twice on the back and once in the head with an old, beat-up board.
"I said 'Stop! You're doing too much!'" Newlin said. Although he seemed confused about some of the details, Newlin was positive Hinson was the man with the board. Two other men were holding Lam down, he recalled.
Newlin said Hinson was shirtless, and he recognized the dragon tattoo that covered his entire back. One of the men holding Lam down was "Ray" Preschern, Newlin said. Although he has his suspicions, Newlin can't identify the third man.
Lam was attacked after he reportedly accosted a woman in a van near the Garberville town square, punching her in the face and trying to take her daughter out of the van's back seat. He apparently did not know the woman, and the motive for the assault and attempted kidnap has remained a mystery. But sheriff's investigator Jennifer Turner testified that blood tests revealed Lam had ingested "well above" a lethal dose of methamphetamine.
"Mr. Lam had a very, very, very high level of methamphetamine in his system," Turner said under questioning by Deputy District Attorney Roger Rees.
In the summer of 2015, a number of transients were hanging out in the Garberville town square. Hinson and Preschern were among them. At noon-ish on the day in question, a woman began screaming "Don't take my kid," and several of the transients ran to help.
Preschern, the reneging prosecution witness, testified that he pushed Lam away from the screaming woman, then ran after him when he fled.
Preschern said he found Lam fighting with the man who was in the van with the distraught woman. That man punched Lam a few times, he said, and then Lam picked up a nearby stepladder and struck the van driver, knocking him down. Then Preschern stepped in and Lam swung the stepladder at him, hitting him in the elbow and knocking off his glasses.
He said he punched Lam in the head a few times, and the last punch sounded like "a meat tenderizer hitting a piece of meat."
Lam was knocked cold, Preschern recalled, and then he left. No mention of Hinson hitting Lam with a board, which is what he'd previously told investigators.
Preschern said he is legally blind without his glasses, and he asked someone standing next to him to find them. He had previously said that person was "Bill," but now he doesn't know because he couldn't see the person. He just knows that after about 15 minutes, the woman in the van showed up with his glasses and an ice pack.
After the killing Preschern and Hinson worked together on a marijuana grow near Garberville for about two months. Preschern says they never talked about the killing, except to say they wished it hadn't turned out so badly.
Preschern ended up in Arkansas.
"I assumed that this man had passed away by my hands," he said, "and I didn't want to go to jail for murder and I ran."
Later he learned Lam had died from head injuries, and he also heard Hinson had been bragging about it. He now denies he ever told investigators about Hinson bragging.
Preschern was on his way to Florida, where he knew Hinson was living, when someone stole his van and he could travel no farther. His aim, he testified, was to convince Hinson to go to authorities and tell the truth about the incident in Garberville.
It's unclear what Preschern considers the truth, because he now refuses to implicate Hinson. But he sent Hinson a message on Facebook saying he needed to go to authorities and make a statement, or he was going to "knock you out and drag you to the police station."
Hinson responded with a picture of a Glock handgun on a plaid tablecloth, saying he was ready.
Deputy Conflict Counsel Marek Reavis, representing Hinson, told Judge Feeney the prosecution had presented two dramatically different accounts of the killing. One was from Preschern, saying he had delivered a blow that left Lam unconscious and motionless on the ground. The other was from Newlin, claiming Preschern held Lam down while Hinson hit him with a board.
"We have two entirely different descriptions of Mr. Lam's injury," Reavis said. "The prosecution is asking the court to choose."
Prosecutor Rees responded that the accounts don't conflict. It's just that the witnesses saw the events at different times.
Feeney ruled that for the purposes of a preliminary hearing, the district attorney had proved probable cause. Hinson's arraignment was set for Oct. 3.
###