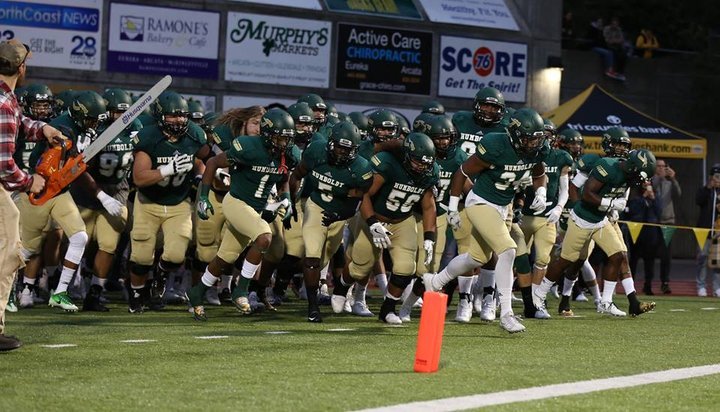 Let it go.

For many small towns in America, the local college football team is a source of community pride and cultural identity. In Humboldt, Lumberjack football is a sad afterthought not worth saving.
Every fall, while many college towns plan their Saturdays around packing local football stadiums in matching attire, shouting drunken chants and engaging in silly rituals, Arcata raises more fuss over what kind of chard is offered at the local farmers' market. And while there's been a meager cry of support from community members to save Humboldt State University's football team in the last few weeks — it may vanish this November due to a growing financial deficit within the school's athletics department — let's be absolutely honest with one another. Arcata is not a college sports town. It never was. And unless there's a dramatic shift in local and university culture, there's not much reason to keep Lumberjack football around.
As it stands, HSU's athletics department is currently $500,000 in the shitter, and it's estimated that number may rise to $900,000 if the football team is still around next year. There's several complicated reasons for this. For one, HSU is experiencing a decline in full-time students, who individually pay about $525 dollars in athletics fees each year. The university is also seeing a steady decline in ticket sales. Perhaps the biggest problem: The university is financially overwhelmed by rising salaries and benefits mandated by labor contracts — an issue affecting public universities nationwide.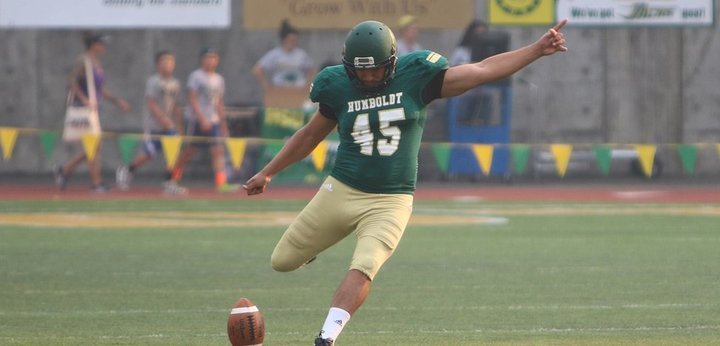 HSU football is undefeated so far this season and has outscored its opponents 185-47. But whatever.
The NCAA reports that in 2015, no Division II program in the country — football or not — took in enough revenue to cover its expenses. Not one. And considering the median Division II university showed a negative net revenue of about $5.4 million in 2015, things could be a lot worse at old Humboldt State. While revenue generated from Division II football has increased significantly nationwide in recent years, growing 89.3 percent between 2004 and 2015, the costs of running a DII football program have skyrocketed by 126.6 percent during the same period. With costs trending upward and funding trending downward, HSU is forced to ask itself: How cherished is Lumberjack football, really?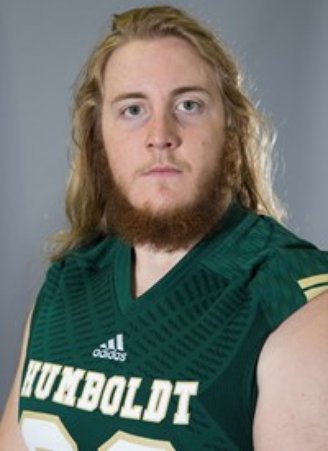 Despite HSU football's recent flurry of accolades — winning the Great Northwest Athletic Conference Championship in 2015, earning two nationally televised games in 2016 and being featured in a Sports Illustrated article — ticket sales have declined. Even as Jacks current left tackle Alex Cappa is anticipated to be Humboldt State's first NFL draft selection in decades, and even as the school threatens to shut down the program, the bleachers remain empty.
HSU's recently appointed Interim Athletics Director Duncan Robins told the Outpost that fewer than 2,000 people are estimated to have attended last Saturday's home opener — filling just a third of Redwood Bowl's 6,000 seats. Empty bleachers are a common problem at HSU home games, and the reason is glaringly obvious: Humboldt County overwhelmingly doesn't appreciate or understand the joys of organized sport. That includes HSU's roughly 8,000 students, a huge majority of whom choose not to attend games on the grounds that it's cool to think organized sports are dumb. For these students I have a few words:

Of course organized sports are dumb, you idiots! Do you think the hundreds of thousands of college students making assholes of themselves at games every year, painting their bodies neon colors and screaming over every meaningless play, are actually interested in the integrity of the game? Do you realize that it's all a creative mockery of sport — a fun excuse to celebrate a drunken evening with friends and your community before partying? Or did you not consider that last Saturday, as you sat alone in your dorm twiddling your septum piercing to EDM before hitting the local bars and grinding on someone with VD?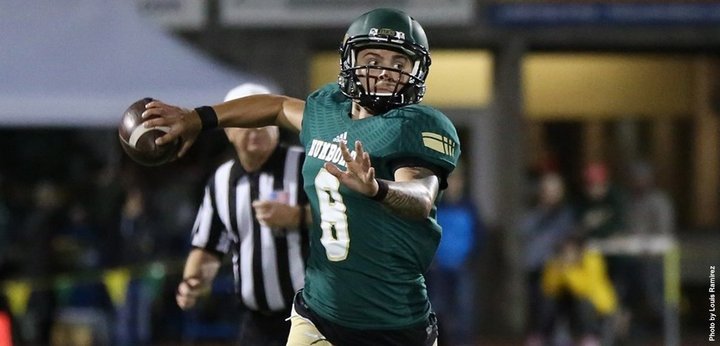 And you, Humboldt. How is it that Arcata, a community that spends every summer cheering on giant bicycle sculptures and competitive oyster swallowers, can't come together to celebrate a little local culture through HSU football? Somehow you find the time to pack the bleachers at Crabs games, where you legitimately root for out-of-town college athletes. But when fall rolls around, you can't come together to support the students in your very own community? You know, the ones that help keep your businesses open? Shame.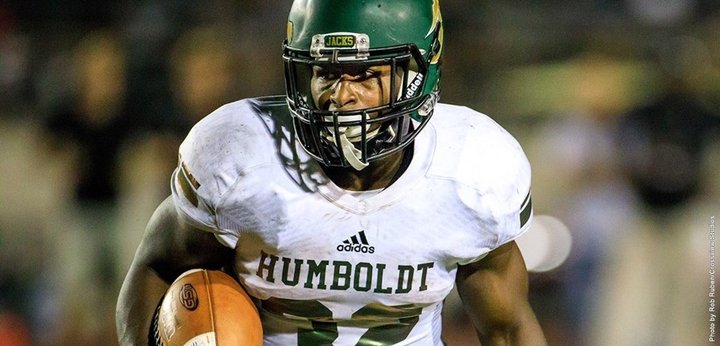 ###
Maybe you all think it's boring. And you're right. HSU's current sports environment is dull and uninspiring. But what better reason to go the exact opposite way with it, be creative and make these local events a spectacle? Schools all over the country, big and small, figured out how to do it a long time ago.
In hopes of inspiring Humboldt to create its own fun and hilarious college sports traditions — although it's probably too late for football — here are a few of the best traditions from around the country.
Taylor University, a tiny school with 2,500 students in Upland Indiana, isn't known for its athletes. And yet the school's basketball team is featured on ESPN every year. The reason? A hilarious tradition put on by the students. Every year, TU students show out for the last home basketball game before finals week. Dressed in absurd costumes, they remain absolutely silent in the bleachers as they wait for their team to score its 10th point. Then, once the 10th point is scored, mayhem. For no reason other than hilarious tradition, the students storm the court — celebrating the moment like their team has just won the national championship. Once the ruckus dies down, the game continues and student's lock hands to sing "Silent Night."
At University of Colorado Boulder, during every home football game, the school celebrates its local culture by running Ralphie the buffalo in a horseshoe pattern around the field before each half. Once Ralphie gets the crowd hyped up, the football team charges the field.
Before every game, University of Hawaii football players dazzle crowds and intimidate opponents by performing the Haka — a traditional Polynesian war dance. You're better off just clicking the video above and seeing the Rainbow Warriors in action for yourself.
###
Now that you've got the idea, let's talk about what could work for HSU. Like those mentioned above, any great tradition needs to be unique to its school and represent the local culture. So what's unique to Arcata?
Rain
What if every time it rained during a home football game, Redwood Bowl erupted in ceremonious song. Community members locking arms and swaying their umbrellas as they belt out a popular rain tune. There's plenty to choose from: Singing in the Rain, Have You Ever Seen the Rain, Purple Rain, It's Raining Men. The chosen song could even be sung specifically while the away team is on offense to help distract their play. And the crowd could be led in song by our beloved Marching Lumberjacks as a way to incorporate old traditions with the new.
Yaks
Ralphie's Run is a successful tradition. Why not do a similar thing with Arcata's infamous yaks, which can regularly be seen walking around HSU? Before every game, the yaks could trot across the field, their dingleberries dangling in the face of our opponents — a symbol of HSU's might.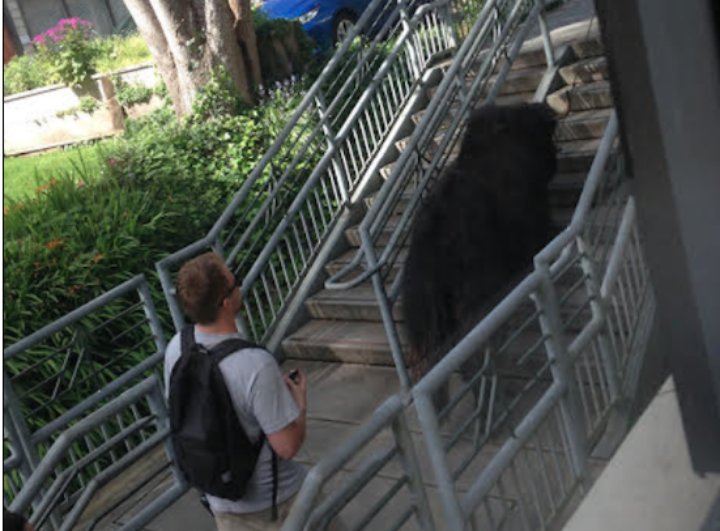 Logging
Sure, revving chainsaws in the end zone and HSU's Lucky Logger mascot are all well and good. But they're obviously not enough to draw a crowd. So let's kick things up a notch. What if Lucky the Logger wielded a chainsaw with an actual blade, shaving a chunk of wood from a giant log resting on the field every time HSU scores a touchdown? Players could even sign the log chunks, which could be given out to lucky fans at the end of the game. The Portland Timbers MLS soccer team does something similar and it's a crowd favorite.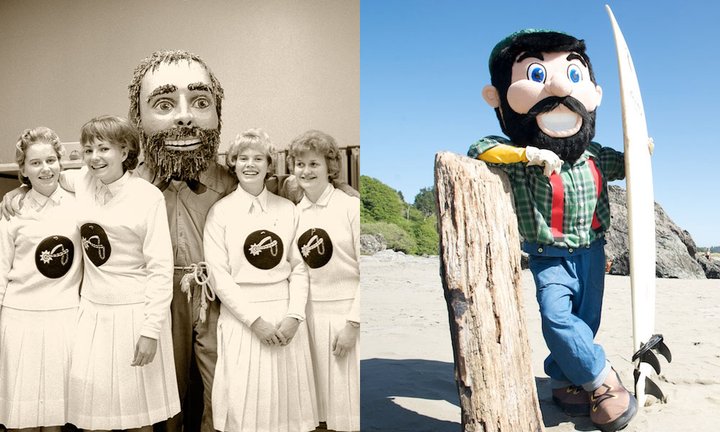 ###
Or, you don't have try any of these things. Fuck me, right? Go on ignoring HSU sports. Let Arcata remain a boring college town, best known for its plaza bums and dive bar strip. Let something that's been a part of your community since 1923 — one of two remaining DII football teams in the state — vanish overnight. You haven't given it much attention while it was here. So let it go. You didn't deserve it anyway.
Prove me wrong, Humboldt. Show up to HSU's next home game against Chardon State on Sept. 30. Help the cause, and maybe try something new and interesting.