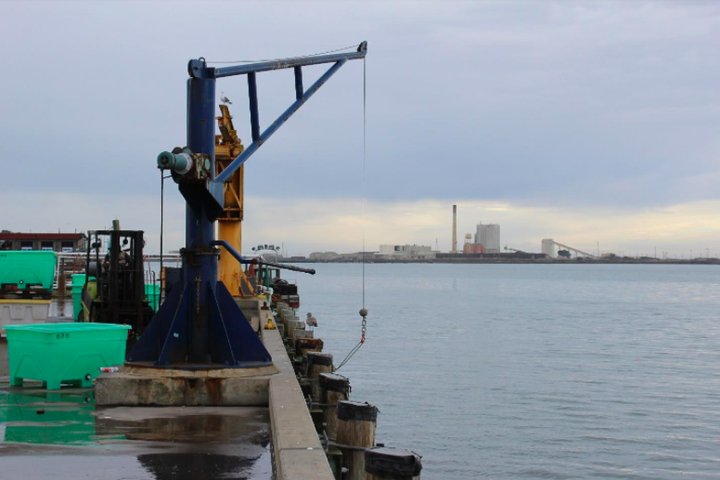 PREVIOUSLY:

From the City of Eureka's Development Services Department:
Welcome to the 13th installment of our 14-part series "Get to Know a Zone District." In this series, a staff-member in the Planning Division answers questions about each Zoning District in the City. This month we will be exploring an industrial zone that most towns just don't have: MC

What is MC? What does it stand for?

"MC" stands for "Coastal Dependent Industrial Districts."

Its job is "to reserve and protect parcels adjacent to the sea for coastal-dependent and coastal-related uses."

It's limited only to uses such as commercial docks, fish processing facilities, shipyards, etc. — all of the uses that need to be next to the water.

I totally get that. You can put an auto-body shop anywhere – but you can't just a stick a seafood processing plant anywhere.

Exactly. You definitely want to be able to offload your catch right into the factory. If these areas became, for example, waterfront condos then it would prevent the successful operation and expansion of coastal-dependent industrial uses.

So what's all the drama about?

Well, the concept is sound – but some question the practical implementation of these regulations given current economic trends.

Eureka and Humboldt have an awful lot of land reserved for coastal-dependent uses that has sat vacant for decades. In the past, these industrial waterfront areas thrived as the fishing and timber industries boomed. As those industries declined, a good number of waterfront properties came to be unused.


Due to the zoning restrictions, the unused lands stay unused until a "coastal dependent" business wants to operate at the site. It doesn't matter that the parcel has been vacant for 10-plus years, or that an industrial business is ready to sign a lease; the zoning regulations are rigid and simply will not allow anything to occupy the site that is not "coastal dependent."

So what (if anything) should be done about it? Opinions vary widely. Some say that a portion of the land should be rezoned to allow other uses, even if only for a limited time (the County did this).

Some think the current arrangement is satisfactory because it preserves the land for coastal uses long into an unknown future (i.e. Who really knows what the need for coastal-dependent industrial lands will be like in 2060?).

Some think it will all be underwater in a few years anyway due to sea level rise so we should just turn it into a natural area and be done with it. What do you think?

Me? I don't really have an opinion.

Well, engage yo' self!

Oh, I will. I feel totally inspired. I'd also really like to look at the City's zoning map.

No prob. Click here.

Where can I get more information about this and other zoning stuff?

The Development Services Department (and Planning Division) is open Monday-Friday 8am to 5pm (closed from noon-1:00) at City Hall. Stop by or call 441-4160 to speak with a planner.