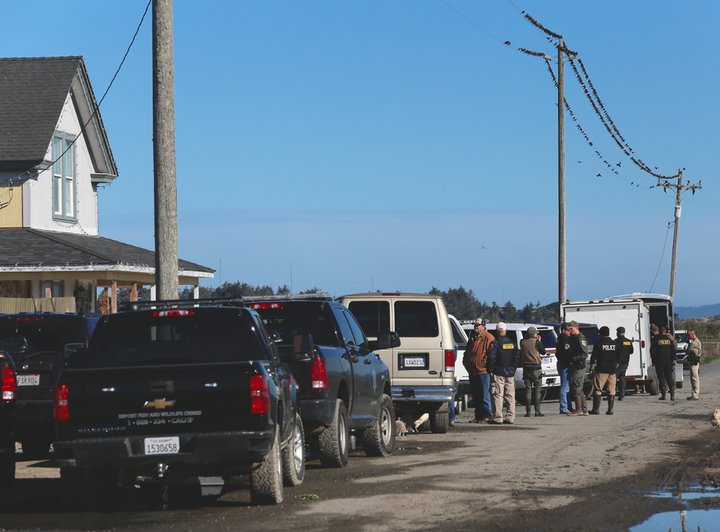 PREVIOUSLY: Cops Raid Notorious Ranch in the Arcata Bottoms; Rancher Ray Christie Arrested at the Scene

# # #
Humboldt County Sheriff's Office press release:
During a five month investigation into large-scale animal cruelty complaints about properties owned by or associated with local rancher Raymond Frank Christie, Humboldt County Sheriff's deputies observed bovine bones and carcasses in/near waterways, as well as, areas on the properties where cattle were being contained with little to no feed or grass. These observations validated community complaints that serious violations were taking place on the properties.

On Monday, March 19, 2018, the Humboldt County Sheriff's Office served search warrants at four northern Humboldt County properties associated with Christie, with assistance from the following agencies:

Humboldt County District Attorney's Office
United States Bureau of Land Management
United States Department of Agriculture
California Department of Food and Agriculture
California Department of Fish and Wildlife
Humboldt County Code Enforcement
Humboldt County Department of Health and Human Services
Hazardous Materials Division
Humboldt County Animal Control
Humboldt County Drug Task Force

During the service of the warrants, personnel located approximately 250 to 300 deceased cows, some of which Christie had heaped into large piles approximately 10 feet high near an excavator; others were located laying in/near waterways. Personnel also found a large number of cows contained in small or insufficient corrals and many malnourished animals.

Further violations found included:


Moving dairy cattle without official ID tags
Removal of Brucellosis tags
Removal of state livestock back tags
Bringing cattle into California without veterinary inspection certificates or ID tags
Improper disposal/storage/removal of solid waste
Improper animal keeping
Illegal development within a streamside management area
Cannabis permit violations
Improper/illegal disposal of biohazard waste
Building code violations
Additionally while on the properties, the California Department of Fish and Wildlife discovered the following violations:
Twenty-one violations of disposal of a carcass within 150 feet of a state waterway
Seven violations of discharging sediment into state waterways
Five violations of placement of refuse within 150 feet of a state waterway
One violation of abandoned motor vehicle in a state waterway
Eight violations of substantial alteration of bed and banks of a stream without a permit
Three unpermitted stream crossings

Humboldt County Animal Control found the following violations on the properties:


Five violations of dogs kept in unsanitary conditions
Eight violations of dogs without water
Five violations of inadequate space for dogs to move freely
Four violations of primarily housing a dog on wire flooring

Violations found by the Humboldt County Animal Control were corrected on scene and the dogs were left in the care of a responsible party. The California Department of Food and Agriculture has placed 179 head of cattle on hold for repossession pending further investigation. A plan to care for the remaining livestock owned by Christie is still being developed.

Based on the evidence located, the Humboldt County Sheriff's Office arrested Christie on the following charges:

PC 597(a) – Animal cruelty
PC 597(b) – Causing an animal to be cruelly killed
PC 597.1 (a) – Failure to provide proper care to an animal
FG 5652 – Disposal of a carcass within 150 feet of a state waterway

Christie was booked into the Humboldt County Correctional Facility with bail set at $25,000.

The California Department of Fish and Wildlife as well as other involved state agencies will be requesting additional charges as this investigation continues.

Anyone with information for the Sheriff's Office regarding these cases or related criminal activity is encouraged to call the Sheriff's Office at 707-445- 7251 or the Sheriff's Office Crime Tip line at 707-268- 2539.
ELSEWHERE: Christie was released yesterday.
MORE PREVIOUSLY: