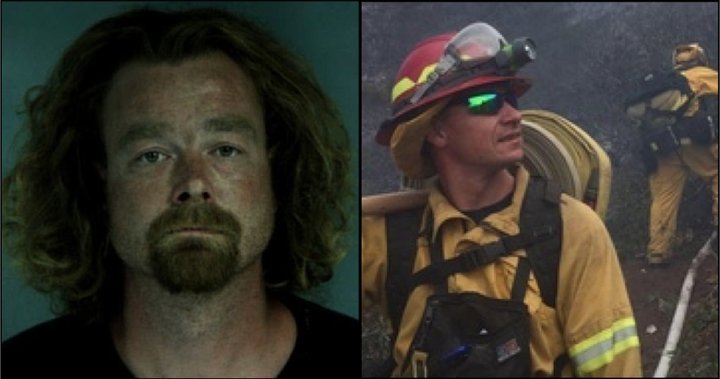 PREVIOUSLY:

When murder suspect Jon Goldberg told his neighbor he was going to kill his wife's boyfriend, the neighbor didn't think Goldberg was serious.

Chad Holub testified today that Goldberg, charged with murdering his wife's boyfriend Timothy Smith, showed up at his Bridgeville-area cabin at "noonish" on Sept. 26, 2016, while he was cooking lunch. He heard a vehicle drive up "a little fast," and saw Goldberg riding in on his quad. Goldberg asked to use Holub's phone, he said, and was obviously upset during the phone call. Then he told his neighbor what was going on: The man he'd been fishing with the day before was having an affair with his wife, Rachel Goldberg.
"He told me that 'I'm gonna kill that motherfucker,'" Holub said under questioning by Deputy District Attorney Luke Bernthal. "That sums it up."
But Holub said he brushed it off, trying to joke with Goldberg and put some humor into the situation.
"I didn't think it was a serious conversation at all," Holub said. "I didn't think much of it."
Holub said he recalled saying something to Goldberg such as "Is it worth it?" and "What about the kiddo?" in reference to the Goldbergs' 6-year-old son.
After he finished making lunch for his workers, Holub decided to go down and visit Goldberg. He took a couple of beers and some marijuana, because it seemed like Goldberg "needed someone to talk to." But when he got there Goldberg wasn't home.
It was shortly before 12:30 p.m. that Goldberg allegedly shot Smith to death outside his home on Rohnerville Road.
Holub testified that the Goldbergs were good neighbors. On a scale of one to ten, "with ten being a really good friend," he figured Goldberg was a four or a five.
Under cross-examination by Deputy Public Defender Casey Russo, Holub said he'd never seen Goldberg act angry or aggressive. In fact, he was the opposite.
"He was a pretty mellow fellow, you know?'' he said.
He said, though, that on that day Goldberg was angrier than he'd ever seen him.
Holub said the bulk of his conversation with Goldberg was about the affair, not about taking revenge on Smith.
As to his comment about killing that motherfucker, Russo asked whether Holub remembered the precise words.
"I think that's what he said," Holub responded.
Later, prosecutor Bernthal asked whether he was still friends with Goldberg.
"I haven't spoken to him since then," Holub said.
"I'm sorry, was that a yes or a no?"
"I don't know how to answer that question. I really don't. I've never been in this situation before."
Later today, Deputy Coroner Jamie Barney testified about his role in the investigation. He said he arrived to find Smith's body under a yellow emergency blanket. He took photographs, documenting Smith's wounds. There was one hole in the center of his chest, four holes on his left side and one in the center of his back. Blood was pooled near his head and chest.
Barney also attended the autopsy and collected the five bullets found in Smith's body. Bullets were removed from his chest, back and left shoulder.
During Barney's testimony jurors saw many photos of Smith's body as Barney found it, including a close-up of his face. The testimony and photos were too much for two of Smith's family members in the courtroom audience. They left the courtroom. Other friends and family members remained in court but sat there weeping.
Defense attorney Russo has criticized the Fortuna Police Department's investigation of the case, and today he grilled FPD Officer James Jengeleski about his decisions at the crime scene.
Jengeleski acknowledged he interviewed witnesses in a group rather than individually, as he was trained to do. He didn't start a crime scene log until an hour after he arrived. The log is to document who enters and leaves the crime scene. Several officers' names were only listed once, meaning he only recorded when they arrived or left.
The Fortuna police also didn't search Tim Smith's pickup truck or the Smith residence. Goldberg is expected to testify that Smith reached for a gun in his truck.
Testimony was expected to continue tomorrow morning before visiting Judge Graham Cribbs, who is presiding over the trial.