Three Humboldt County jail inmates say child-molestation suspect Cory Jordan Fisher Sr. sexually assaulted them while he was still working in the facility as a correctional officer.
In claims filed against the county, John Doe I says Fisher bullied him into performing oral sex. Jon Doe II claims that Fisher, after squeezing the man's penis, threatened him to keep quiet or he would report the inmate had attacked him.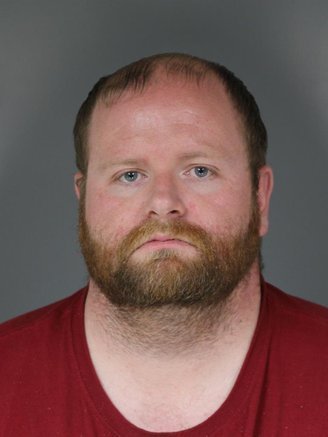 Doe I claims Fisher woke him up on two separate occasions by groping his buttocks. The second time, the claim says, the inmate asked Fisher "What the fuck are you doing" and Fisher responded with "Be quiet or else I'll call a code and say you assaulted me."

Finally, the complaint states, Fisher came into Doe I's cell to wake him, then said "before I leave I have something I need you to do."
Fisher allegedly unzipped his pants, pulled out his penis and said something to the effect of "I need you to suck on this."
"Fuck no," the inmate reportedly said.
"Fisher then came closer," the claim states, put his taser to the back of the inmate's head and said "Yes you are."
"With the taser to his head, (the inmate) performed oral sex on Mr. Fisher."
Doe II claims he was sexually assaulted by Fisher on three separate occasions. The first two incidents involved Fisher touching the inmate's legs and buttocks. On the third day, Fisher allegedly woke the man up by squeezing his penis. When Doe II protested, Fisher allegedly pulled out his taser and radio and warned him to calm down or he would report an assault.
The first two claims were filed by San Francisco attorney Tyler Smith and ask for damages "in excess of $25,000."
A third claim, filed by Arcata attorneys Peter Martin and Shelley Mack on behalf of John Does III and IV, says that on six or seven occasions one of the men "endured aggressive and highly sexualized frisks prior to entering the shower facility."
The frisks allegedly included Fisher rubbing, touching and manipulating Doe III's genitals.
Does III and IV also say that while they were showering, Fisher "ogled" them using homemade binoculars consisting of two glued-together toilet paper rolls. Other jail employees looked on and laughed, the complaint states.
Those two inmates filed a written grievance over the ogling incident. It reportedly was denied by a jail sergeant who called it "untimely."
The men filed an appeal, which was denied as "filed too late" and "no good."
A sheriff's detective interviewed Does III and IV once and promised to get back to them but reportedly never has.
These inmates are asking for damages of $50,000 each.
Although the county redacted the men's names from the complaints to protect their privacy, The Outpost is aware of their identities They range in age from mid-20s to 50's, and all are charged with serious felonies. Two have already been sentenced, Doe I to state prison and Doe II to a lengthy jail term. Doe II filed a writ earlier this year, complaining about mental health services in the facility. Writing by hand in pencil, he said he was in desperate need of counseling after being sexually assaulted by a jail employee.
A judge dismissed the writ in March because the inmate was receiving the counseling he wanted.
Local blogger John Chiv was the first to file a request to view the complaints, but the county withheld them to avoid violating the protective or "gag" order imposed in Fisher's child-molestation case. Last week Judge Dale Reinholtsen ruled the documents were not covered by the order and could be released. During the same hearing, Deputy County Counsel Natalie Duke asked Reinholtsen to make an exception to the gag order and allow the Sheriff's Department to hold a news conference responding to the inmates' claims. Reinholtsen said that would be up to Judge Christopher Wilson, who signed the order.
Both District Attorney Maggie Fleming and Sheriff William Honsal declined comment because of the gag order. But Honsal said in an e-mail that "as a matter of policy and procedure, the Sheriff's Office is fully compliant with CA state law and the Prison Rape Elimination Act. We investigate all claims of sexual abuse and sexual misconduct in the county jail and forward the alleged criminal complaint to the district attorney for review."
And Fleming, also in an e-mail, said "I cannot comment on the investigation and what information we were provided for review."
Fisher, 31, served as a correctional officer for 11 years, resigning in late August 2017 as the Eureka Police Department began investigating him for possible long-term sexual and physical abuse of three boys. Three additional victims came forward later, and he is now charged with molesting six boys.
About a month after Fisher quit his jail job and moved to San Bernardino, the EPD arrested him there on a warrant. He was brought back to Eureka and jailed on $3 million bail. Since then he has been assigned a half-dozen different attorneys, resulting in his preliminary hearing being repeatedly postponed. His current lawyer is Deputy Conflict Counsel Joe Judge.
The preliminary hearing is now set for June 21. Whether it will happen is in question, as Fisher's is just one of seven preliminary hearings scheduled that day.
###
PREVIOUSLY