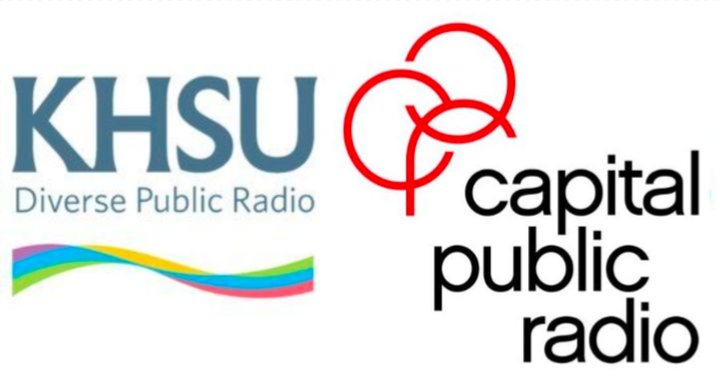 Looking to establish a viable future for the beleaguered KHSU, Humboldt State University administrators have been exploring a partnership with Capital Public Radio, out of Sacramento, and Chico's North State Public Radio (NSPR).
Phil Wilke, NSPR's general manager, tells the Outpost that the three stations have been talking about a partnership since spring with the goal of signing a Public Service Operating Agreement (PSOA).
In an email, Wilke explained that such an agreement would allow the larger station — Capital Public Radio — to operate the day-to-day functions of the smaller stations while the licensee for the smaller stations (Chico State and Humboldt State) keep their respective licenses.
The Chico station has been allowing KHSU to air its programming off and on since April, when KHSU's staff and volunteer workforce got eviscerated in one fell swoop. Relations among KHSU personnel and university administrators had been acrimonious under station General Manager Peter Fretwell, especially after the termination of longtime program manager Katie Whiteside in May of last year.
[UPDATE: After this post was published, the Outpost learned that Fretwell was on HSU's payroll until July 25, despite the elimination of direct payroll support for his position three and a half months earlier.]
Still, the sudden mass layoffs announced in April, in the waning days of former HSU President Lisa Rossbacher's administration, left the station's most ardent fans shocked and outraged. Most of KHSU's members and underwriters pulled their financial support, and the two employees who hadn't been laid off soon quit in protest.
Current and former state lawmakers lambasted the university for its decision in a letter to the chancellor of the California State University system, and state Sen. Mike McGuire characterized it as a devastating blow, telling the Sacramento Bee, "KHSU is the heart of this community and that heart was ripped out."
HSU now has new president, Tom Jackson, Jr., and many locals have been wondering what that might mean for the future of the nearly 60-year-old community radio station.
HSU is being characteristically tight-lipped about the situation.
"Capitol Public Radio has made HSU aware that it's in serious discussions with Chico's North State Public Radio about a partnership across Northern California," said Humboldt State University Communications Specialist Grant Scott-Goforth. "The stations have asked if KHSU would be willing to consider entering into that partnership at some point."

And would they be willing?

"HSU continues to consider a variety of approaches for KHSU," Scott-Goforth said. "At this point, we are not ready to share additional details." [Disclosure: Scott-Goforth and I are former colleagues and personal friends.]

Shirlee Tully, Capital Public Radio's chief development and brand officer, said it was HSU that made the initial overture.

"We have not reached out to them; they have reached out to us," she said.
Wilke agreed. "It's my understanding that KHSU approached CapRadio, who suggested NSPR be part of the discussions," he said. Those discussions, at least, have borne fruit. NSPR and CapRadio have embarked on a study to explore the systems integration, business protocols and regulatory and structural details that a partnership would entail. The goal, Wilke said, is for Chico State leadership to make a final decision in the fall.
"NSPR saw benefits from the proposed partnership with CapRadio and decided to go ahead with the study, even while Humboldt State reviews its options," he explained.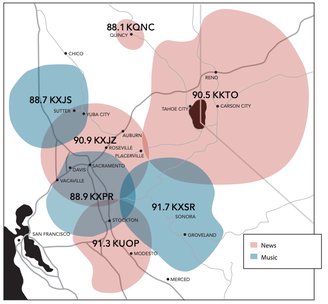 Capital Public Radio currently manages a network of seven stations broadcasting to more than 470,000 weekly listeners from the Central Valley and Sierra Nevada into Reno, Carson City and beyond. It maintains a Public Service Operating Agreement with Sacramento State to manage these various public radio stations.
Wilke said aligning with Capital Public Radio would give NSPR access to the larger station's robust services, including its membership, social media and development.
"We'll get to partner with the newsroom on regional reporting initiatives and add journalists at our Chico base," he said in his email. "CapRadio gets additional broadcast partners for their award-winning shows, continues their public service mission in a wider area and provides a distribution platform for additional reporting we can provide."

KHSU, meanwhile, has precious few human resources remaining. The station has been airing syndicated content from National Public Radio, the BBC and Public Radio International without so much as a deejay in the booth to recite the time and station identification. During stations breaks, listeners are treated to a couple minutes of generic music instead.
Wilke said a partnership with Capital Public Radio would be a win-win for NSPR. "We'll continue to produce our local shows. We'll continue to host our local music shows, and we'll be able to expand our regional news coverage because the savings we expect to realize on partnering in back-office operations will be fed directly back into the journalism we can provide our listeners," he said.
Even if KHSU winds up joining this regional partnership, it will have a lot of rebuilding to do before locals once again consider it their community radio station.
# # #
PREVIOUSLY