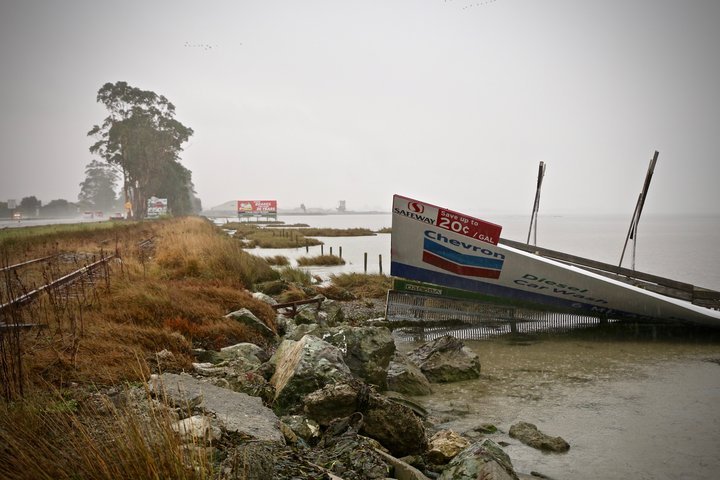 Two billboards that crumbled under strong winds in that powerful pre-Thanksgiving storm may be gone for good. The Humboldt County Planning Commission is expected to decide their fate at a public meeting sometime in the next two months.
One of the two billboards (pictured above) face-planted on the north side of Hwy. 101 between Arcata and Eureka. When the tide was high this billboard's footing was nearly submerged by the waters of Arcata Bay.
The other billboard was south of Eureka between Humboldt Hill and Elk River Road, on the east side of the freeway. It, too, sat close to coastal waters, near the confluence of Elk River and Swain Slough. Here's how it looks now: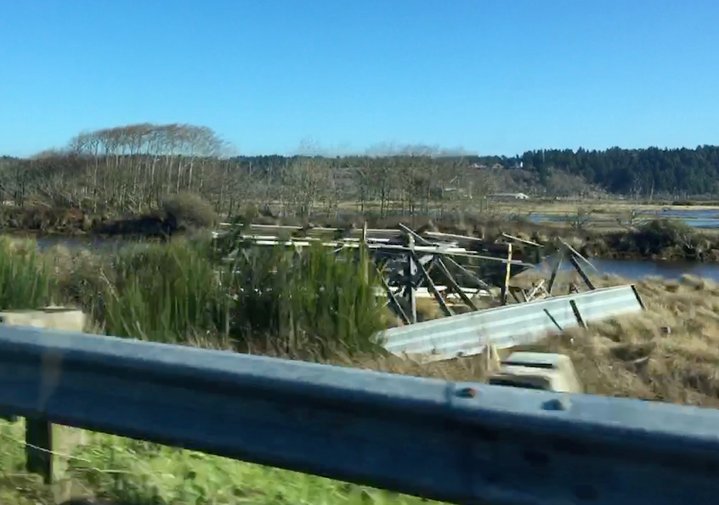 John H. Ford, the county's planning and building director, tells the Outpost that both billboards are "legal, non-conforming" structures, meaning they don't comply with the letter of county building codes but were allowed to be built and maintained. (Many of the billboards along Hwy. 101 were built before the current codes were implemented.)
Now that the billboards have toppled to the ground, however, reconstruction is subject to special permit approval. This process allows people to express any concerns they may have, and if the public objects for any reason, then the matter goes before the Planning Commission.
Ford said that in this case, the matter will automatically face that additional level of scrutiny.
"I think, given the sensitivity of these [two billboards], we'll take them before the Planning Commission," he said.
The dozens of billboards along Humboldt Bay have been a matter of public controversy for decades. They've been the subject of legal battles, ownership disputes and even the occasional monkeywrenching. In 2013, the California Coastal Commission told Caltrans that it couldn't complete its long-planned Arcata-Eureka 101 Corridor Improvement Project unless the agency agreed to remove all the billboards along that stretch, to the extent feasible.
Jennifer Kalt, executive director of Humboldt Baykeeper, has been among the most vocal critics of these roadside advertisements. She said the latest two to fall should not be resurrected.
"These billboards should never have been built in coastal wetlands and shouldn't be rebuilt since the county code only allows them in commercial and industrial land," she told the Outpost.

Both signs are owned by Eureka's AllPoints Sign Company, and owner Geoff Wills disagrees. In fact, he said he'd been told by planning department staff that he could expect reconstruction permits to be issued before the end of the year. Told that Ford had said otherwise, Wills said he'd reach out for clarification.
Speaking with the Outpost on Friday, Ford said the sign south of Eureka had been "red-tagged" by staff the previous day. This tag means no repairs can be made until the necessary permits are received.
Ford said he expects the matter to go before the Planning Commission sometime in January or February.