The Arcata City Council will once again discuss the controversial housing project known as The Village at a meeting next week. After the project was voted down by the council last year, a revised plan has now returned for review.
After six meetings about the housing development proposed by developers AMCAL, the council voted 2-0-2, with councilmembers Brett Watson and Susan Ornelas abstaining. Neither felt they could approve the 152-unit project as proposed and wished to see a plan which contained mixed housing, rather than student only housing.
The revised plans address those concerns by including a mix of student and open market units. The project is also larger than initially proposed, now including 240 units — 115 which would be for students and 125 which would be for other community members. The development would be a mix of two, three and four story buildings and include on-site parking.
The City of Arcata hosted a community meeting on Wednesday to discuss the revised proposal.
Eric Jules of the Arcata Citizens for Responsible Housing (ACRH) attended the meeting. Jules told the Outpost that although they are happy with some of the changes, ACRH does not support the revised project.
"We're happy there's all these open market units. It seems like a better community," Jules said. "But everyone was disappointed to see the size had increased."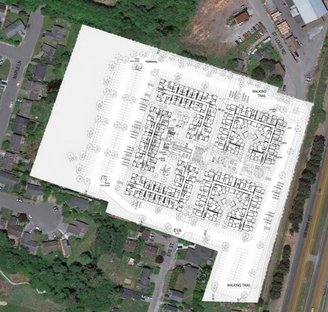 Jules is hoping that the council will consider the impact a development of this size will have on traffic, parking, water systems and storm drainage, and that they will ask developers to scale down the plans.
ACRH had also opposed the initial project, largely due to a lack of transparency from HSU about their involvement. The group was able to obtain emails, showing that the HSU administration had been coordinating with AMCAL. Eventually HSU announced a partnership with the development company.
HSU will no longer be officially involved, since the new development would not be exclusively student housing. But HSU Off-Campus Housing Coordinator Chant'e Catt thinks there still may be some mistrust from the community about HSU's involvement, which may make it more difficult for certain people to support the project.
Catt is really hoping to see this project move forward and she feels that AMCAL developers have already been extremely considerate in listening to what the community wants. But she knows that not everyone will support the project. She just hopes that eventually the need for housing will outweigh the concerns.
"I would love a project that everyone agrees on," Catt told the Outpost. "But I know in my heart that's never going to happen.
The Arcata City Council will review the amended Village Housing Project and hear public comment during their meeting Wednesday, Feb. 6 at 6 p.m. at Arcata City Hall.
You can view the full agenda here.
###