An animal cruelty charge was dismissed today against Arcata resident Ed Jesse Ramos, one of two men charged in the death and butchering of Princess the Pet Pig.
At the end of Ramos' preliminary hearing this afternoon, Judge Timothy Canning ruled there was not enough evidence to hold Ramos to answer for animal cruelty, considering he was not the one who killed Princess. Canning did hold the 58-year-old Ramos to answer on felony charges of grand theft and possession of stolen property. Ramos had about 25 pounds of pork in the freezer at 400 Shirley Boulevard, the residence where Princess wandered to and met her fate.
Canning said Ramos may have stood by without stopping co-defendant Jeffrey Cody Miller from killing the pig, but "there is insufficient evidence to show Mr. Ramos was involved in the killing."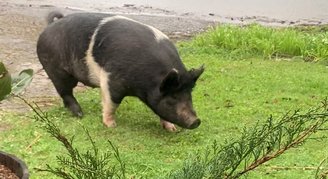 On March 23 the 400-pound purebred animal escaped from her pen on Park Avenue and roamed the neighborhood before ending up at the Shirley Boulevard home. Shortly after Arcata police Officer Charles Anderson arrived, Miller drove up to do some work on the property. At the officer's request, he reluctantly agreed to watch Princess for a few hours, until the Sheriff's Office could come with a trailer and haul her away.
Miller asked Ramos if the pig could stay there, and Ramos said it was fine. But then, according to what Ramos told the Arcata officer later, the pig turned out to be much more trouble than was expected. She ended up with a rifle bullet to the head.
Anderson testified today that Ramos told him Princess rooted around the vegetation, nipped at people's ankles, knocked over a pile of lumber, escaped several times, devoured several boxes of cold cereal, defecated in the yard and charged up the steps to the house. That reportedly frightened the property owner, an elderly woman.
Anderson, visiting the property a few days later, saw no signs of damage. He testified the property owner told him she was not frightened.
At any rate, according to Ramos, Miller became frustrated enough that he went to his pickup truck and got a .22 long-barrel rifle and shot Princess once in the head. Miller, a felon banned from owning firearms, told police he cut the animal's throat.
Today APD Detective Victoria Marr testified the pig's skull and carcass were found later.
"There was a bullet hole in the pig's skull," Marr said.
After being killed Princess was cut up and the meat wrapped for storage. When Anderson returned to let Miller know the pig's owner had come forward, Princess was just a large pile of pork.
Different estimates have been offered about how long Miller was told he needed to watch the pig.
Anderson said five to six hours. Miller claimed the instructions were that after four hours, he could do as he liked.
Today Deputy District Attorney Whitney Timm argued the men waited no more than three hours and 30 minutes before Princess was dispatched. She based that on a professional butcher's estimate of how long it would take kill an animal, let it bleed out and cut it up.
Timm argued to the judge that Ramos assisted in the killing, "and the killing was done with malice."
Although Miller may have pulled the trigger, Timm said, Ramos provided everything Miller needed. Ramos got knives from his kitchen, and possibly a plastic basin and a folding table for the butchering. And Ramos knew the agreement was to keep the pig safe for at least five hours, the prosecutor said.
Deputy Public Defender Casey Russo, however, said Ramos committed no crime.
Russo said Ramos never took possession of the pig and never spoke with the officer about any agreement. In fact, Russo said, it was the officer's obligation to make sure the pig was properly treated.
"(Ramos) may have provided the knives but he was the outside man looking in," Russo said. "It was a really hard situation to be put in."
Princess had no collar or markings indicating she was a pet, Russo said. Timm countered it should have been obvious Princess was domesticated, considering people, including a small child, had been petting her earlier in the day.
Timm asked for a quick arraignment for Ramos. The District Attorney plans to join his case with Miller's, and Miller's trial is coming up soon. Ramos will be arraigned Friday.
Some members of the family who owned Princess were in court for the preliminary hearing today. The pig had an estimated value of $3,000, not counting the value of any future piglets she might have.
Before their pet was killed, the family had considered donating her to the Sheriff's Office pig farm to be used for breeding.
Miller remains in custody, while Ramos is not in jail.
###
PREVIOUSLY