An El Salvadoran native accused of a home-invasion robbery in Southern Humboldt will stand trial on charges that could put him in prison for life.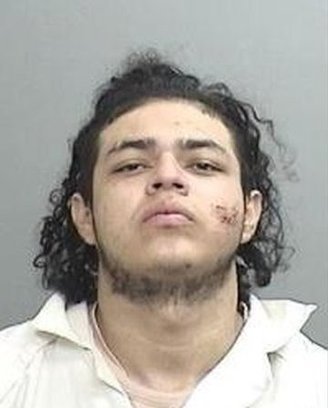 Judge Kaleb Cockrum held Franklin Antonio Molina to answer on numerous charges filed after Molina and another man allegedly robbed, kidnapped, imprisoned and assaulted Adam Owen at his 40-acre property about an hour's drive from Garberville. Some of the charges also apply to Owen's 23-year-old daughter Emmalaya, who was visiting her father at the time.

Owen lives in Geyserville but has owned the Humboldt property for 25 years. He said he's been growing marijuana there the entire time, hiring a few seasonal workers every year. He believes one of the suspects, not Molina, had worked for him a few months before the home invasion.
On Dec. 21 Owen and his daughter were sitting on the couch watching TV when a vehicle pulled up outside. Owen, testifying about his ordeal, said he thought it was probably his brother-in-law coming to visit. But after a few minutes he headed to the door to see who was there.
"I didn't make it to the front door," Owen said under questioning by Deputy District Attorney Luke Bernthal. "Two men walked in with ski masks with big smiles on the face. At first I thought it was a joke."
Then the masked men pointed what appeared to be semi-automatic pistols at him.
"I put my hands up and told my daughter to get on the floor and do what they said," Owen recalled. One man, whom he identified as "the defendant," did most of the talking. He was loud and very angry, speaking some Spanish and some English.
"He kept repeating the word 'down' over and over," Owen said. He also warned 'Don't look at my face.' "
Owen's hands were bound as he lay on the floor. The suspect doing the talking wanted to know where Owen's brother was. He said he didn't know.
Then "He said 'money' in a long, drawn-out voice."
Owen replied there was money in a garage about 100 feet from the house.
"Before I got up," he testified, "he hit me in the back of the head three or four times, I believed with a pistol. I believe it was the defendant, from his voice."
The robbers took Owen and his daughter to the garage, where Owen opened a safe. He was ordered to the ground again. He could feel blood seeping from the back of his head.
In the safe was $30,000 in cash, three rifles and "a couple of pistols," Owen said. Then he was struck in the head four or more times with what felt like the butt of a rifle. The other suspect was with his daughter at the front door of the garage. He could hear Emmalaya pleading with him.
Back in the house and lying on the living room floor, he heard the other man asking his daughter where Owen's brother was.
"She said she doesn't know, she doesn't live here. She's just visiting."
Meanwhile, "the defendant" issued a command.
"More," he told Owen.
He also said something about Owen's daughter: "She's ripe. I'm going to have her."
Owen and the robber went to a bedroom upstairs, where there was another safe containing gold coins and four more guns. He was again ordered to get down.
"He'd been hitting me harder on the back of the head," Owen said. "I pretended to be knocked out."
He said the suspect nudged him with his foot, "then left me alone and ransacked the bedroom."
During the ransacking the robber found yet another small safe, which he had Owen open. He emptied the safe and then yanked Owen's wedding ring from his hand.
"I was worried that he might break my finger, but it came off easily enough."
Owen's hands and feet were then bound and he was told to sit up, which he did with difficulty. The suspect kept motioning for Owen to climb down the stairs, "which I could not physically do."
"At that point he pushed me down the stairs. I rolled down about three-quarters of the way and then he grabbed the back of my sweatshirt and drug me the rest of the way and into a closet under the stairs."
In the dark closet he heard a voice: "Dad is that you? Are you OK?"
The two robbers barricaded the closet door with a couch. They could be heard loading up the stolen goods, and Owen heard his truck start up outside. He had left the keys in the ignition. Both vehicles drove away.
"My daughter told me she had her cellphone in a pocket," Owen said. Although her hands were tied, she was able to get the cellphone out of the pocket. Owen managed to dial 911, and a sheriff's deputy arrived about an hour later.
A "Be On The Lookout" alert was issued to law enforcement, and Mendocino County sheriff's Deputy Timothy Delfiorentino spotted the stolen GMC Denali truck on southbound Highway 101 near Ten Mile Creek Road. Delfiorentino, testifying during the hearing, said he followed at a distance.
To avoid a high-speed pursuit, Mendocino County officers used "Onstar" to remotely disable the truck. The driver pulled into a turnout, the deputy said, but when officers arrived "the vehicle took off at about 75 miles per hour."
Ultimately there were "no less than 15" officers on scene, Delfiorentino said. The stolen truck was disabled again and this time stayed that way. The driver remained in the vehicle and ignored commands to get out.
Mendocino County Sgt. Luis Espinoza, a Spanish speaker and leader of the county's Crisis Negotiation Team, arrived to speak with the suspect. Officers gave Molina Espinoza's cellphone number, and Molina called him.
The 21-year-old Molina had one demand: He wanted to be released or bad things would happen.
Espinoza testified Molina claimed he had three people in the vehicle with him and "20 people in the area,"
"He was pleading with me to let him go," the sergeant recalled. Molina said if he wasn't freed, "his people would attack."
He also said "I will leave here alive or I will die, and I won't be the only one," and "If in 10 minutes this vehicle is not unlocked and you let me leave, you will all die."
Eventually Molina exited the vehicle and tried to run. He was finally taken into custody after a SWAT member shot him with a rubber bullet and a police dog chased him down.
Espinoza said Molina told him he had been told to run, and that he had family members in El Salvador who would be killed if he was caught.
The other suspect, the one Owen believes once worked for him, got away with the stolen property and remains at large. Owen valued the property at $60,000. He said it took about six weeks for his head to heal, and his elbow hurts to this day. He believes the elbow was injured when he was pushed down the stairs.
When the stolen truck was searched, officers found a pellet gun that appeared to be a real firearm.
During cross-examination of Owen, Deputy Public Defender Casey Russo pointed out inconsistencies between what Owen initially said about the incident and the suspects and what he is saying now. Owen acknowledged he was influenced by seeing pictures of Molina, the gun found in the truck and the ski mask Molina was wearing. But he said it was just that seeing those photos jogged his memory.
Owen initially said nothing about seeing part of the robber's face when his mask was briefly lifted. Now he thinks he may have gotten a glimpse.
At the end of the hearing, Judge Cockrum held Molina to answer on one count of kidnapping with intent to commit robbery, a charge that could mean life in prison. He did not hold him to answer on the same charge relating to Emmalaya Owen because no property was taken from her.
"They didn't even pat her down," the judge said. "She still had her cellphone."
Molina also was held on charges of first-degree residential robbery, false imprisonment, kidnapping and assault by means likely to produce great bodily injury. Cockrum did not find evidence for the charge of carjacking, as there was no force involved and the keys were in the ignition.
Cockrum said he believed there was also enough evidence for Molina to be charged with firearms allegations, kidnapping Emmalaya Owen, auto theft, possession of stolen property and making criminal threats against both Adam and Emmalaya Owen.
Outside the courtroom Bernthal said he would file a firearms charge that would add 10 years to what already is a potential life sentence. He said he would consider whether to add the other charges the judge suggested.
Molina is scheduled for arraignment on July 2. He listened to the proceedings with help from Spanish interpreter Carlos Santana.
# # #