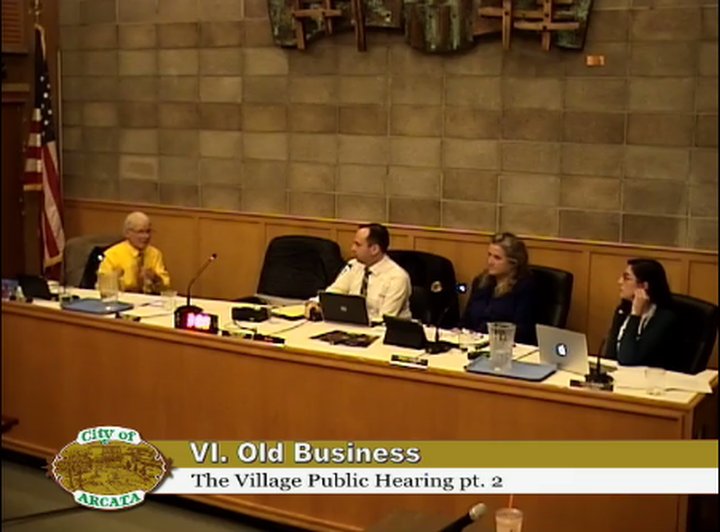 After hours of deliberation and comments from over a dozen community members Wednesday night, the Arcata City Council voted to have the developers of "The Village" housing project redesign the development into something they felt they could approve.
The vote was 3-1 with Mayor Brett Watson dissenting. Councilmember Michael Winkler had recused himself, as he has on all deliberations about the Village, due to a conflict of interest.
The council is asking that the new project be comprised of 65 percent student housing and 35 percent open market units. They requested that the housing hold 602 residents, with a 5 percent flexibility (meaning a cap of 632 residents.)
This project — a large-scale housing complex proposed for the old Craftman's Mall site on St. Louis Road in Arcata — has come before the council many times and was voted down last year. Initially the development was proposed as student only housing, which some council members felt they could not approve.
A revised version of the plan, which included both student and non-student housing, was then brought before the council last month. Although the council was taking no formal action during that meeting, they decided to advance the project, but with many suggestions for improvement. Some council members were concern about the size of the project, which had actually increased in its revised version.

The developers chose not to submit another revised project before Wednesday's meeting. David Moon, president of Coleraine Capital Group, spoke during the meeting, urging the council to approve one of the two project versions already submitted (either the smaller student-only project, or the larger mixed housing design.)
"We're enthusiastic about both projects and we would continue with our investment in this community and work diligently to complete either of these two projects if the council sees fit," Moon said.
Many community members spoke against the project, citing issues with the size and the impact it would have on surrounding neighborhoods, traffic and the environment.
Other community members, including former Humboldt State University President Rollin Richmond, spoke in favor. "It's critically important for this community that we have more housing that's reasonable here, especially for our students," Richmond said to the council.
In the end, the council felt it could not approve either of the current projects. But because of the need for housing and the time already spent on this, they did not want to see the project go away. Council voted to have the applicant draft a project which would include 400 beds for student-purpose housing and 150 open market units.

Moon and the developers will now have to decide if, after an already lengthy process, they wish to revise the project again. If so, the design would then go before the Planning Commission for further review before coming back before the council.
You can view a video of the full meeting here.
###