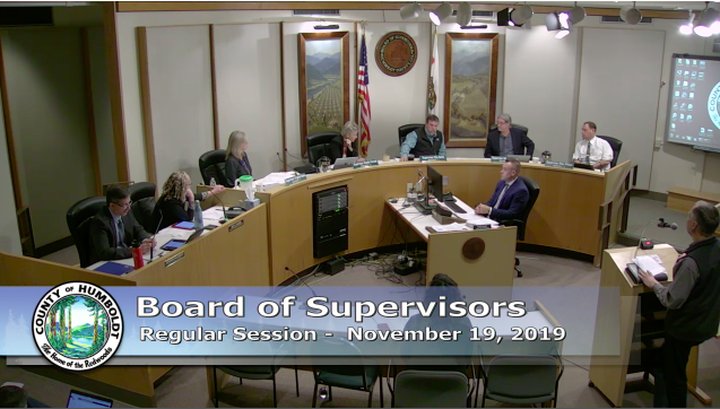 A fairly wild and distinctly Humboldt cast of characters showed up to address the county's Board of Supervisors on Tuesday, with a number of SoHum residents speaking out against a recent spate of warning letters the county sent to 470 property owners suspected of growing cannabis illegally.
"You're killing us," said SoHum resident Michelle Perkins. She argued that the county's cultivation tax is too high and its permitting processes are too complex. "You're hurting people I've known for 30 years," she said.
The real showstopper commentary of the day came in the form of an impassioned protest song from SoHum Arcata resident and cannabis activist Patricia Lai. After offering the Yurok greeting "Aiy-yu-kwee" and declaring herself an OG grower dedicating her performance to "OG Doug," Lai launched into a shouty version of Bob Marley's reggae classic "Get Up Stand Up," complete with customized lyrics that lambasted the oppression of over-taxation. (Or something to that effect. The Outpost intends to publish video of this performance as soon as possible.)
Several others spoke out against the county's weed regulations, saying the rules and fees are destroying the livelihoods of the small-scale growers who built the culture of Southern Humboldt.
Dotti Russell, for example, said SoHum has been hit by "a financial tsunami" that's shuttering small businesses and hurting schools, community service districts and other local institutions. "These effects are there for anybody to see," Russell said. She invited board members to drive down and see the effects for themselves. "See the vacant storefronts [and the] run-down atmosphere," she said. "It's heartbreaking."
Russell and her husband, Graham, said they'd recently received a pre-abatement letter, warning them to eradicate cannabis being grown at their trailer park. Graham Russell said there are 25 families on their one parcel, and each should be entitled to grow six plants, so he didn't understand how the county's rules applied.
His wife called the enforcement effort "unbelievable" and "shocking" and urged the board to "stand up for what's right."
# # #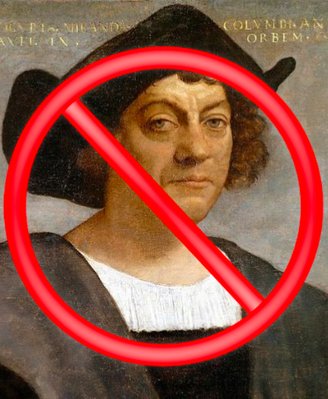 Humboldt County will no longer observe Columbus Day.

In recent years county staff hasn't taken a holiday on the second Monday in October, when Americans have historically celebrated the genocidal raping scumbag who sailed the ocean blue in 1492. County offices are closed that day, but staff participates in an all-staff training day.
Still, Fifth District Supervisor Steve Madrone felt it was time to follow California's lead and officially recognize that Monday as Indigenous Peoples' Day.
The rest of the board was amenable to the change. One public speaker, who didn't give her name, urged the board to honor Native Americans further by rejecting the proposed Terra-Gen wind energy project, which has been proposed for land considered sacred by the Wiyot Tribe.
The motion to to honor Indigenous Peoples Day passed unanimously, and Madrone read the staff report into the record. "Renaming this day gives a more balanced representation of our country's and local region's history," he recited, adding that this gesture recognizes "the vast and valuable contributions" Native Americans have made to our community.
# # #
Next up, Third District Supervisor Mike Wilson asked his fellow board members to consider adding the county's voice to a growing chorus of California counties and cities that are so fed up with Pacific Gas and Electric that they're asking the California Public Utilities Commission (CPUC) to consider reorganizing the investor-owned utility.
PG&E declared bankruptcy last year and is likely to be reorganized no matter what happens. But these local jurisdictions are hoping for more than just the standard corporate restructuring.
The letter from Humboldt County, which wound up getting unanimous approval from the board, reads, in part, "Humboldt County Board of Supervisors supports exploring other creative and proven options such as replacing PG&E with a customer owned utility structure."
Second District Supervisor Estelle Fennell suggested changing the phrase "chorus of jurisdictions" with "growing list of jurisdictions" because she felt it sounds stronger. You can read the letter in full here.
Before approving the letter, Board Chair Rex Bohn cautioned that fixing the infrastructure mess wrought by PG&E won't be as easy as simply taking public ownership of the company's assets, which include thousands of miles of outdated power lines. "Remember," he said, "the liabilities are still there." He also noted that PG&E is the county's largest taxpayer.
Wilson agreed that the solution won't be easy, and he noted that it's predominantly the urban ratepayers who fund deployment of infrastructure to rural areas such as the remote hills of Humboldt County.
# # #
The board appointed Fennell to be board chair of the board next year, meaning she'll run the meetings, with Wilson serving as vice chair. They take turns doing these duties, so the appointments were neither a surprise nor in any way controversial.
# # #
Next up the board had a lengthy discussion about Measure Z, the voter-approved half-percent sales tax that finances essential services and public safety endeavors through a process of competitive annual proposals. These proposals are considered by a citizens advisory committee, which makes funding recommendations to the Board of Supervisors.
The process comes around again every year, but as Measure Z Citizens Advisory Committee Chair Glenn Ziemer explained to the board, the amount of money available for new projects each year keeps dwindling because large portions of the revenues are earmarked to fund salaries of law enforcement officers — and those costs increase every year.
At this point, Ziemer said, 77 percent of Measure Z revenues are obligated to ongoing salaries in the law enforcement community, leaving only $3.2 million that can be considered discretionary.
He noted that the committee sent the board a letter expressing their concerns about this trend back in September in hopes of having enough time to hash out a solution before the end of the year. But the matter didn't come before the board until today, which didn't leave much time to tinker with the formula before the end of the year.
After some back-and-forth discussion, the board unanimously passed a motion to approve memorandums of understanding (MOU) with all the various outside agencies that receive funding, which will facilitate all the Measure Z allocations through June 30, 2020. And the Measure Z Citizens Advisory Committee will come to next week's board meeting with a report about possible ways to modify the allocation process of Measure Z funds.
# # #
By far the most contentious item on the day's packed agenda was consideration of the county's moratorium on industrial hemp cultivation, some version of which has been in place since April.
PREVIOUSLY
County staff has conducted a series of public meetings and workshops in recent months, gathering feedback about hemp, which is similar to commercial cannabis except you can't get high from it, though you can extract Cannabidiol, or CBD, which has become immensely popular as a health care product that can reportedly treat a wide range of conditions, including anxiety, movement disorders, and pain.
With the inclusion of industrial hemp in the most recent federal farm bill, many locals have clamored for county officials to green-light cultivation with virtually no restrictions, treating it like any other agricultural product. Others, including many permitted cannabis farmers, argue that industrial hemp could jeopardize their crops via cross-pollination and the introduction of news pests or pesticides.
The matter came before the Humboldt County Planning Commission last month, and that body unanimously recommended prohibiting all hemp activities in the county — no growing it, no selling it, no manufacturing with it … nothing.
A long line of speakers got up during the public comment period, and they showed that the public remains divided on the issue. Ross Gordon of the Humboldt County Growers Alliance (HCGA), a cannabis industry organization, said his group opposes large-scale hemp cultivation but remains neutral about small-scale hemp farms.
A man named Lee Jensen, who identified himself as a biochemist, said he'd hate to see the county ban hemp cultivation altogether, and he argued that the public workshops he attended were "extremely biased against hemp."
Lindsay Jones, a permitted cannabis farmer from the Willow Creek area, noted that hemp isn't required to produce CBD. Indeed, you can purchase CBD products in virtually every dispensary in the state. And considering how much money she and her husband have spent to comply with their permit requirements she felt "it would be a travesty not to have any environmental regulations" for the local hemp industry.
Back and forth it went with speakers both for and against hemp cultivation. Scott Bauer, a senior environmental scientist with the California Department of Fish and Wildlife, urged the county to regulate hemp the same way it already regulates cannabis because the impacts — from water diversion to clearing land — are the same.
The board didn't make a final decision on the matter today, except to not adopt the Planning Commission's recommendation of banning all hemp activity altogether. In discussing the matter among themselves it sounded like the board would likely extend the moratorium for another year at next week's meeting — "so we can take a closer look," Madrone said.