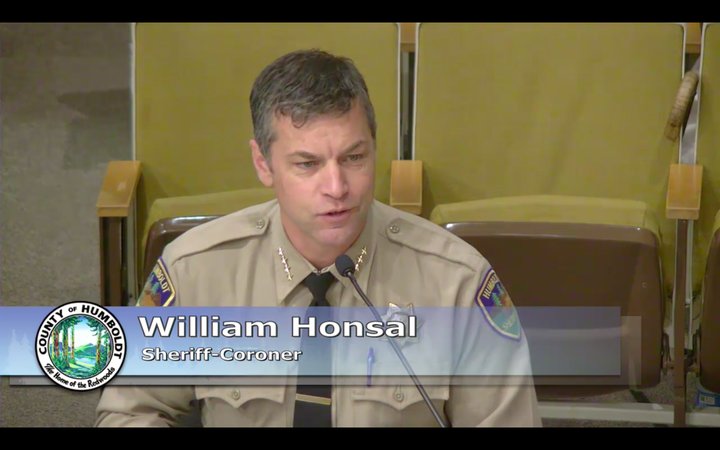 # # #
Humboldt County Sheriff William Honsal today told the Board of Supervisors that the number of illegal marijuana farms in the county is going down, "and that is what we call a win."
But he also said that some of the illicit cultivators who remain in the game have taken their operations back into hiding, using electricity and polluting diesel generators to grow weed inside barns, warehouses and underground bunkers, or in redwood forests under tree canopies.
In response to this info, the supervisors threw out some ideas for combatting such concealed operations. Third District Supervisor Mike Wilson asked about setting up tiered electricity rates, like the City of Arcata did successfully years ago, charging extremely elevated rates for those who use the most energy.
Wilson also asked whether diesel delivery drivers could be asked to have customers show proof that their operation is legal before selling them fuel.
Honsal suggested that he'd be in favor of such measures, though implementing them could prove complicated — especially the fuel deliveries. Bad actors can get a fuel truck and deliver to whomever will pay them, he said.
Second District Supervisor Estelle Fennell and Fifth District Supervisor Steve Madrone voiced support for the fuel delivery verification idea, but Board Chair Rex Bohn said, "Be careful what you wish for."
Bohn, who once worked for petroleum company L & M Renner, Inc., suggested that if fuel delivery drivers started requiring such paperwork, illegal growers would simply haul their own diesel in makeshift tanks.
"I don't know if you want these guys hauling hazardous waste," he said, describing an imagined scene with a pickup truck barreling down Alderpoint Road, loaded with hundreds of pounds of fuel while navigating steep hills in a vehicle with disc brakes that are liable to give out at any moment.
As an alternative, Bohn suggested publishing informational handouts explaining how to properly handle hazardous fluids.
In his informational report on the Sheriff's Office's marijuana enforcement efforts this year, Honsal rolled out a few stats, including the following:
86 search warrant operations conducted
206,966 plants eradicated
39,286 pounds of marijuana bud destroyed
4 concentrated cannabis labs disrupted
18 arrests
87 firearms seized
Honsal also offered a historical overview, of sorts, noting that in 2014 there were approximately 15,000 illegal grows countywide, and after Prop. 64 legalized recreational use statewide in 2016, only about 2,000 grow operators wanted to go legit.
Second District Supervisor Estelle Fennell made a clarifying point — that 15,000 grows doesn't mean 15,000 parcels. There's been some confusion about that, she said. Many parcels had multiple grows on them, and Honsal noted that some had been illegally subdivided.
The Sherif's Office has been helped in its enforcement efforts by the county's Code Enforcement unit, which uses high-resolution satellite imagery to spot un-permitted grows from space. The county then issues letters to the property owners, threatening fines of up to $10,000 per day if they don't come into compliance with the county's Commercial Medical Marijuana Land Use Ordinance.
"But they have people who are just hellbent on breaking the law," Honsal said. The Code Enforcement unit has had 56 illicit growers flat-out refuse to come into compliance, Honsal said. His office has served 20 search warrants for those sites, and more will be forthcoming, he said.
This code-enforcement approach has been highly effective, helping to bring between 400 and 500 illegal growers into compliance, according to Bohn.
"If the problem is taken care of with a letter, then we win," Honsal said.
As far as his own department's enforcement efforts, Honsal said their focus is on environmental damage. By law they can't use the satellite imagery to obtain warrants, but the technology has been useful in verifying the information they do gather.
To illustrate environmental damage, he showed an aerial photo of property where large swaths of the south-facing slope had been illegally graded to make room for large greenhouses.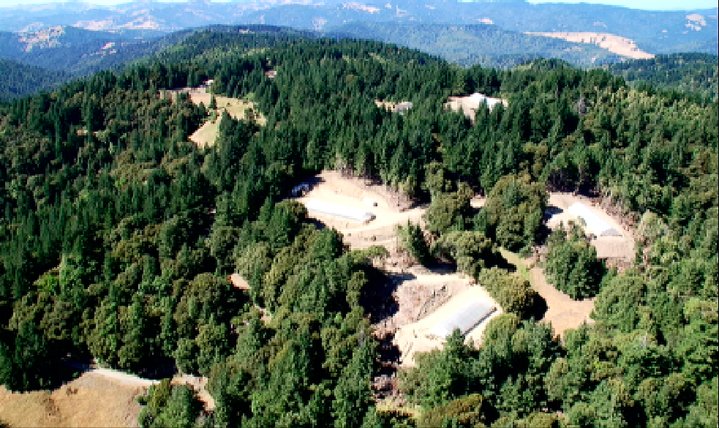 In the rainy season, sediment, chemicals and fertilizers from such properties wash directly into sensitive local waterways. Honsal also explained how illegal grows often employ stream diversions, use diesel and gas tanks without proper containment and spray banned, toxic chemicals such as Carbofuran.

Prop. 64 made it legal for people to grow up to six plants without a permit, and Honsal put up a slide showing just how big six plants can be: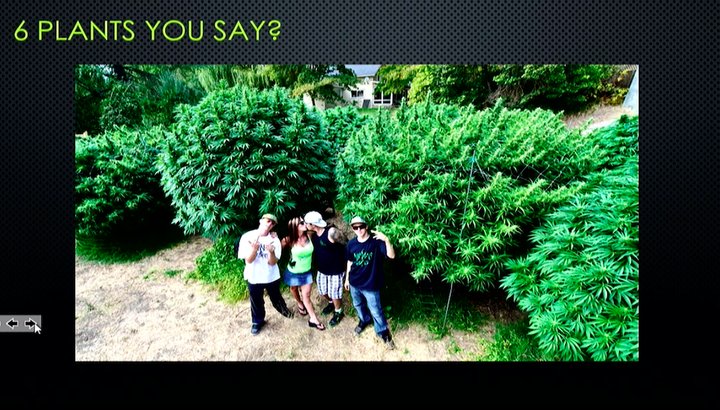 At the other end of the spectrum, large-scale, organized drug trafficking operations seem to be on the wane, according to Honsal. His department's been seeing less and less of them over the past two years, and they didn't encounter a single trafficking operation on public land last year.
Honsal also highlighted "community partnerships," and as an example he mentioned last week's community meeting in Honeydew, calling it "very productive" and saying residents of Willow Creek are now interested in having a similar meeting.
However, that Honeydew meeting highlighted some of the limits of the Humboldt County Sheriff's Office's effectiveness in combatting weed-related crimes, at least in the county's most remote regions. Amid a wave of robberies at cannabis farms — both legal and illegal — Mattole Valley residents have often been forced to take security measures into their own hands because the nearest sheriff's deputy is typically 90 minutes away.
Regardless, Honsal said the situation is improving, and Terra Carver, executive director of the Humboldt County Growers Association, described the Honeydew meeting as "nothing short of historic." Licensed growers are finally able to call law enforcement to report crimes on their properties, and after last week's meeting they feel safe enough to shake hands with cops. Carver said the gathering was "a major moment for Humboldt County."
Meanwhile, illegal growers — and legal growers not following the rules — are still creating nuisances. Wilson described seeing brightly lit greenhouses, nicknamed "glowworms," from the sky on a recent nighttime approach to the Humboldt County airport. And Bohn said generator noise is disconcerting for folks who live near them.
Honsal said that he and the county's building and planning director, John Ford, "have an awesome plan" to deal with the glowworms this winter, but he wouldn't describe it in open session. "I will talk to you offline about that," he told Wilson.
Throughout the presentation, Honsal painted a picture of progress being made in combatting illegal marijuana activity.
"I am proud of what our enforcement team is doing," he said. "They're putting in lots of hours and they're making some headway."