McKinleyville resident Brian John Leiteritz Jr. has been held to answer on a charge of voluntary manslaughter for the Aug. 10 stabbing death of 30-year-old Dylon Thomas Liakos.
Judge Marilyn Miles, after listening to nearly four days of testimony in Leiteritz's preliminary hearing, declined to hold him to answer on a murder charge, as Deputy District Attorney Steven Steward had requested. Instead Miles, without elaborating on her decision, ruled the appropriate charge was voluntary manslaughter.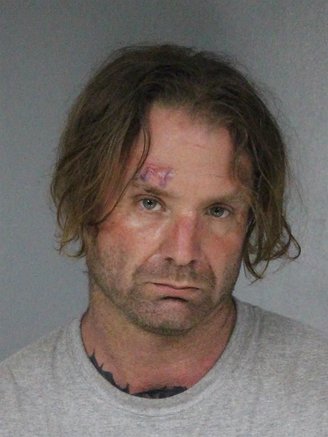 Miles also held the 40-year-old Leiteritz to answer for the special allegation of personal use of a deadly weapon. If he goes to trial and is convicted of both charges, he faces a maximum penalty of 12 years in state prison.
Leiteritz remains in custody. Defense attorney Michael Robinson asked for a reduction in bail, but Miles said she would not be dealing with that issue today.
Liakos' mother and sister, who were in court every day, spent some time after the ruling speaking privately with Deputy District Attorney Roger Rees and prosecutor Steward.
Afterward the women declined comment.
According to Leiteritz, he was awakened late Aug. 9 by someone pounding on his door. He looked outside and saw three men, and then the power was cut to his house on Boss Road.
When he answered the door he was struck in the head, and in the ensuing moments he fatally stabbed Liakos.
Prosecutor Steward, arguing for a murder charge, said Leiteritz chose to arm himself and pursue Liakos into the street. Liakos was stabbed in the back, with the knife blade penetrating his aorta and lung. Leiteritz had told a 911 dispatcher he was "going after" the men outside his house. The dispatcher warned him he didn't need to do that.
Defense attorney Michael Robinson, asking for a dismissal of all charges, told Miles that Leiteritz had no obligation to follow the dispatcher's advice.
"He had a right to defend himself and his castle," Robinson said. Although Leiteritz may have used "poor judgment" in following Liakos, "this is not murder; this is not manslaughter."
Robinson also addressed a number of other issues, such as the dishonesty of prosecution witnesses Alicia Rose and Terrance Ford. Rose was Leiteritz's former girlfriend and reportedly had been threatening and harassing him for months, including during the days leading up to the killing.
On Aug. 8 and Aug. 9., Rose called Leiteritz a total of 240 times. She also sent him at least two threatening texts. Rose contended she had property at the Boss Road house that Leiteritz wouldn't give her.
Robinson contends the home-invasion at Leiteritz's house was set up by Rose and carried out by Ford and Liakos. According to Ford, Rose asked him to take Liakos to Leiteritz's home, and Liakos aimed to please Rose.
A week to two weeks before the killing, according to Rose, Leiteritz hit Liakos and gave him a black eye. He still had the black eye when he died.
Leiteritz's arraignment on the voluntary manslaughter and weapons charge is scheduled for Oct. 3.
###
PREVIOUSLY: