When Jeff Kondos saw Jason Todd Garrett a few hours before his grisly death, he warned Garrett to "get the hell out of here" before Ryan Tanner saw him in the area.
Garrett was standing next to a truck with four flat tires, Kondos testified Tuesday during Tanner's preliminary hearing. Kondos said he warned Garrett to get the tires fixed and leave, because Ryan Tanner didn't want anybody in the neighborhood and would "flip out."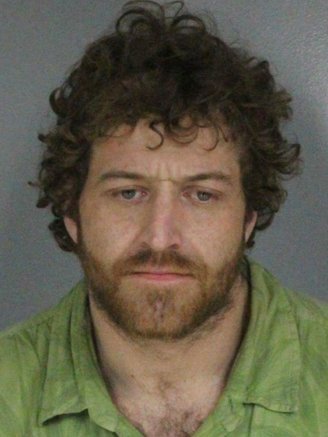 Garrett wasn't concerned, saying "I've known Ryan all my life."
"He's a different guy than you might remember," Kondos told Garrett, "and he's going to flip out if he sees this truck here."
Within hours, an enraged Tanner allegedly set the van on fire, kidnapped Garrett, cut his throat and finally shot him to death with an assault rifle.
When Kondos had the conversation with Garrett, he was on his way from Briceland to Eureka to report his longtime neighbor Tanner to the Sheriff's Office. According to Kondos he'd had enough of Tanner's erratic behavior and death threats.
Kondos, under questioning by Deputy District Attorney Jessica Acosta, testified about two incidents that left him fearing for his life. Both occurred within a couple of weeks of Garrett's killing on Feb. 12.
On one night, Kondos recalled, he was amazed to see a motorcyclist race by on his rural dead-end road, with the California Highway Patrol in close pursuit. He waited and watched until the CHP car returned, with motorcyclist "LeRoy" in the back seat under arrest. The CHP asked Kondos to go pick up the motorcycle and store it. He and his friend Larry "Shaggy" Kirk took off to get the bike, which was about a mile away.
Unfortunately, he and Kirk weren't the only neighbors disturbed by the police pursuit. As Kirk was loading up the motorcycle, Kondos said, Tanner pulled up in his truck and blocked them in. He seemed to think Kondos and Kirk were somehow at fault.
"He got out of his truck and started screaming," Kondos recalled. Tanner demanded to know what was going on and what they were doing.
"He asked me if I wanted to live, and I said 'Yes, I want to live.' "
Tanner then took and assault rifle from his truck and pointed it at Kondos and Kirk, ranting and raving all the while. He told them he was "collecting souls for the ghetto."
"He looked over his shoulder and said 'Yeah, I should kill them both right now.' He was talking to nobody."
Kondos said Tanner told him that when the motorcyclist got out of jail, Kondos was to put a note on the man's gate because "I'm going to kill the guy."
After about 90 minutes of screaming, Kondos said, Tanner finally let them leave. But he issued a warning: "He told me if I talked to police he'd kill me."
That incident convinced Kondos to go to law enforcement. But there had been another confrontation about a week earlier at Kondos's home. Tanner showed up and started "going off" on Kondos because he'd heard "in town" that Kondos thought he was the person who had burned up one of Kondos's vehicles.
In fact, Kondos did believe Tanner was the one who set the fire.
Tanner was wearing a bandana over his face, Kondos recalled, and he kept his hands in his coat pockets. He entered Kondos's house and started walking around.
"I told him he was not welcome," Kondos said. "I told him to get out."
Instead, Tanner demanded that Kondos give him $5,000 because he was running low on fuel.
"He said 'Open up your safe and give me all the money in it.'"
"I told him 'I don't have any money.'"
Tanner finally left, warning Kondos "that if I didn't have the money in two days he'd kill me."
Kondos was expected to return to the witness stand this morning. His testimony followed nearly two days of testimony from Vanessa Womack, who was Tanner's girlfriend at the time Garrett was killed. Womack detailed several incidents of domestic violence, including a time that Tanner choked her until she passed out.
Womack also said Tanner threatened to kill her, and he had threatened to kill her son "more times than I can remember."
Tanner was arrested on Feb. 18, six days after the murder, but Womack didn't break off the relationship until October. During either a jail visit or a jail phone call, Tanner told Womack he was "very angry" about something that had happened between his father and her father when "we were basically kids."
"He said he hated me and my son," Womack said.
Despite that, "I love Ryan."
###