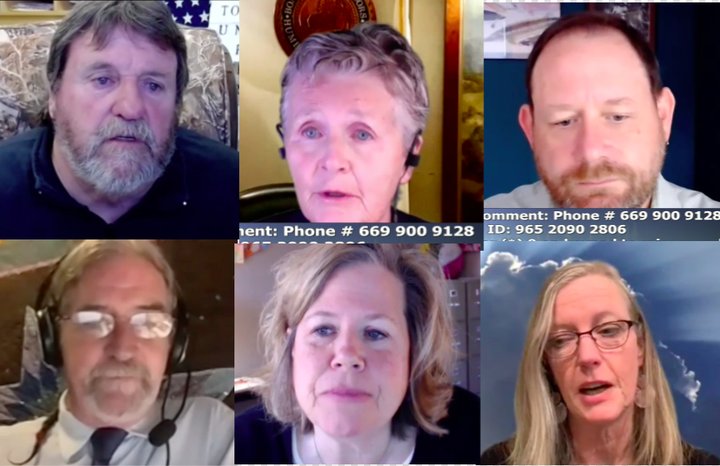 ###
COVID and cannabis: Those two familiar topics were the main objects of discussion at Tuesday's meeting of the Humboldt County Board of Supervisors.
With the coronavirus, the focus was on the recent spike in cases across the country, the state and here in Humboldt County. The board's conversation touched on the tense social exchanges that can occur when customers refuse to wear masks while patronizing local businesses.
With cannabis, the board heard an in-depth presentation outlining some key principles and strategies for marketing Humboldt's famous-est cash crop. This marketing assessment, prepared by local trade group the Humboldt County Growers Alliance (HCGA), will serve as a guide for future marketing efforts funded via Project Trellis, the county's weed-focused economic development program.
Humboldt County Health Officer Dr. Teresa Frankovich, who continues to lead the county's COVID response efforts while staff searches for her replacement, said it's hard to know what to expect next in this pandemic. "Each day is a surprise right now," she said.
Forty-one of California's 58 counties have been placed in the state's most restrictive "purple" tier by Gov. Gavin Newsom's administration, and while Humboldt was elevated to the second-highest, "red" tier (skipping right over "orange"), Frankovich said we, too, are at risk of going purple if current trends continue.
Humboldt County had as many positive COVID-19 cases confirmed during the first two weeks of November as in the entire month of October, she noted. And our case rate jumped from about two cases per 100,000 residents to 4.8 per 100,000. About half of the recent cases were tied to out-of-county travel, and Frankovich reiterated her recent warnings against large gatherings and family visits this Thanksgiving.
"For us to do well it means sacrificing gathering this year so our friends and family are kept safe and alive, and we'll celebrate with them next year," she said.
The state of California has contracted with OptumServe to continue offering testing at Redwood Acres Fairgrounds through April. The company's specimens are now being sent to a state lab in Valencia, rather than a commercial testing lab. Frankovich said there are some "growing pains" at the state facility, causing turnaround times for test results to range from two days to more than a week.
Frankovich also addressed the recent news that both Pfizer and Moderna have developed highly effective vaccines (at least according to press releases from the pharmaceutical giants). It's "very likely" that Pfizer's vaccine will be available for the local health care workforce by December. "We're planning on that," Frankovich said.
Pfizer's vaccine requires deep-freeze storage and must be administered via two doses, delivered a month apart. With two million health care workers in California alone, supplies may take a while to reach the rest of the public. It's also unclear how long immunity lasts after receiving the vaccine. Nevertheless, Frankovich called the recent developments "really encouraging."
With Humboldt County Sheriff Billy Honsal on hand for the COVID debriefing, Third District Supervisor Mike Wilson recounted a recent experience at a local burrito place. Two men inside refused to wear masks and were "being jerky about it," Wilson said. He argued that these men were exploiting the fact that employees aren't required to make customers don facial coverings. The cashier at this restaurant was a smaller woman, Wilson said.
"They didn't understand the dynamic of how intimidating they are," he said, referring to the anti-maskers. Given this country's the social tensions and news stories of people turning violent when asked to wear masks, Wilson said the duo "didn't understand how they are terrorizing everybody in the room."
He said he's seen two similar incidents, including a pair of "I'm just gonna say it, young white men" sauntering through the Arcata Farmers Market sans masks, blithely disregarding the effect they were having on vulnerable patrons.
"These behaviors are scaring people away from businesses that really need the business," Wilson said.
Honsal said most businesses now have signage indicating their mask requirements, but he also suggested that employees need to take a stand. "People need to be comfortable having those conversations, [saying] 'No mask, no service,'" he said, adding, "If they're not comfortable with it, they shouldn't be working that cash register."
Wilson said the cashier at the burrito place wasn't shy; she was intimidated. "It's really unfair that we're seeing that dynamic," the supervisor said. "I don't have an answer to that."
Honsal said there are fewer and fewer people reacting with aggression or "making a fool of themselves" when asked to mask, and he said his office will issue misdemeanor citations to customers who absolutely refuse to do so.
Fourth District Supervisor Virginia Bass also recounted a confrontation with a pair of mask-shunning men she encountered at Walmart. She saw an employee ask them to cover their faces, and when they continued into the store without doing so, Bass took it upon herself to request that they cover their faces.
In response, "They followed me around the store," she said. "They had masks on, but they were coughing directly at me. … People are gonna be jerks."
Honsal said his deputies have issued misdemeanor citations, and he noted that the county's Joint Information Center (JIC) "has been really tirelessly putting out content about wearing a mask." He again urged people to "be bold" and "say something if you see someone inside a retail establishment not wearing a mask."
Even First District Supervisor Rex Bohn, who has sometimes pushed back against COVID-related public health orders, beseeched the public to take precautions. "Seriously, you guys, listen to the professionals and the science," he said. And regarding face coverings, he suggested, "Convince our young: It's not showing weakness; it's showing brightness."
###
A bit later in the meeting, Board Chair and Second District Supervisor Estelle Fennell turned down an opportunity to continuing serving as an alternate for a position with a statewide government organization. She did so in recognition of her still-undecided and extremely close re-election effort against challenger Michelle Bushnell.
Bohn has been serving as the county's delegate on the board of directors of the Rural County Representatives of California (RCRC) as well as the Golden State Finance Authority (GSFA). Fennell has been the alternate, and according to a staff report, both she and Bohn had expressed interest in continuing in those roles.
After Fennell volunteered to step back, Fifth District Supervisor Steve Madrone quickly nominated himself for the alternate position. Wilson made a motion to reappoint Bohn with Madrone as the alternate.
Bass then spoke up, saying she wanted to hear from Bohn, and Bohn said that while he appreciates Madrone stepping up, he would love to have Bass fill the alternate role "because she's got so many connections."
However, with a motion already on the floor, the board instead voted unanimously to reappoint Bohn and have Madrone serve as his alternate. Bohn's "yes" vote sounded less than enthusiastic.
###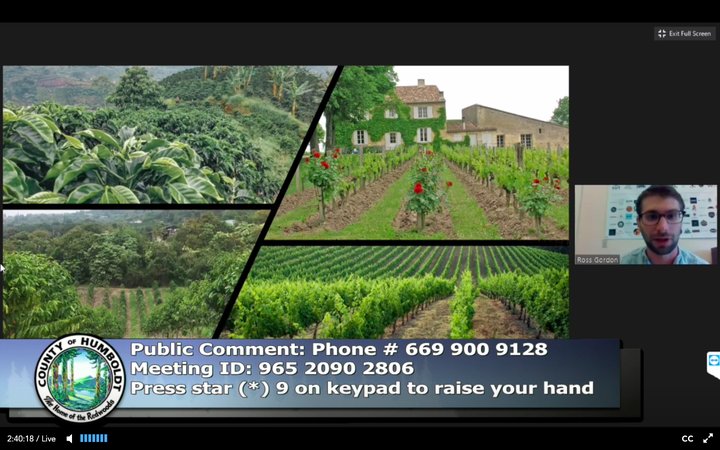 ###
Next came a presentation on the countywide cannabis marketing assessment, an 80-page document prepared by the Humboldt County Growers Alliance (HCGA) and presented by that group's policy director, Ross Gordon. (You can see a summary of the report in pdf format here.)
First, though, the county's economic development director, Scott Adair, gave an overview of the industry landscape, noting that with nationwide decriminalization of cannabis on the horizon, other communities across the country have begun to aggressively market their weed products. Humboldt County needs to do the same, Adair said, if we hope to protect our "brand" and our market share in an industry that generates significant tax revenue.
A previous request for marketing proposals was too vague and generated wildly varied responses, many from big out-of-county marketing firms, Adair said. So the county hired HCGA to develop a detailed and thorough marketing assessment. The completed report, which includes eight findings and 30 recommendations, has been circulated among the community, generating approval from most local industry players who responded.
Gordon, in his PowerPoint presentation, said the goal was to come up with a strategic direction and vision based on research from similar industries in other locales, including the wine-growing regions of Napa Valley and Bordeaux and the coffee industries of Kona, on Hawaii's big island, and Colombia.
The vision for the county as a whole, Gordon said, is for "thousands" of independent small businesses to be able to transition into the legal market, generating fair value for their products while cultivating in an environmentally sustainable fashion. The vision also includes getting consumers around the globe to understand "the unique qualities of craft Humboldt cannabis."
Gordon highlighted a number of key principles from the strategy, including equitable participation from all local industry stakeholders, protection of intellectual property (including the Humboldt name), quality control, sustainability and a focus on public policy.
Following Gordon's presentation (which earned kudos from Fennell and Bohn), Adair told the board that the county's economic development staff was recommending the issuance of a new request for marketing proposals, this time limiting applicants to local nonprofits and directing them to use the marketing assessment as a framework.
During the public comment period, a number of cannabis industry stakeholders called in to voice support for HCGA's document and the strategy it outlines.
The board voted unanimously to have staff issue a new Request for Proposals (RFP), encouraging Humboldt County-based nonprofits to develop a new cannabis marketing plan.