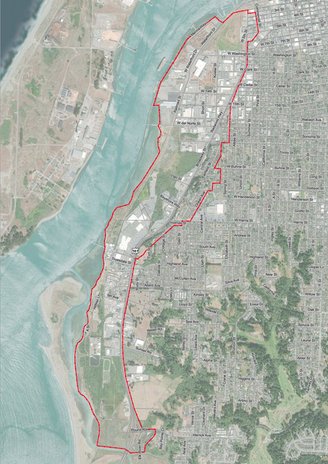 For years the City of Eureka, Caltrans and the Humboldt County Association of Government (HCAOG) have been working on the Broadway Multimodal Corridor Plan — a plan to fix the nightmare that is Broadway, proposing different possible ways to make the road less congested, more attractive and safer for pedestrians and bicyclists.

And although a long-drawn-out proposal to build a new thoroughfare from Fourth Street to Herrick Avenue— once known as the Waterfront Drive Extension Project — is no longer on the table, proponents are still pushing options that would include developing new roadway through city greenbelts and wetlands.

At a special meeting on Thursday, the Eureka City Council will receive a presentation and provide direction on the project plan, which includes options to build two new segments of road, or "couplets" to the west of Broadway. One proposed couplet would involve building a one-way southbound segment of road between Fourth Street and Koster Avenue, passing through the area known as the Balloon Track. Another option for the middle section of Broadway involves building a couplet west of the existing Broadway between Hawthorne Street and the Bayshore Mall, passing through the wetlands adjacent to the Waterfront Trail.

Some local organizations, including Humboldt Baykeeper, oppose these potential options, saying that the City should focus on improving the existing right-of-way and stop pursuing plans that would take too much time and money to develop.
"The City of Eureka has been talking about adjusting Broadway for over a decade now and to consider plans that are going to take at least another decade to develop seems inappropriate, given how dangerous the roadway is," Jennifer Kalt of Humboldt Baykeeper told the Outpost in a recent phone interview.

And the Broadway Corridor certainly is dangerous. During the last decade, Kalt pointed out, there have been multiple fatal collisions on that stretch of road and another man was killed just this weekend, after he was struck by a vehicle while on his bicycle on Broadway and Wabash.
"More and more people are going to get killed," Kalt said. "It's time to fix that corridor in the short term."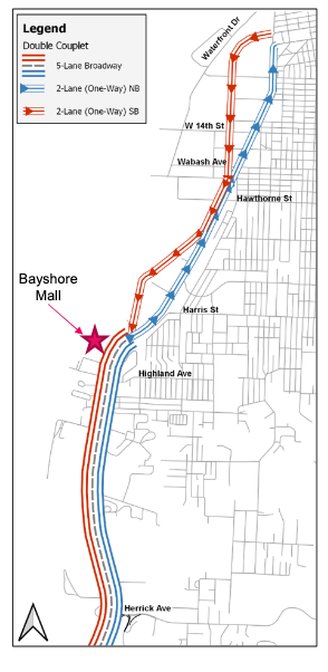 The reason the proposed couplets are not a realistic option, Kalt said, is because the roads would divert traffic through wetlands protected by the California Coastal Act. The California Coastal Commission sent a letter to the city in 2005 opposing the Waterfront Extension Project, saying it was "not consistent with enforceable Coastal Act policies" and recommending that the city "not expend any additional public resources in pursuit of it."

Of course, planners are no longer proposing the same long stretch of road opposed in the letter. But Kalt says that the smaller roads proposed in the current plan would likely still not be possible, for the same reason outlined in the letter: the Coastal Act only allows infill of Wetlands for very specific purposes — such as building a pier, or burying cable and pipes — and building a new road usually isn't one of them.
"Although the Commission has approved certain safety upgrades to existing roads that involve some wetland infill, those approvals were based on the fact that the uses were allowable because they were for 'incidental public service purposes,'" the letter states. "The Commission does not consider new roads or roadway extensions to be an 'incidental public service purpose.'"

Eureka Interim City Manager Miles Slattery is more hopeful than Kalt that the project could be approved by the Commission. As the letter states, the commission does make exceptions for safety upgrades to roads, if there is no other suitable alternative. And, Slattery pointed out, the Commission recently approved Caltrans' 101 Corridor Improvement Project.

"We wouldn't go down this road if it wasn't feasible," Slattery told the Outpost in a phone interview last week. "This is definitely a feasible option."

Some of the goals of the Broadway corridor plan are to improve safety, relieve congestion and increase alternative forms of transportation by adding bike lanes, things that Slattery says will not be viable along all the existing segments of Broadway. "The existing right of way is very constrained," he said.

Kalt also has additional concerns about proposals to develop on the Balloon Track, a contaminated area that would likely require a lot of resources to clean up. Although Humboldt Baykeeper is not opposed to the development of the Balloon Track in general, she said, Kalt feels that it will take too long for this project.

And the City seems to share that concern. "One significant constraint of this alternative is crossing through the 'Balloon Track,' a previous railroad yard that has been studied and identified to have existing contamination," Eureka City Engineer Jesse Willor writes in the staff report. "The cost of clean up is difficult to accurately quantify; however, it will be significant."

Even though cleaning up the Balloon Track may be a long and difficult process, planners believe the benefits would be worth it. Slattery said that the city is working to assess the current level of contamination and that costs may be mitigated through a Brownfield grant.

Caltrans has recently obtained about $13 million in grant funding to begin work on the southern portion of Broadway from Herrick Avenue to Truesdale Street. This plan consists of improvements to the existing right-of-way, including adding separated bikeways, safety improvements at intersections and trees and other landscaping.

Humboldt Baykeeper and the Coalition for Responsible Transportation Priorities (CRTP) ardently support the southern corridor plans and would like to see planners pursue the same type of design for the rest of Broadway.

Executive Director of CRTP Colin Fiske told the Outpost that although he understands that the northern and middle and sections of Broadway have a little less right-of-way to work with, he believes planners could still make significant improvements without building additional roads through the Balloon Track and the marsh. Like Kalt, he feels that plan would just take too long.

"I just don't see it as being feasible in the short term or maybe ever," Fiske said. "And I just don't think we can wait. There's an urgent safety crisis."

At the very least, Fiske would like to see planners move forward with more immediate improvements to Broadway and continue to pursue the couplet options as a more long-term goal. The California Bicycle Coalition offers many quick and relatively inexpensive options to improve bicycle safety, such as adding concrete curb barriers or planters, he said.

"I don't think it's a dichotomy," Fiske said. "I don't think it's a choice between long-term improvements versus right now. I think it's a moral imperative to make the safety improvements we can right away and then we can continue to pursue long-term planning."

The Eureka City Council will discuss the Broadway Multimodal Corridor Plan at a special meeting Thursday, Oct. 29 at 5:00 p.m.
You can view the full agenda and directions on how to participate here.
###