After hearing anguished statements this morning from murder victim Vernon James Weatherford's family, Judge Christopher Wilson sentenced his killer to a prison term of 20 years to life.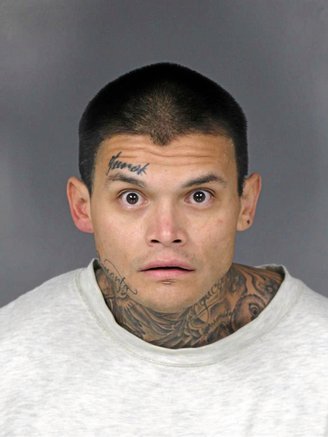 Ronald Loureiro Jr., 32, killed Weatherford, a 34-year-old father of 10, in January 2018 by stabbing him in the heart. Loureiro's former partner and his own three young sons witnessed the murder from just feet away.
This morning several of Weatherford's family members came to court to watch the sentencing and speak about their trauma. All wore masks and were "socially distanced" in the courtroom.
Loureiro himself, on video from the jail, was the first to make a statement.
"I hope they find closure and find peace," he said of his victim's relatives.
Shannon Weatherford, Vernon's widow and mother of some of his children, responded by calling Loureiro's statement "the most cold-hearted, numbing" words she had ever heard.
"There will never be closure and there will never be peace," she said, going on to describe the pain and loss her five daughters are enduring. Although some children live with the fear of imaginary monsters, Shannon Weatherford said, my girls have to live with a real-life monster — the person who killed their father."
She also read a letter from one of her daughters, who was in sixth grade when her father was murdered.
"I want the person who did this to go away for a long time," the girl wrote.
Chiara Weatherford, Vernon's oldest daughter, wept sometimes hysterically as she spoke to the judge. She was 15 when her father died. Her mother was unable to care for her, and she ended up in a series of foster homes. Chiara has been diagnosed with PTSD. She is now in her seventh foster home and "I finally found somewhere I feel comfortable."
Vivian Nelson, sister of Weatherford's mother, said her sister has taken her son's death "very hard."
"Ronald Loureiro is the reason my sister is having physical and emotional problems," Nelson told the judge.
Deputy District Attorney Shelly Small read a letter from Jacqueline Carter, who was Weatherford's girlfriend and was with him in the vehicle when Loureiro stabbed him. Loureiro's three sons were in the back seat of the car.
"You took what my children knew as Daddy. I lost the man I adored, admired and loved," Carter wrote.
Weatherford's sister, Dorian Ashley, stood to say she met Loureiro's sons when her brother brought them to her home.
"They were so happy," Ashley recalled. "They loved my brother."
At Weatherford's funeral, she asked the oldest boy to take a picture of her and some of Weatherford's daughters. Ashley held up a photograph to show the judge.
"This is the picture that he took," she said. "Of my dead brother! That poor little boy!"
Small also read a letter from another family member or friend who stated that Loureiro's sons were ages 8, 6 and 2 when Weatherford was stabbed in front of them.
After the fatal knifing, the person wrote, Loureiro left the scene. But he did something first.
"He took a moment," the person wrote. "He stopped. He turned around. He made eye contact with Jackie Carter. And he smiled."
One person, Loureiro's aunt Jewel Frank, appeared via Zoom to speak on his behalf.
Frank asked the judge for mercy "on behalf of my nephew," saying the killing left "a real messy, bad impact" on everyone involved. Frank said drug addiction "was really impacting in this case."
Wilson, a former defense attorney, said the sentencing was personally sad for him because he knew both Loureiro and Weatherford when they were boys.
"I knew both of these individuals from a very young age on a professional basis," the judge said. "This is not where I wanted to see either of them, in any respect."
Because the 20-years-to-life prison term was agreed-on when Loureiro pleaded guilty to second-degree murder, Wilson had no discretion in sentencing. He imposed a restitution fine of $10,000 and told Loureiro that if he is paroled "it could be for life."
Loureiro was given credit for 989 days actually served. Because he was convicted of murder, he received no "good-time" credit.
Loureiro was represented by Deputy Conflict Counsel Owen Tipps, who pointed out that Loureiro has taken responsibility for his actions.
###
PREVIOUSLY: