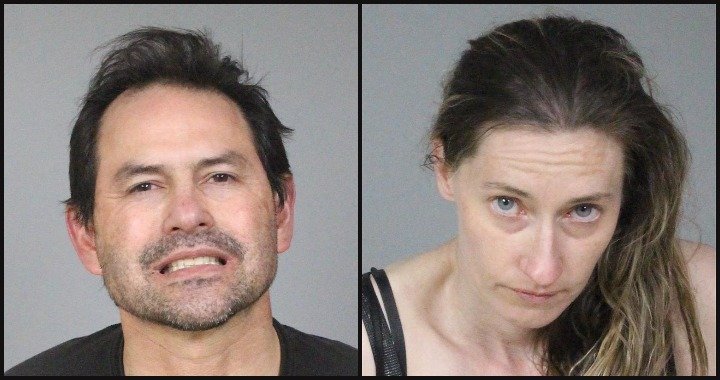 ###
Local attorney Michael Acosta and his partner Sarah Carroll must stand trial on charges of maintaining a drug house and possession of drugs for sale, Judge John Feeney ruled this morning.
Feeney held the couple to answer after listening to preliminary hearing testimony from Drug Task Force agents who served a warrant at Acosta's home on Feb.4. All five adults in the house had drugs in their possession. The Task Force had been conducting surveillance at the Cedar Street home for months, often seeing up to 25 people a day entering and leaving the house.
Task Force agent Matt Tomlin, the lead investigator in the case, testified he did most of his surveillance in the afternoons, after Acosta returned from court. When Acosta was there "it would get extremely busy" at the house, Tomlin said under questioning by Deputy District Attorney Jane Mackey. He said some of the visitors were likely clients of Acosta, whose law office is in his home. But many others would arrive and stay "less than two or three minutes."
The search warrant was served about 6:25 p.m. on Feb. 4, with agents knocking on the door three times and announcing "Drug Task Force!"
No one answered the door, Tomlin said, but then another officer told him he could see people running through the house. At that point officers tried to force their way in, but the front door was barricaded with a couch. Agents ran to a side door and arrested Acosta, who had just come out that exit.
Tomlin said Acosta's pants pockets contained a lighter, keys and a plastic bag containing methamphetamine.
"I don't know where that came from," Acosta told Tomlin. Then Acosta remembered he had pocketed the bag while picking up trash around the property. Acosta also was carrying $100 to $200 cash, which was seized.
Inside the house, an agent found Ashley Asti "attempting to flush evidence down the toilet," Tomlin said. "She was successful. There was nothing in the toilet."
But next to Asti's EBT card on a bathroom shelf was one gram of black tar heroin.
In the kitchen was Tracie Nichols, who had a purse containing 28 morphine pills of varying doses, along with $11,530 in cash. The cash was seized but later returned to Nichols. It was confirmed she had won a jackpot at Blue Lake Casino.
Nichols claimed she had never seen the morphine in her purse before, Tomlin testified.
Carroll had a "usable" amount of methamphetamine stuffed into her bra.
In Acosta's upstairs office, next to a copy of his law degree from Stanford University, officers found a glass pipe containing burned methamphetamine residue. And in a black bag that looked like a shaving kit there was about 17 grams of heroin, a small amount of meth and 74 so-called "Xanny bars," which contain the highest possible dose of Alprazolam, a drug similar to Xanax.
"I've purchased them for $5 to $25 a pill, depending on demand at the time," said Tomlin, who often buys drugs as an undercover agent. Three digital scales were also found in Acosta's office.
Another person detained that night was Bryan McBeth. He told officers he was there to pick up his child, who was having a play date with Acosta and Carroll's son. McBeth pointed officers to a half-ounce of methamphetamine in his car console. McBeth was on federal probation at the time.
About a month before the warrant was served, police on surveillance arrested a wanted man who was seen leaving Acosta's home. He was carrying drugs. But under cross-examination by Acosta, representing himself, and Andrea Sullivan, representing Carroll, Tomlin acknowledged he had no proof the man got the narcotics from Acosta. Nor did he know whether he might have been there seeking legal advice.
Nichols told agents she was there for a legal consultation.
Agents got information from 10 confidential informants before serving the warrant, Tomlin told Acosta. The only informant who mentioned the couple and drugs said he or she once witnessed Acosta and Carroll with small amounts of meth. Most of the search warrant related to Kevin Haberman, suspected of drug and gun crimes. Haberman was not arrested Feb. 4 as planned but was caught later.
When Acosta was cross-examining Tomlin, the agent told him "we had lots of information that you would allow Kevin Haberman to store items on your property, including firearms and heroin."
Under questioning by prosecutor Mackey, Tomlin said he considered Acosta a small-time dealer.
"Big dealers don't have this kind of traffic," Tomlin said, because all the comings and goings attract too much attention. Law enforcement had received many complaints about the activities at Acosta's place.
During the hearing there also was testimony about a storage locker at Cutten Mini Storage, about two blocks from Acosta's house. Twelve firearms were found there. All were unregistered shotguns or rifles, with one handgun registered to Acosta. He told officers the guns belonged to the father of one of his clients.
Judge Feeney ruled that testimony irrelevant because Acosta is not charged with firearms violations. Mackey had argued drug dealers are paid not just with money, but with items such as guns.
During her closing argument, defense attorney Sullivan noted that what agents found in Acosta's home was "pretty insignificant compared to the amount of work that was put in."
No one was seen using drugs when the warrant was served, Sullivan said. As to all the people making short-term visits to the house, "It's complete speculation at this point to say that people were obtaining drugs."
The evidence gathered, Sullivan said, "is consistent with personal use."
Nothing about Acosta's residence says "drug house," she said. No drug paraphernalia, no needles, no glass pipes strewn around. "It's a regular home," she said.
Acosta argued that for his home to be considered a drug house requires "continuous" activity. Officers saw drugs there only once. There is no proof that either McBeth or the man arrested on a warrant got their drugs from him, Acosta said.
"It seems like we're being prosecuted for the crimes of other people," he argued.
He also asked Feeney to consider reducing the charges to misdemeanors, because his law license is at stake.
Mackey, during her argument, acknowledged "this is a circumstantial case, but it's a strong one."
She said the prosecution has no burden to prove "a large-scale operation." And when officers did search Acosta's house, all five adults were in possession of drugs.
There was no buying drugs in bulk, Mackey said. Just bartering drugs for "whatever can be traded."
"All the evidence here shows the home is a nexus for crime," she said.
Mackey also asked the judge not to reduce the charges, saying "his professional license shouldn't be used as a sword or a shield."
Feeney denied the request for a reduction, holding the couple to answer and setting their arraignment for Oct. 10.
Agents found no written records of drug sales during their search. The couple's cellphones have not been searched because of concerns about violating the attorney-client privilege.
###
PREVIOUSLY: