Midway through the jury trial of Jason Ryan Barnes, the judge has acquitted Barnes of second-degree murder and voluntary manslaughter.
Judge Timothy Canning's ruling this morning leaves jurors to consider only charges of involuntary manslaughter and assault with a deadly weapon in the death of Bernhard "Ben" Bertain, who died three days after Barnes struck him with a skateboard in December 2018.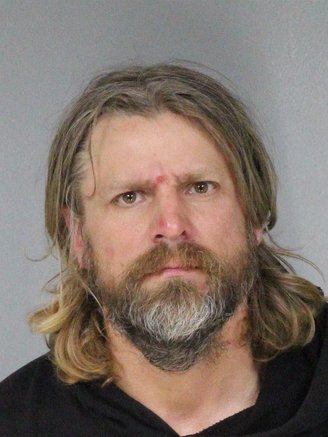 Deputy District Attorney Roger Rees had just rested his case for the prosecution when Deputy Publc Defender David Celli argued, with the jury out of the courtroom, that Rees had not presented evidence justifying either a murder or voluntary manslaughter charge. There was no evidence Barnes acted with malice, Celli said, and no evidence that an objective observer would believe striking someone with a skateboard would cause death.
Bertain himself, after he was hit, said "He didn't hit me hard enough to do any damage."
But the blows from the skateboard caused a blood clot that expanded until Bertain's spleen ruptured three days later.
Celli argued that to warrant a charge of murder, the act committed "carries a high probability of resulting in death."
"We don't have that here," he told the judge.
Rees countered that the act committed must simply be dangerous to human life.
"It doesn't mean the act always kills someone," he said. "It just has to be an act that's dangerous to human life."
He said Barnes struck Bertain "with blunt force to the torso … blunt force trauma to the torso is dangerous to human life."
Barnes hit Bertain not once but three times, Rees said, with two blows to the side and one to the arm.
Celli responded there must be "a high degree of probability that (the act) is going to result in death."
"We don't have it here. We don't."
Canning said he'd heard all the evidence offered by the People and concluded "there's not substantial evidence that the defendant knew the act was dangerous to human life."
Bertain, 58, intervened when he saw Barnes screaming at a woman in the parking lot at Burre Center. He told Barnes twice that it was time for him to leave, and Barnes responded by swinging the skateboard at him. Afterward Bertain spent 45 minutes doing his laundry at the nearby laundromat.
After Canning acquitted Barnes of murder, the discussion turned to voluntary manslaughter. Canning agreed with Celli's position.
"It's very clear that voluntary manslaughter requires either an intent to kill or a disregard for life," the judge said. He then acquitted Barnes on that charge.
Celli said he was not going to argue for an acquittal on involuntary manslaughter, which is "a reckless act that causes death."
The trial continues, with Celli beginning his case this morning.
The prosecution decided to try Barnes on a murder charge, even though back in September 2020 Barnes was offered a five-year prison term in exchange for pleading guilty to voluntary manslaughter with use of a weapon. Celli countered with an offer to admit involuntary manslaughter. At the time Rees said he would discuss the proposal with Bertain's family.
Barnes, 48, has been in Humboldt County Correctional Facility for nearly two years. His hair is short and he is quite plump. He is in the courtroom, wearing a dress shirt and slacks and sitting at the counsel table next to his attorney. He and both lawyers are wearing masks.
###
CORRECTION: Celli tells the Outpost that the state's offer was for significantly more than five years. That offer was rejected, as was the counteroffer, Celli said. The Outpost regrets the error.
In addition, Celli wished to clarify that the weapon in question was a skateboard deck — i.e., a board without trucks or wheels.
###
PREVIOUSLY: