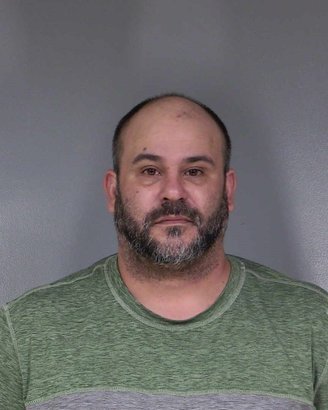 A Fortuna man who fired a shotgun at a group of doorbell-ringing kids, striking one of them in the leg, pleaded guilty this morning to assault with a firearm. Erik Keith Wood, 42, was scheduled for a preliminary hearing today but instead pleaded guilty as charged. Assault with a firearm is a serious and violent felony — or strike — with a maximum penalty of four years in state prison. Sentencing is scheduled for Dec. 10.
Deputy District Attorney Luke Bernthal, presenting a factual basis for the plea, told Judge Kaleb Cockrum that Wood fired the shotgun on March 23 "after his doorbell had been rung multiple times."
Bernthal asked Cockrum to jail Wood today, given that he has pleaded guilty. Wood is free on bail.
Defense attorney Zach Curtis pointed out Wood has violated no laws while out of custody, despite the fact that "he continues to be harassed by the juveniles." Cockrum said he saw no reason for Wood to be taken into custody now.
"That may change at sentencing," the judge said, "depending on what I hear from everyone."
The victim, a teenage boy, was in court today when Wood entered his plea. He is expected to speak at the sentencing.
At an earlier court hearing, Curtis said the juveniles in question had been terrorizing Wood's children for months, and his reports to law enforcement were ignored.
Cockrum suggested today that Wood might want to take civil action to stop the harassment.
"Absolutely," Curtis said.
Wood was accompanied to court today by five supporters. The victim was with his father, along with another teenage boy and an adult man.
PREVIOUSLY: