###
On March 2, a Humboldt County Sheriff's Office employee named Ed Wilkinson emailed his boss, Sheriff William "Billy" Honsal, with some questions about a big event scheduled for the following month. Sheriffs from all over the state would be traveling to Humboldt County with their spouses for a gathering of the California State Sheriffs' Association — three days and two nights of meetings, meals, socializing and activities.
This was a big deal. Sheriff's Office employees had been making plans and exchanging emails about it for weeks.
"How extravagant do you want to go?" Wilkinson asked Honsal in his email. "Maybe we should get together to discuss?"
The CSSA is a nonprofit professional organization dedicated to preserving the role of sheriff as the supreme law enforcement officer in each county. It also serves as a voice for sheriffs in the state legislature. For example, it recently opposed a police reform bill calling for stricter standards on the use of rubber bullets and tear gas for crowd control. It also advocated against a bill that would have decriminalized jaywalking, and it lobbied fiercely against legislation that would have opened the office of county sheriff to all registered voters, rather than restricting it to people with certain law enforcement credentials.

The association's membership consists of all 58 of California's county sheriffs along with thousands of "law abiding citizens," according to the group's website. Individual membership costs as little as $20 per year if you're a student up to $350 for a lifetime membership. Corporations that want "a very exclusive partnership" with the state's sheriffs can sign up for the Corporate 100 program for an annual membership fee of $2,500.

To the question "How extravagant do you want to go?" Honsal sent an email saying Wilkinson should come to his office to discuss the matter.

You get a sense of the extravagance of the event, which was held April 14-15, from Sheriff's Office emails obtained through a California Public Records Act request. The visiting sheriffs and other guests enjoyed oysters, wine, charcuterie cups and pie at Old Growth Cellars in Eureka. They had a couple meals at the Ingomar Club in the Carson Mansion and another at Shamus T Bones. Some attendees hit the links at Redwood Empire Golf & Country Club. There was a field trip and guided tour in Prairie Creek Redwoods State Park and a trip to Ferndale for sightseeing and shopping.

Honsal says all venues, meals and activities were paid for either by the CSSA or by individual sheriffs — except for transportation and 24-hour security. Those were provided by his office's deputies and correctional officers.

And that is what bothers sources within the Humboldt County Sheriff's Office who believe those assignments represent an improper use of government funds and resources.

"This event cost the taxpayers of Humboldt County tens of thousands of dollars," said one source, who asked to remain anonymous due to fear of retaliation. "I can't think of a bigger misappropriation of public funds than this. Honsal should be investigated for misappropriation for personal gain."

One deputy told the Outpost he believes it was wasteful and unnecessary to assign nearly 20 sheriff's office personnel to this operation, especially with the office in the midst of a staffing crisis.

"Why would cops need to provide protection to other cops?" the deputy asked, referring to Honsal's order for 'round-the-clock security. "This is Honsal showing off for the other sheriffs. He sacrificed public safety to make himself look good. We are running short every night and he does this! Since Honsal became a CSSA board member [last October] he is consumed with showing off rather than leading the office."

This deputy, who asked to remain anonymous for fear of retaliation, was reluctant to talk about these matters on the record but said he felt compelled to expose what he believes is corruption.

"I'm not proud of what I'm doing but don't know any other way," he said.

Another deputy, who also requested anonymity, sent an unsigned letter to the Outpost via the U.S. Postal Service in September before reaching out later via email. He accused Honsal of mismanaging the Sheriff's Office, and he, too, was resentful about the public resources put into the CSSA gathering.

"During the peak of the pandemic dozens of sheriffs and their families came to our communities for this party that was advertised as 'training,'" he said in his letter. "They were chauffeured all around our county and did so maskless. Meanwhile, deputies were forced to work overtime providing security for these VIPs, all at [the public's] cost."

Honsal disagrees with these characterizations. In emailed statements he argued that the visiting sheriffs faced legitimate security threats because law enforcement officers have become targets for violence. And he said the expense — which his office initially calculated at $5,386.56 and later revised to just over $6,600 — was justified by the sheriffs' discussions about major law enforcement issues in the state. He also noted that the event — officially a CSSA board meeting — brought in tourist dollars and strengthened bonds between sheriffs, which may prove valuable during future mutual-aid situations.

"While hosting an event with state sheriffs in our small county does come with some costs and security risks, the benefits far outweigh those drawbacks," Honsal said.

At least two deputies feel otherwise, and they believe the public should know the details.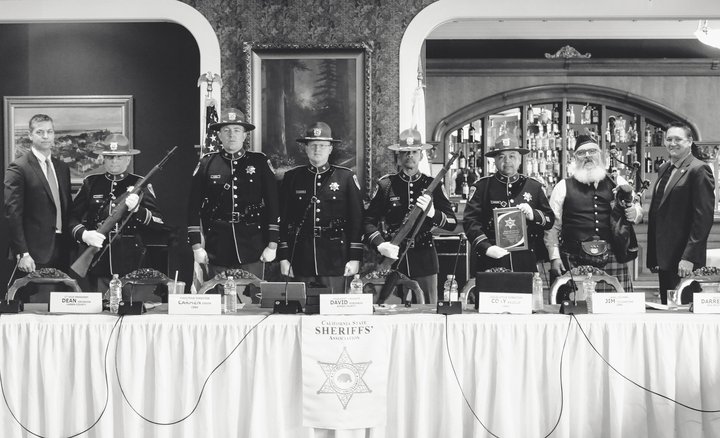 'High expectations'
"I know Sheriff Honsal is very excited the meeting is at the Ingomar Club," the Sheriff's Office's facilities manager wrote in a January 28 email to the club's director of member experience. Dozens of similar emails were exchanged with venue managers regarding food and beverage options, pricing and other details.
On March 4, Honsal emailed Sgt. Kyle Holt, cc'ing others in the department, to say he wanted the honor guard to "Post the Colors" at the CSSA meeting. He also said the honor guard would be presented with a plaque recognizing their service.
Honor guards are typically employed to protect heads of state or other dignitaries, though they also serve ceremonial functions at funerals, parades, sporting events and the like. In a March 17 email to the honor guard members, Holt said, "The Sheriff has expressed his high expectations for this event." He described the CSSA gathering as an opportunity "to display our professionalism and represent our department in the best way possible." It had been a while since they'd performed their duties, so Holt scheduled a training session in early April.
A copy of the operations plan obtained by the Outpost includes a list of Sheriff's Office personnel assigned, including Undersheriff Justin Braud as the incident commander, two four-person security teams, another deputy assigned to meeting security, a four-person transportation team and the five-person honor guard for a total of 19 deputies and correctional officers, including the undersheriff, six sergeants and a lieutenant.
The plan, which included satellite imagery of all event venues, including the airport, hotel and golf course, called for the first security team to clock in at 6 p.m. on Tuesday, April 13, more than two hours before the first of two incoming flights arrived bearing the out-of-town sheriffs. Alternating 12-hour shifts, the security teams weren't relieved until after the visitors left the following Friday. They stood guard at the hotel and followed attendees to the golf course, the Ingomar Club, the winery and the steakhouse, with correctional deputies providing transportation
"Humboldt County is currently in the Orange Tier for COVID-19," the plan says. "Deputies should be masked whenever within 6' of anybody." Photos from the event show the out-of-town sheriffs, Honsal and the honor guard gathered in close proximity without masks.
'Security threat'
When initially asked why 24-hour security was required for the out-of-town sheriffs, Public Information Specialist Samantha Karges said it was necessary to ensure their security and safety.
Asked whether the Sheriff's Office has provided security and transportation for any other nonprofit events recently, Karges replied, "The Sheriff's Office regularly assists organizations to provide security for events, including events like Reggae on the River, graduations, and sporting events. Additionally, any time a public official visits our county, our agency provides security for those personnel."
The latter statement is false. The Humboldt County Sheriff's Office does not regularly provide security for U.S. Rep. Jared Huffman, for example, nor for state Senator Mike McGuire or Assemblymember Jim Wood. When U.S. Secretary of the Interior Deb Haaland visited Eureka in August, her security was provided by federal officers and the California Highway Patrol.
As for Reggae on the River, organizers of such events sign contracts ahead of time and pay the Sheriff's Office for security. Sporting events and graduations, meanwhile, involve large public gatherings, unlike the CSSA event. We pointed all this out and asked if Honsal could elaborate on why he felt 24-hour security was required in this case.
In a response emailed a few days later he said, "Having numerous elected officials in one location for an extended period of time, coupled with these officials representing a discipline that has been targeted by individuals throughout the nation, certainly creates a security threat for the sheriffs."
Constant security was necessary, he said, "to ensure no action was taken against this group of sheriffs at their motel or at the meeting venue."
The deputies we spoke with didn't buy that. "Was there a specific threat to the sheriffs and the hotel?" one asked rhetorically. "Who knew about this event? It wasn't advertised, and the Sheriff's Office didn't broadcast it via social media … . Again, these are cops who are legally allowed to carry concealed firearms. Why would they need security?"
Even if they did, he said, the sheriffs' association should have paid for it.
"This whole CSSA thing was not a Sheriff's Office-sanctioned event," he said. "It was a CSSA event that Sheriff's Office employees were forced to work."
Another deputy agreed. "If this was done properly, a contract should have been agreed upon with CSSA and HCSO," he said.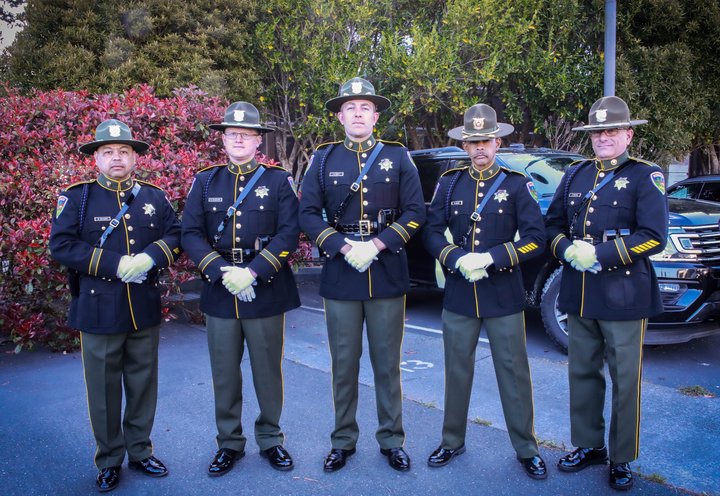 'A gray area'
The deputies we interviewed said the Sheriff's Office's drastically under-reported the cost of security and transportation. They said the official figure was probably based on the top hourly wage of county deputies, $31.77. "But that is not what the county charges for law enforcement services because that doesn't cover the actual cost of the deputy," one said. "They forgot to add medical, dental, vision insurance as well as workers compensation insurance and PERS retirement benefits."
The true costs, they said, can be calculated using the county's fee schedule, which lists an hourly rate of $104 for deputy services and $126 for sheriff sergeant services. He cross-referenced those figures with the operations plan for the event, adding up the hours of each security and transportation team, plus the honor guard, and multiplying those figures by the appropriate fees.
"Based on my very conservative estimates, this event cost around $38,000," he told the Outpost. He believes Honsal violated section 424 of the California Penal Code, misappropriating public money to entertain and impress his friends.
We reached out to Paul Wright, executive director of the Human Rights Defense Center and a board member of the National Police Accountability Project, to get his take.
"Is it illegal? Probably a gray area," he said. "Is it improper and unethical? I'd say yeah. But does it happen all the time? Yeah, absolutely."
Such matters can be investigated by the California State Auditor's Office, he said. Like the deputies, he asked why CSSA didn't cover the costs of security and transportation.
"Typically these organizations are pretty well-funded," Wright said. "They have pretty deep pockets."
The CSSA reported a gross annual revenue of $504,289 in 2019, the most recent data available.
The Outpost made numerous attempts to reach CSSA staff, sending emails and leaving voicemails for Executive Director Carmen Green and others, but did not hear back.
Building relationships
Honsal said his office considers it an honor to have hosted the CSSA meeting. It gave the sheriffs a chance to discuss such issues as the mental health crisis in county jails and hospitals, homelessness, de-escalation, use-of-force training and more.
"In addition to providing an opportunity for the state's top law enforcement officials to collaborate in finding solutions to pervasive issues, this event also brought in tourist income to the county through the sheriffs staying at local hotels, buying local goods, participating in local activities and eating at local restaurants," Honsal said.
Our deputy sources said Honsal and the other sheriffs could easily have discussed those issues without wasting taxpayer dollars, and as for the tourism revenue? "What a joke," one deputy said. "There is no way the [tourism] revenue generated by those 40 attendees made up for the tax burden that Honsal mandated."
Honsal said there was another public benefit to the gathering: "to continue building mutual relationships and support with other state sheriffs so that they will be willing to send our community help in Humboldt County's time of need."
As examples of such collaboration he cited cannabis and narcotics investigations/enforcement, the 2019 search for two missing girls in SoHum and the 2013 manhunt for triple-homicide suspect Shane Miller. (For the record, the missing girls were found by volunteer firefighters while Miller's remains were found by an anonymous party.)
"I believe that the tax-paying citizens of Humboldt County expect the Sheriff to build relationships throughout the state in order to accomplish the goal of working together to make our county a safe place to live," Honsal said.
Jamie Barney, president of the Humboldt Deputy Sheriffs Association Organization, said he trusts Honsal to "make good decisions about how to spread our understaffed deputies in the best interest of Humboldt County." He added, "Yes, you cannot make everyone happy when you are spread too thin, but our members know that refusing to make hard choices in a crisis will get you in even more trouble."
We forwarded Honsal's statements to the deputies we interviewed for this story.
"The truth is, there are statewide mutual aid agreements in place that address all the events he describes," one responded. "So is it Honsal's position that unless he held this party we would not have received mutual aid to help on all of the events he cited? Of course not because they all happened before Honsal was even a member of the CSSA board. What a crock!!"
The other deputy agreed. "Those relationships are made on a near-daily basis, and having a big 'look-at-me' party doesn't gain or lose in the relationship-building process," he said. "This is clearly some backpedaling and self-rationalization that John Q. Citizen is going to have heartache with."
Honsal said he believes Humboldt County's taxpaying citizens support his efforts to build relationships and ensure the safety of visiting sheriffs, though until now neither he nor his department had released any information about the CSSA gathering.
At least two of his deputies think the public will be troubled by his actions, and they risked defying him to make those actions known.